The Independent's journalism is supported by our readers. When you purchase through links on our site, we may earn commission.
Break out the sunglasses
We can learn a lot from Mediterranean displays, says Emma Townshend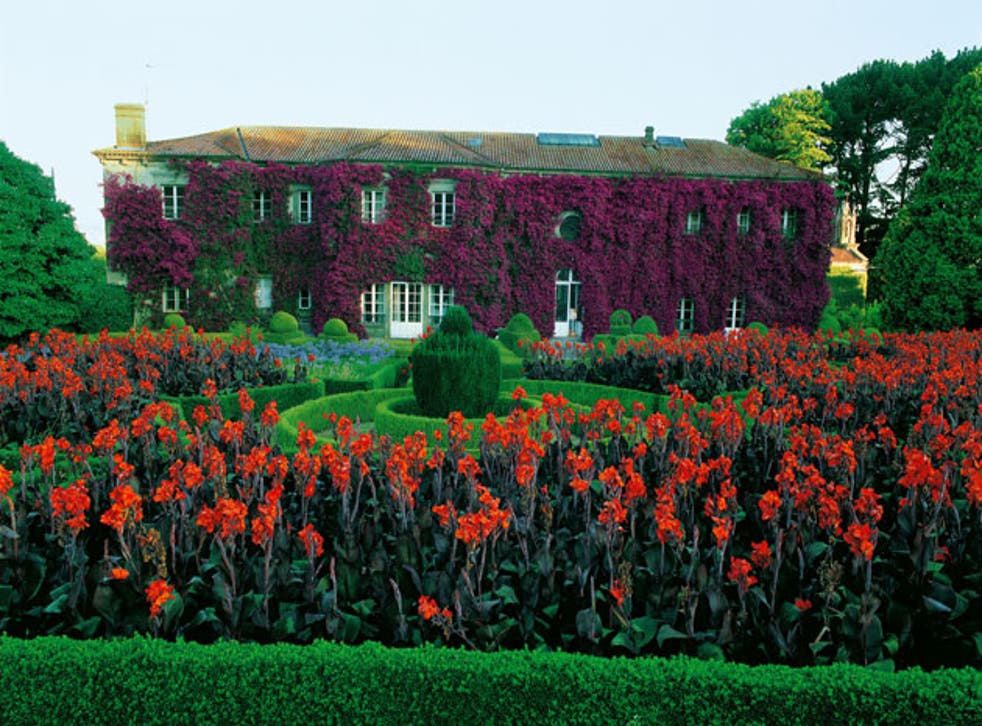 By the time you read this, we could be well installed in an Indian summer of epic proportions. Hey, seriously, we could be! Statistically, you can't actually rule it out. But if we are still suffering from the summer's cleverly timed weekend-monsoon-events and you haven't even been out in the garden since July, why not stay indoors and draw some lessons from one of autumn's crop of glamorous garden books on how to bring a bit of the Mediterranean home?
Hidden Gardens of Spain (Frances Lincoln, £16.99) has been compiled by Eduardo Mencos (whose grandma was the Marquesa de Casa Valdés, no less – she has a whole plaza named after her in Asturias). A photographer who has worked for Country Life, Vogue and the Spanish lifestyle magazine Casa y Campo, Mencos has spent years tracking down the best private Iberian gardens. They may be hidden, but they're not small. A whole island of hydrangea in the lake, darling? Why ever not?
There are obvious differences in what the Spaniards can grow: none of us Brits is ever going to get a bougainvillea to grow across the front of our Georgian Wiltshire pile, no matter how enormous our Euromillions jackpot. But the sweeping gestures of these Spanish garden-makers are a good lesson: we Brits tend to go to rare plant sales, get tempted, and head home with a car boot full of odd new things to try. The Spanish would rather plant lean box hedges in cool green then fill the resulting space with a colourful field of agapanthus, irises or deep-red cannas (see above). The effect dazzles the eye, whether it is cloudy or sunny outside.
For an even more dramatic lesson in the glamour of the Med, turn to Robert Fisher's Close to Paradise: the Gardens of Naples, Capri and the Amalfi Coast (Frances Lincoln). The downside is it costs £30. The upside is that the gardens, views and stories are so ridiculously wonderful that your spirits are lifted just by flicking through the pages. Gossip about Graham Greene, Greta Garbo and Rudolf Nureyev alternates with pictures of glassy blue sea, dramatic coast and expensive yachts viewed from the floral retreat of clifftop balconies. Delicious.
Though there is plenty of uncopiable bougainvillea here too, there are ideas to take home. Brightly coloured tropical Nerium oleander grows well in the UK against a wall or in a pot to prevent winter wet at the roots. And the repetitive bright scarlet of oleander, Salvia splendens or even Busy Lizzies is a brilliant reminder of how a single dot of colour can convince the eye that the sun is shining.
For me, though, the summeriest lesson of all is the mighty, brightly coloured geranium in a terracotta pot. Particularly when Mencos tackles the tiny patios of Seville, one sees how a blue-and-white tiled fountain, silvery old piece of stone sculpture and some scarlet pelargoniums might bring the feel of summer to even the most disappointing of climates. 1
Get the look
1 for the colour of the sea Plump for agapanthus: their "Headbourne" hybrids are among the hardiest, and will flower well clumped up in a large pot. £8.99, crocus.co.uk
2 For a lush look Box balls or pyramids will give the touch of a dark-green structure and the suggestion of hot climes, and they are on sale now at crocus.co.uk. A huge 40cm ball is down to £69.99 – actually a bargain, believe it or not
3 To create the effect of a massive italian garden Go for weathered Haddonstone. The Compton Bowl in terracotta looks as if it has just come back from doing a grand tour, £305, haddonstone.com
Register for free to continue reading
Registration is a free and easy way to support our truly independent journalism
By registering, you will also enjoy limited access to Premium articles, exclusive newsletters, commenting, and virtual events with our leading journalists
Already have an account? sign in
Register for free to continue reading
Registration is a free and easy way to support our truly independent journalism
By registering, you will also enjoy limited access to Premium articles, exclusive newsletters, commenting, and virtual events with our leading journalists
Already have an account? sign in
Join our new commenting forum
Join thought-provoking conversations, follow other Independent readers and see their replies