Chelsea Flower Show: Can't afford a £400 ticket? Head to the Fringe
The world's premier flower show has plenty of offshoots – many of them free – to inspire the gardener
Victoria Summerley
Saturday 17 May 2014 23:18 Comments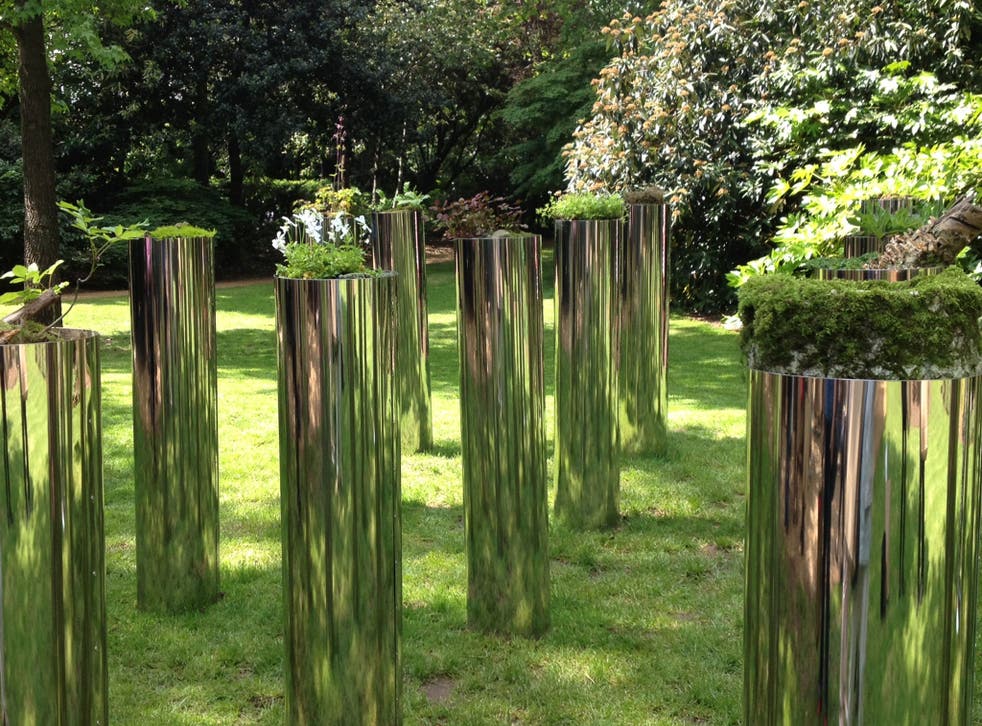 Would you rather buy a pair of patterned wellies, or turn your car into a "seed bomb"? That's the question this week for fans of horticulture. The traditionalists will be heading for Chelsea Flower Show, where a premium ticket will cost you £400. Add to that the cost of some twee accessories and lunch in the restaurant (£70), and you're into super-exclusive territory.
But what if you'd like to look at beautiful plants and soak up ideas without spending a fortune? Luckily, there's the more innovative Chelsea Fringe, which launched on Friday, promising an alternative festival that is as much about people as plants.
Chelsea, 101 years old, is the world's most prestigious flower show, attracting exhibitors and visitors from all over the world. But the Fringe, now in its third year, can also boast an international audience – ingeniously via the internet and satellite links – for its 250 events and installations. Best of all, most of them are free. It is designed, said founder Tim Richardson, to be an alternative to Chelsea, but not a competitor.
Many of the events are taking place in London, but there are others being held elsewhere in the UK and Europe. Ljubljana, in Slovenia, has 30 projects allied to the Fringe, including a National Crop Swap Day, and Vienna has registered 60 projects.
In the UK, Brighton offers a Handlebar Garden bike ride, with baskets decorated with flowers. An evening of poetry inspired by gardens and wildlife is one of about 30 events taking place in Bristol. In London, you can go moss-hunting at Kenwood House in Hampstead, have a Herbal Hair Experience in Battersea courtesy of Lush, the handmade cosmetics manufacturer, or find out about astrobotany at Oxford House in Bethnal Green.
For Matthew Wilson, the managing director of Clifton Nurseries in Maida Vale, west London, the Fringe offers a serious commercial alternative. Clifton's exhibit is entitled "The Greening of St Pancras International Station", and it is a provençal garden, complete with lavender and olive trees.
Mr Wilson is a former curator of Harlow Carr, the RHS garden in Yorkshire, and a regular panellist on Radio 4's Gardeners' Question Time, so he is more familiar than most with British gardening habits. "We could have a trade stand at the Chelsea Flower Show, but we are selling ideas, not plants or sundries."
Outer spaces
Samenschleuder, Vienna
Roughly translated, Samenschleuder means "seed bombs", and these are packets of seed that can be applied to the wheels of a bicycle or car, using a clay paste. Studies of roadside verges show that one of the most efficient ways of spreading seed is via vehicle wheels.
Tiny Taxonomy, London
This installation by Rosetta Elkin brings the small flowers of the woodland floor up to eye level so that their delicate beauty can be appreciated. Elkin collected most of the material for the Belgrave Square installation from Highgate Cemetery.
Vertical Tea, Ljubljana
The Bikofe will be making their favourite tea recipes, brewed from the vertical herb garden that grows on the wall of the café.
Handlebar Gardens, Brighton
Starts at 11am today. A family-friendly bike ride, in which cyclists are invited to plant bicycle baskets and deliver them around the city for replanting.
Flowered Punt, Leeds Castle
On Thursday, a punt designed by Louise Roots, the florist at Leeds Castle, will float on the moat, decorated with flowers found in the gardens of the castle.
Register for free to continue reading
Registration is a free and easy way to support our truly independent journalism
By registering, you will also enjoy limited access to Premium articles, exclusive newsletters, commenting, and virtual events with our leading journalists
Already have an account? sign in
Join our new commenting forum
Join thought-provoking conversations, follow other Independent readers and see their replies