Confessions of a Cotswold gardener: How to flourish in one of England's most beautiful spots
Moving to a Cotswolds village revealed new horticultural vistas to Victoria Summerley, and lots of planting prospects. But what about making friends – and surviving the coachloads of tourists?
Victoria Summerley
Wednesday 04 February 2015 20:15 Comments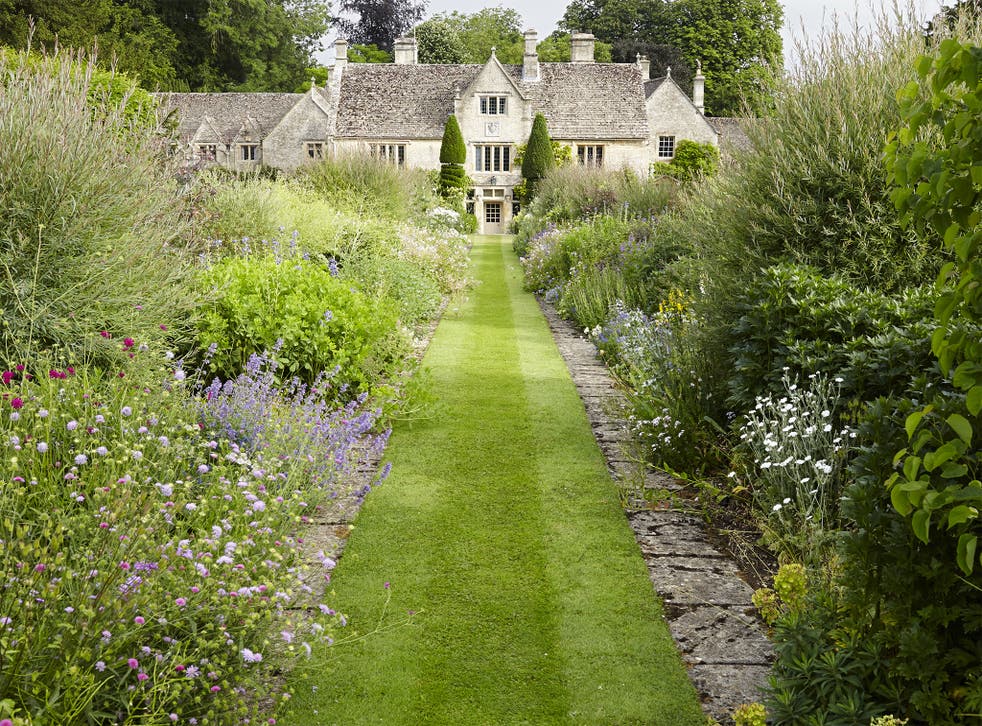 I moved to Bibury, in Gloucestershire, by mistake. I'd misheard my solicitor, who had warned me that some of the Cotswolds villages were popular destinations for coach tours. I thought he said I might like to look at Bibury. What he actually said was that I might not.
I wanted somewhere truly rural, with a proper country garden, yet within easy reach of most of the UK in case I had to go and do some work. The Cotswolds seemed like the ideal location.
I'd never heard of Bibury, so when I arrived one sunny Saturday morning, clutching the particulars of an old stone cottage, I was quite surprised to discover that the rest of the world apparently had. William Morris once described it as the most beautiful village in England, and the rest is history.
Or rather, touristy, as witnessed by the ridiculous story this week that visitors were complaining that my neighbour Peter Maddox's bright-yellow Vauxhall was spoiling their view of a historic row of cottages. How dare real life get in the way of a selfie!
Despite the tourists (noted as a potential "hazard" in the surveyor's report), I fell in love with the cottage and decided I wanted to buy it before I had even seen inside. You can always change the interior (or at least redecorate), but you can't change the view and the location.
The house stands at the top of a lane and, while the front looks out at neighbouring cottages, the back surveys a sunny meadow and the woods beyond. According to the estate agent, the meadow was protected by a covenant, so it could only ever be used for pasture.
The garden went all the way round the house, with lawns at the back and a wilder area at the side which sloped down towards the neighbouring garden. I noted next door had a very impressive-looking vegetable patch, and later discovered that my new neighbour, Peter, was the local veg-growing champion. In summer he leaves baskets of produce for me on the dry-stone wall that divides our gardens.
I'm never quite sure whether one of the reasons I like gardening is because I loved Frances Hodgson Burnett's The Secret Garden when I was a child, or whether I loved The Secret Garden because it resonated with some nascent horticultural enthusiasm. But the idea of a hidden oasis, where you can watch the progress of the seasons, still appeals to me today. I think all gardeners, however old or young, feel genuine excitement when they find the first sharp green noses of bulbs, or the dark red shoots of peonies coming up through the soil.
In late winter, I discovered, my garden is full of snowdrops – the common double sort, Galanthus nivalis "Flore Pleno", which look like the skirts women used to wear in the Fifties, with lots of stiff petticoats underneath. In spring, the grass is spangled with primroses, daffodils and bluebells beneath the blossom of apple trees, ornamental cherries and a big horse chestnut. In autumn, clumps of autumn crocuses make a pool of blue at the bottom of the garden, while the changing colours of the deciduous trees – beech, birch and ash – blaze like a bonfire above.
Beeches have a habit of shedding twigs and smaller branches, which dry out quickly and make fantastic kindling. A quick forage in the garden provides a week's worth of kindling for my woodburning stoves, which gives me a great sense of achievement and self-sufficiency. (This lasts until my next trip to Waitrose.)
However, for the previous 40 years, my cottage had been a second home. Indentations along the edges of the lawn suggested there had once been flower borders, but these were long gone, submerged beneath the worst weeds known to gardeners: bindweed, ground elder, cow parsnip, couch grass, brambles and the biggest dandelions I have ever seen.
There were lots of nettles – not so much of a problem to weed, but I didn't want a gardenful – and a patch of mahonia about 20ft square. Along the southern boundary, formed by next door's outbuildings, there was a row of enormous yews, whose branches trailed on the ground. Had they been planted as a hedge? Why grow one in front of a nice old stone wall? This is the sort of question to which you never get the answer when you inherit a garden from someone else.
The previous owners liked the idea of having a wildlife-friendly garden, so they weren't keen on tidying up too much or cutting things back. In theory, I agree, but you have to manage things a little bit; otherwise you tend to end up with a thuggish monoculture that doesn't encourage the widest possible biodiversity.
Most of the deciduous flowering shrubs had been shaded out by the yews (there are more yews in other bits of the garden) or overlaid with ivy, blankets of dead leaves and other detritus. From the end of May onwards, there was not much to attract pollinators. The roses looked as if they had seen better days, and as you came in the gate, the hedge on the left was completely dead.
I'd intended, when I moved, to do a bit of gentle freelancing, and a lot of gardening. But shortly after arriving, I was commissioned to write a book on secret gardens of the Cotswolds (called, unsurprisingly, Secret Gardens of the Cotswolds). It seemed like a wonderful opportunity to talk to local experts, so I set off gleefully, notebook and pencil in mittened hands, to tour 20 extraordinary gardens. I spent what seemed like self-indulgent hours pestering head gardeners, who gave me patient advice along with cuttings and presents of vegetables.
Chris Horsfall, head gardener at Colesbourne Park, which has a fantastic collection of snowdrops, managed to persuade me that there was more to this genus than "small white flowers that all look alike". Neil Hewertson, head gardener at Stowell Park, inspired me to plant alliums, peonies and irises – plants I'd never been able to grow in my sultry south-west London garden.
Mary Keen, designer of the garden at Burford Priory, home of Elisabeth Murdoch, has been a constant source of inspiration. Her own garden, The Old Rectory at Duntisbourne Rous, opens for the National Gardens Scheme, and it is a bit like the horticultural equivalent of a philosophy tutorial: there is nothing there that is clichéd, or predictable. I always come home from visiting Mary feeling refreshed mentally as well as visually.
The gardens were all different, of course, but they had one thing in common. Most of the owners of these glorious places told me that when they first took on their gardens (usually 30 or 40 years ago) there was nothing there, only pigs, or chickens or meadow.
This is exactly what you want to hear when you are making a new garden. If they did it – albeit with a bigger budget and full-time gardeners – it can be done. Ergo, I can do it too.
Even so, I felt a bit diffident as I embarked on a full-scale clear-up. Was I being too much of a neatnik? I don't think so. When I got the local tree surgeon to raise the crowns of the row of yews (ie remove the lower branches so you could see the trunks), he revealed what looked like a tangle of dead sticks. It was a deutzia, which in spring erupted in a cascade of white blossom – as did a white Clematis montana, which had also been buried behind the yew.
I pruned the scruffy-looking roses on the back of the house as hard as I dared, and they rewarded me with exuberant new growth. Two years on, I can see why long ago someone thought it was worth banging nails into the wall up to roof height – the climbing rose I thought was on its last legs is now waving at me through the bedroom window.
I dug out the weed-choked borders, and replanted them with shrubs and perennials that would provide year-round colour and interest: Eysimum "Bowles Mauve", which bees and butterflies love, and which flowers all year round; Erigeron karvinskianus, or Mexican daisy, which seeds itself into cracks in paving and steps; Sedum spectabile "Herbstfreude", a late-summer performer whose flower heads change from salmon pink through to dark mahogany as winter takes hold.
As the garden began to take shape, so too did village life. I was astonished to find how friendly people were, imagining that incoming townies might be resented or ignored. Far from it. When I moved in, neighbours left cards or came round to say hello, and seemed delighted that I was intending to be a full-time resident. Indeed, work in the front garden is best done early in the morning or later in the evening; otherwise you spend most of your time gossiping to dog-walking friends or acting as an informal tour guide.
There is a gardening club, the WI, a friendly village pub which is the hub of local social life on Friday evenings and Sunday lunchtimes, rural cinema in the village hall once a month, and a post office.
The process of making new friends was helped by the acquisition of my Tibetan terrier Rufus who, in the way of dogs, is probably better-known in the village than I am.
Visitors have quickly worked out that if there is no answer from the front door, the best policy is to wander round the back and see if I am in the garden. I love the idea that within two years of moving here, I am beginning to become part of this beautiful landscape.
'Secret Gardens of the Cotswolds', by Victoria Summerley, with photos by Hugo Rittson-Thomas, is published by Frances Lincoln
Register for free to continue reading
Registration is a free and easy way to support our truly independent journalism
By registering, you will also enjoy limited access to Premium articles, exclusive newsletters, commenting, and virtual events with our leading journalists
Already have an account? sign in
Join our new commenting forum
Join thought-provoking conversations, follow other Independent readers and see their replies