The Independent's journalism is supported by our readers. When you purchase through links on our site, we may earn commission.
Emma Townshend: 'The Gardener's Book of Colour has inspired me to create a clash'
Garden photographer Andrew Lawson has plenty of suggestions appropriate for tiny plots, such as using cool blues in the background to suggest greater distance, and hot reds up close to pull the eye forward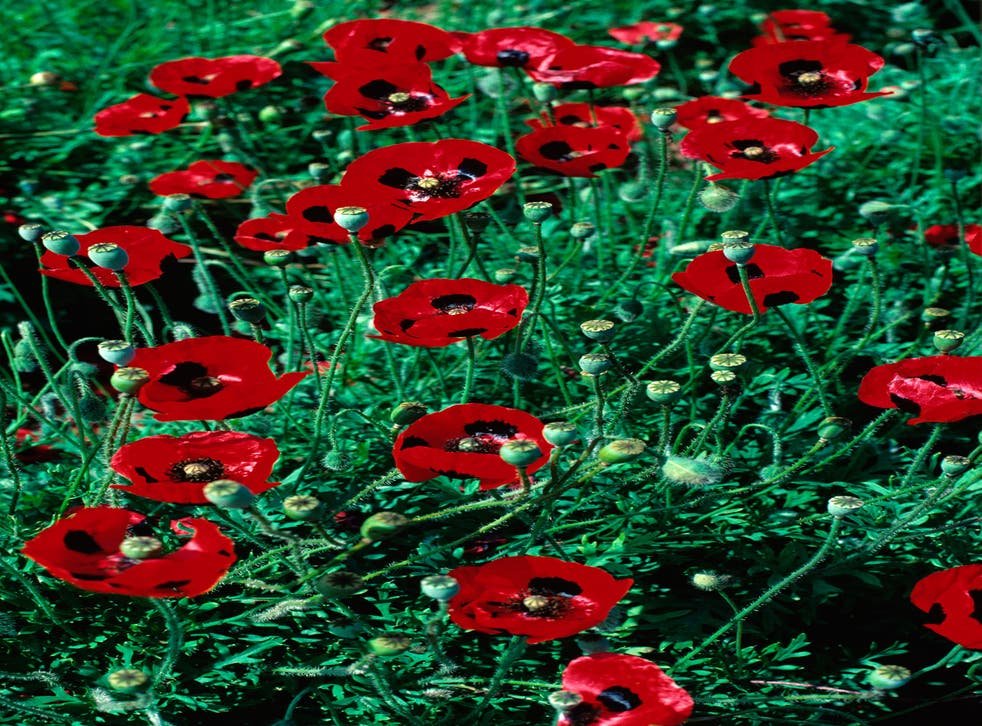 When I got home this evening, the kitchen floor was clear, the washing-up was drying on the draining board, and on the wiped pine table there was one velvety red rose in a glass. I wasn't sure which of these remarkable things to love the most. It had been so rainy and windy I hadn't gone into the garden for a week, and had missed that the roses down the end in the sunny patch were going from bud to flower. Luckily, others were paying attention.
I love a real rose. But I can love roses even from the comfort of my computer: at my desk I've retweeted pictures of several this week, including a spectacular "Constance Spry". Constance's enthused owner, the food writer Debora Robertson (author of the appropriately titled Gifts from the Garden) has managed to convince me I ought to get a "Spry" of my own, succinctly summing up its charms in 140 characters or fewer: "Gorgeous scent, flowers last ages, very undemanding".
Thomas Broom, horticultural manager at Petersham Nurseries, has also been having a June social media love-in with Mrs Spry, this time on Instagram. "Constance Spry" was the very first hybrid devised by world-renowned rose breeder David Austin, but the colour seems to vary according to whose pics you're looking at – Broom's are pale and a perfect knicker colour, Debora's a bit blushier – but for the main it settles as a full pink, somewhere near the tone of Cornish valerian.
Colour is a funny thing in the garden. In my rather shady space, pink is a zingy colour that stands forth on a professional basis, drawing me in, lifting my heart. Elsewhere on my street, a friend has only yellow flowers down one side of her backyard hotspot, which seems to amplify the warm June sunshine. Blues can relax us, or hypnotise us; a dot of some other colour in the midst of azure shocks the eye, sometimes leading to absolute delight.
The Gardener's Book of Colour

Show all 4
Some elucidation on the subject is offered by Andrew Lawson, one of the world's best garden photographers, who has just reissued his classic The Gardener's Book of Colour (£25, Pimpernel): "Nothing in a garden makes more impact," he begins. "It can stop you in your tracks or beckon you onwards." Demonstrably, Lawson is a writer who understands how physically colour can affect the onlooker.
He has plenty of suggestions appropriate for tiny plots, such as using cool blues in the background to suggest greater distance, and hot reds up close to pull the eye forward, shortening the foreground. He explains that blue and white flowers are visible the latest into the evening, so are good choices for your twilight view.
Arguably the most useful sections of the book, though, are those which take individual colours and list and illustrate varieties. With pinks, for example, Lawson points out that it's best to keep crimson and peachy ones apart, as they dilute each other's effect. But are colour rules there to be broken? Lawson explains that when a cool pink meets a fiery red, "there is a hot-cool reaction which is disturbing". He goes on to warn that with deeper pinks, such as magenta, "this reaction is extreme", resulting in "colour shock" that can be "almost dangerous".
I find myself – generally accepted to be a massive contrarian – deeply drawn to the idea of creating an "almost-dangerous colour shock". In fact, I immediately turn to pages 176-177 to find the advanced instructions for creating just this effect. Where I find a picture of Barbie-pink "Dorothy Perkins" climbing through a ketchup-red Tropaeolum, a terrible clash, which makes me feel unstoppably happy inside. Sheer contrarian colour-shock bliss. And I know just the garden to do it in.
Four more pink roses
Peach
Salmon-pink "Albertine" is a perfect partner, says Lawson, for honeysuckle "Belgica" (£12.99, crocus.co.uk) with its brighter pink stamens.
Mid-pink
For a glorious pure rose colour and highly fragrant scent, opt for "Zéphirine Drouhin", a thornless climber that continues to repeat-flower.
Deep pink
The "Apothecary" rose, with its old-fashioned feel and flowers, sits well with the deep, intense blue of Anchusa azurea "Loddon Royalist" (£5.99, crocus.co.uk)
Magenta
Try "William Lobb", suggests Lawson: "Mossy buds that open purple and fade to lavender grey." All roses in this panel, £19.95 from Peter Beales, classicroses.co.uk
Register for free to continue reading
Registration is a free and easy way to support our truly independent journalism
By registering, you will also enjoy limited access to Premium articles, exclusive newsletters, commenting, and virtual events with our leading journalists
Already have an account? sign in
Register for free to continue reading
Registration is a free and easy way to support our truly independent journalism
By registering, you will also enjoy limited access to Premium articles, exclusive newsletters, commenting, and virtual events with our leading journalists
Already have an account? sign in
Join our new commenting forum
Join thought-provoking conversations, follow other Independent readers and see their replies