May has been a good month for gardeners
It came late and didn't stay long, but spring was just what our correspondent ordered.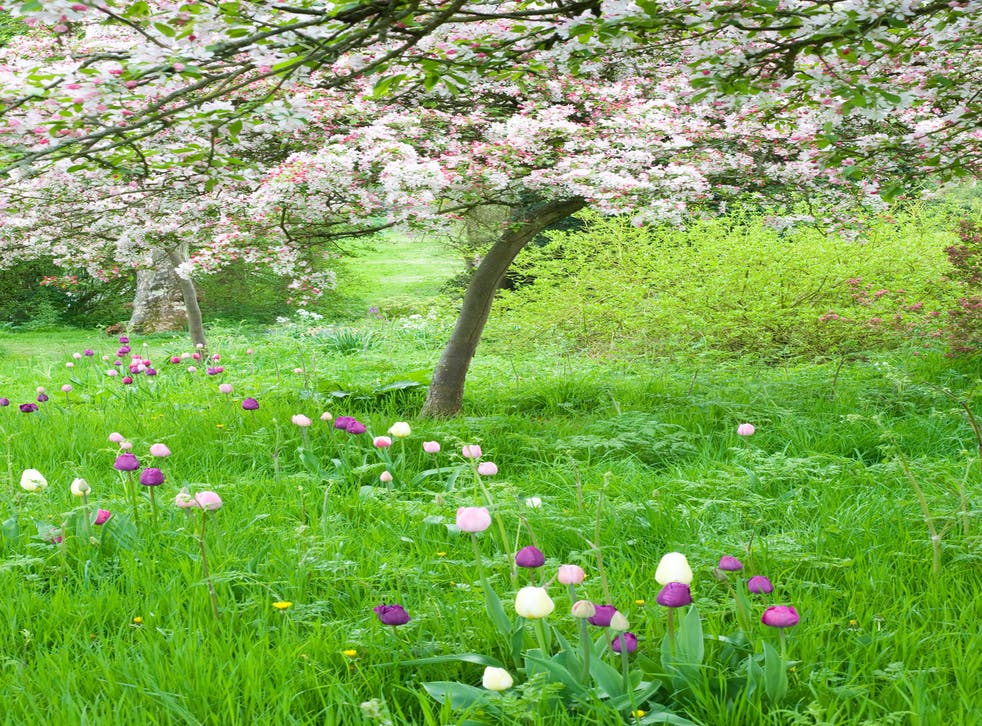 When it came, it came all at once. Spring, I'm talking about. I've seen it happen like that in New York, the tulips on Fifth Avenue in bud at the beginning of the week, dropping their petals in a heat wave at the end. But over here, it's usually more gradual. We seem to have been waiting forever for the trees to leaf up, for the grass to get greener, for the plants to have the courage to grow again. And finally it's happened. Hallelujah!
I'm wandering around the garden in a stupor, ricochetting from peonies to poppies, from tulips to the richly-scented flowers of the yellow azalea (Rhododendron luteum). What I want now is for everything to hang on a bit longer. I don't want the roses to race on to the scene until I've had time to take in the glamour of the fern called 'Bevis'. Actually it's called something very much longer than that, but you can be put off ferns for life by the impossibility of pronouncing their names. So 'Bevis' will do. This has been their month, and with 42 different kinds of fern in our garden, there's been more than enough to keep up with.
It's the way they uncurl that is so mesmerising. And it's a relatively slow process – the opposite of the peonies which have dropped their petals almost before you realise they are out. 'Bevis' pushes out fat stems covered with fur the colour of a Norfolk terrier. The whole thing uncurls rather slowly with the tip bent back on itself, then curls forward again to make a shape as elegant as a treble clef. The leaflets that will make the mature frond emerge symmetrically all along the stem, but the outline at this stage is spare and sculptural. Later, when the plants have filled out, it becomes the most distinguished, harmonious foliage plant in our garden.
The ferns, among the first things I planted here, come every spring. But there have been new excitements this month, such as the little ladybird poppy (Papaver commutatum), which I grew from seed sown on 14 September. It started flowering two weeks ago, the advantage of an autumn sowing. You can sow seed again in spring to get flowers in July and August.
This poppy is an annual, with gorgeous soft, grey downy foliage. It produces fountains of leaves and then dangling furry buds which burst open to reveal brilliant red crinkled flowers, each petal with a big black blotch at the base. It's a stunner, although only about 30cm/12in tall. It may get bigger. Thompson & Morgan, from whom I got it (£2.49 for 300 seeds), give the eventual height as 45cm/18in.
From seed, it is easy at every stage and germinates within two or three weeks. Last autumn I pricked the baby plants into small pots (6cm) and there they sat, in the greenhouse, not moving all winter. When at last they started to grow, they did so with astonishing speed, leaf after leaf building up into beautiful rosettes of jagged, soft foliage. Running out of space in the greenhouse, we planted them out into the hideous conditions of early April. And after coughing a bit, as the gales tore their biggest leaves to pieces, they started to put on speed again.
Now they are superb: with dark purple anemones, in among the foliage of the grey-leaved pink called 'Hidcote', nudging up to the lacy columns of larkspur, which I also grew from seed sown last autumn. Will the ladybird poppies self-seed? I should know by late September, when the seedlings will be pushing their noses above ground. If they don't, I will sow again. This new delight is one I'd like to look forward to again.
And the tulips! How have I got so far into this piece without mentioning tulips? Both in pots and in the ground, they were held back by the cold, grim weather. And I hadn't expected them to be good, given that the bulbs have been rained on fairly constantly since they went in at the beginning of November last year.
But on the gravelly foreground of the bank, an area that is mostly rubble retained inside a stone wall, the species tulips have been outstanding. Especially the various forms of Tulipa batalinii I've been planting there over the years. The name has f now changed to a much more cumbersome tag, T. linifolia Batalinii Group, but the flowers remain as they have always been – a selection of soft colours ranging from apricot to lemon: 'Apricot Jewel', 'Bright Gem', 'Bronze Charm', 'Yellow Jewel'. All are good.
They are a useful group because they come later than most other species tulips and in the well-drained, starved ground on the bank, they have clumped up with remarkable vigour. I always start by planting the bulbs in plastic pots. The bulbs are small so you can usually fit five in a pot 16cm/6in across. In their first year, they flower in their pots, which I usually have stashed in a plant stand by the door so I can admire them every day.
When the flowers have died down, we plant them in the bank, the whole potful tipped out and put straight altogether into a hole. This way, the bulbs seem not to attract the attention of their most dangerous enemies – squirrels and mice. Newly planted as dry bulbs in November, they are much more easily dug up.
Of the showier garden tulips, the winner by a long way has been a lily-flowered variety called 'Purple Dream'. It lasted longer than any other tulip and the flowers, staggeringly elegant in long, thin bud, were even more astonishing when they opened in the sun. Size isn't necessarily a measure of beauty, but this tulip, with magenta purple petals at least 12cm/5in long, splayed out into a flower that I went to admire at least three times a day. Yes – it's been a good month.
The Chelsea Fringe
The main event may end today, but the Chelsea Flower Show's new offshoot continues until 9 June, with a wide range of events mostly in and around London. Over this weekend you can visit:
* Rosendale Allotments will have a food scavenger event for children. Find the allotments at 227 Rosendale Rd, Lambeth SE21 8LR (020-8761 6116). They are opening their gates today (12-6pm).
* The Office Garden at 130 Buckingham Palace Rd SW1W 9SA is a place to look at from the pavement, rather than go into, but it's a charming garden bringing soul to the over-busy environs of the road. More information from Oldfield Partners on 020-7259 1006.
* Colour Collective at Derbyshire St, Bethnal Green E2 6HG, is open today for a range of activities involving natural dye workshops, cocoons and recycled clothing, all aimed at engaging, say the organisers Urban Hedgerow, with "the colourful history of London's Bethnal Green". For more information visit colourcollective.co.uk
* The GrowUp Box at the Marlborough Playground, Union St, Southwark SE1 1LB is an urban farm that uses aquaponic technology to grow fish and vegetables in the heart of the city. Nutrient-rich waste water is pumped from the fish tanks to the roots of plants so the nutrients fertilise the plants and the plants purify the water. There's no need for soil in this system. All you need is some fish food and a bit of energy to power the pumps. Open today and tomorrow. For more information go to growup.org.uk.
For a full list of events at the Chelsea Fringe go to chelsefringe.com/events
Register for free to continue reading
Registration is a free and easy way to support our truly independent journalism
By registering, you will also enjoy limited access to Premium articles, exclusive newsletters, commenting, and virtual events with our leading journalists
Already have an account? sign in
Register for free to continue reading
Registration is a free and easy way to support our truly independent journalism
By registering, you will also enjoy limited access to Premium articles, exclusive newsletters, commenting, and virtual events with our leading journalists
Already have an account? sign in
Join our new commenting forum
Join thought-provoking conversations, follow other Independent readers and see their replies