Oxford College Gardens: How to get past the porters and into these beautiful quads
Traditionally tucked away behind secret walls, these private areas have been notoriously tricky to visit, even for people resident in the university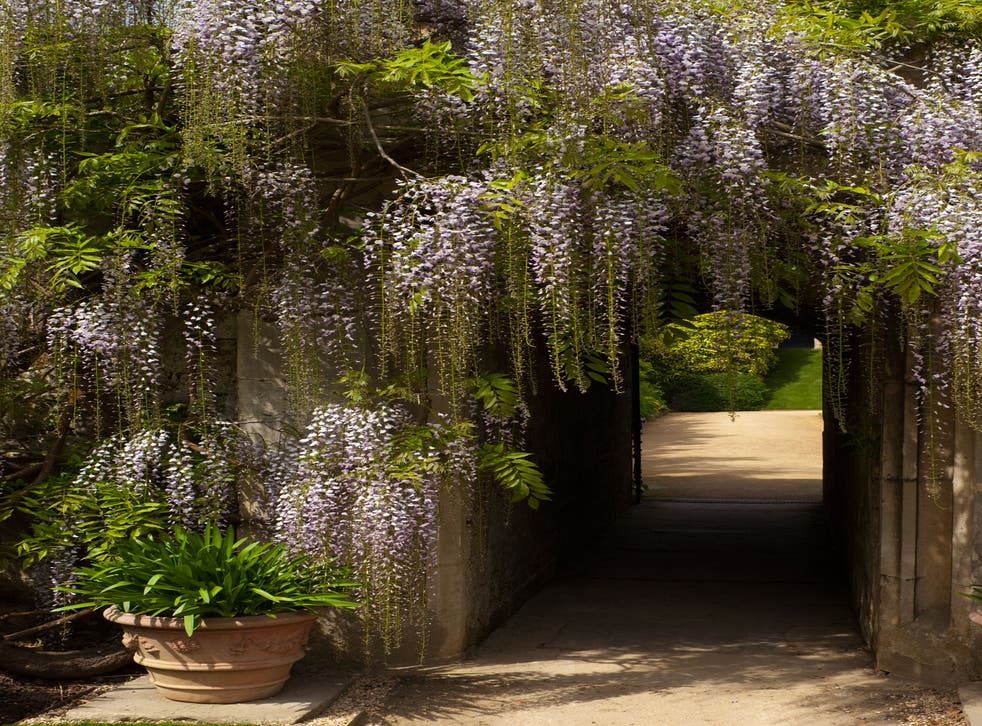 After the back-to-school feeling has faded, here come the new off-to-university lot, waving goodbye to their parents without a look back, leaving weepy mums and dads to drive off alone for a misery-soaked motorway service station coffee.
Months earlier, when this bunch were flicking through university brochures, trying hard to imagine a day when they'd leave home and live somewhere other than under the comforting wifi signal of their parents, gardens may have had a deciding role: Tim Richardson, author of the new book Oxford College Gardens (£40, Frances Lincoln), reports that in a recent survey that asked students which criteria they were using to decide on a college, they listed: 1) accommodation, 2) friendliness and 3) the gardens. Yep, academic credentials nowhere in sight; it's the green spaces that clinch it.
Richardson is deeply enthusiastic about Oxford's college gardens. Traditionally tucked away behind secret walls, and with deeply alarming porters forestalling all entry, these private areas have been notoriously tricky to visit, even for people resident in the university. "But these days, it's actually easier than ever," he explains. "The visiting arrangements used to be opaque – you'd turn up to find a daunting black sign and fierce porters guarding the door. But using the internet to check the visiting hours, you get the enormous thrill of passing that awful black sign."
Once armed with the power of the worldwide web, you have plenty to choose from, partly because of the way they are organised: "Each quad," Richardson explains, "is a surprise. You never really know what's going to come through the next dark passageway. And it's wonderfully disorienting to be taken out of the world, knowing you're only 10ft from the high street."
Each college might have many different astonishing areas to present. Magdalen, for example: from its hydrangea and wisteria-clad cloisters and the dramatic and colourful New Buildings borders, to the watery, wooded trip into the time of the Georgians in Addison's Walk, to its world-class fritillary meadow, one of the most special sights Oxford has to offer when it flowers in spring.
Richardson certainly demonstrates how Oxford's head gardeners, an intriguingly assorted bunch of types, continue to respond to both tradition and innovation: Verbena bonariensis and Chelsea yew balls for the trendsetters; proper old-fashioned lawn striping for the sticklers. I am massively tempted by the lush tropical courtyard planting of Worcester, daturas and philodendrons in huge lead planters, as shown in Andrew Lawson's delectable photos that accompany Richardson's text; the cheeky cannas and geraniums of Pembroke; and the crazy bananas of Balliol.
What the photos can't show, though, is the air of peaceful retreat and serenity created by the buildings and gardens themselves. The pale stone of the colleges provides the perfect foil for climbing plants and window boxes, and, stepping through the darkness of a porters' lodge then out into bright sunshine, you immediately feel the sense of protection a college affords its scholars.
Do go and see for yourself, and spend an hour wandering in this rarefied atmosphere. Richardson is full of tips on how to enjoy the luxurious sensation of privilege: "These days, it's relatively easy to stay in a college. You can just book a room. And you get the experience of the space in early morning and late evening at not much different from the cost of a Premier Inn." With a considerably better view out of the window.
Four to visit: Oxford sights
Worcester (pictured above)
"The best garden horticulturally," says Richardson, including a lake and hot borders. It has won Best College Garden in Oxford in Bloom more than once.
Magdalen
"For the landscape." You could easily spend two hours losing yourself among Magdalen's delightful lawns and wooded walks.
St Catherine's
"An amazing modernist space. A total work of art." Danish architect Arne Jacobsen designed everything, from the flower beds to the lampshades in the rooms.
Corpus Christi
"I am really fond of the planting design," says Richardson of this college. Ancient mulberries and magnolias watch over bright, modern floral displays.
Register for free to continue reading
Registration is a free and easy way to support our truly independent journalism
By registering, you will also enjoy limited access to Premium articles, exclusive newsletters, commenting, and virtual events with our leading journalists
Already have an account? sign in
Register for free to continue reading
Registration is a free and easy way to support our truly independent journalism
By registering, you will also enjoy limited access to Premium articles, exclusive newsletters, commenting, and virtual events with our leading journalists
Already have an account? sign in
Join our new commenting forum
Join thought-provoking conversations, follow other Independent readers and see their replies