The big work out: Where better to start a small business than in a shed?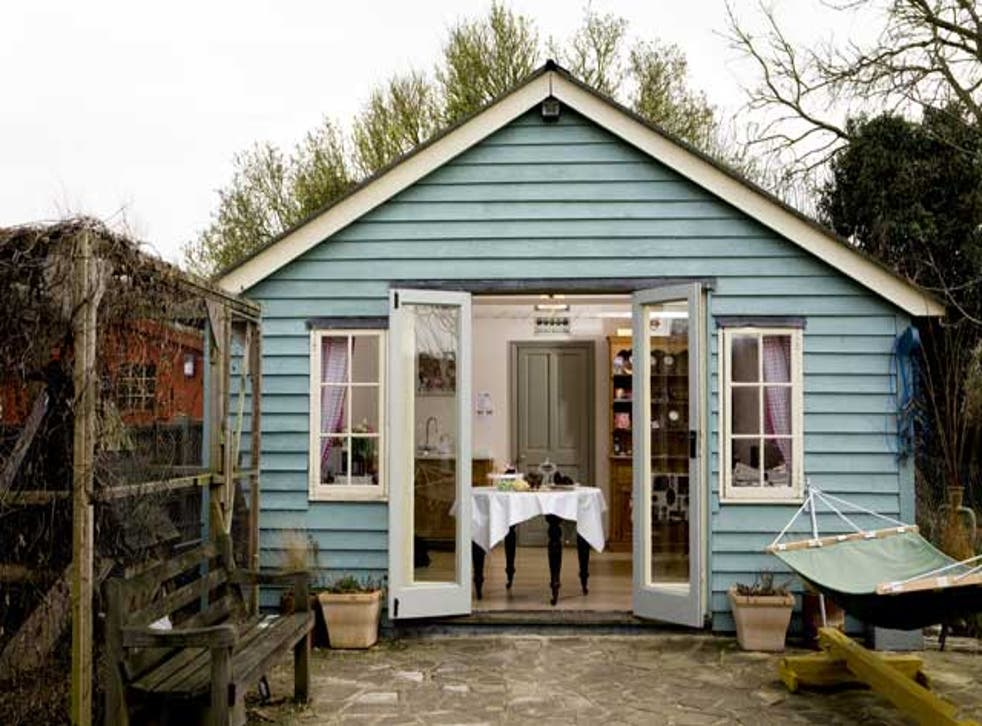 I'm feeling jealous. Dawn Fry has a chocolate-making factory in her garden. Hidden in her shed. Actually, it's more of a summer house, with pretty gingham curtains and proper lead flashings over the windows made by her blacksmith husband Joe. But it's a chocolate factory, all right. Jars full of cocoa solids line the dresser, while an electronic warmer keeps the mixture at exactly the right temperature for working. And the air is full of the scent of melty chocolate, which leaves us all in a bit of a trance. "It's very relaxing, that smell," explains Dawn. "People come here for the day, they start off and then they get all noddy, and start telling you all kinds of secrets."
I'm visiting today with Alex Johnson, who has appeared in these pages before as the editor of the blog Shedworking, that invaluable resource for anyone thinking of relocating their business to the garden. Now he's written an excellent book, Shedworking: The Alternative Workplace Revolution (Frances Lincoln, £16.99). It's full of tempting photos and ideas for people planning such a move. I've been eyeing it up for weeks, folding down pages and doing calculations on the backs of envelopes. As Joe the blacksmith points out as we have a cup of tea in the garden, "Now that houses cost so much, even an expensive shed is cheaper than moving."
Calling this new breed of garden offices "sheds" is probably a misnomer. These are sleek, well-designed buildings, insulated and warm, with lots of glass and wood, often with low-voltage downlighters. "They're cheaper than a loft conversion or a conservatory," Alex elaborates, "and they can be done very quickly. They're mostly built off site, then a group of guys will come to your garden, and it's assembled often in two days or so – they can even bring it in by crane.
"The cheapest way is to build it yourself out of reclaimed materials, but it really is possible to get one done for a few thousand pounds. Although, of course, you can spend tens of thousands if you wish." And I do wish, just at this moment.
Dawn's deliciously pretty shed is used mainly for running chocolate-making courses. "I would never have been able to run this business from the house," she explains. "There wouldn't be room, but up to eight adults can come here at once." They also wouldn't have quite such a nice view of a cherry-blossom tree in flower.
"At the risk of straying into dangerous generalising territory," says Alex, "I think women tend to decorate their sheds more – personalising them, installing curtains. Men look at it slightly more as an office, and are a bit more minimalist."
As we tuck into a little more chocolate, Dawn explains to us about the chemicals making us feel so contented. "One more reason for having all this located down the garden," says Alex. "Or you'd be tempted to eat chocolate all day long." What a terrible, terrible idea.
Dawn runs one-day chocolate-making workshops in Hitchin, Hertfordshire, costing £45 per person (makechocolates.co.uk).
Find Alex's blog at shedworking.co.uk
If you build it...
Alex Johnson's top three tips for those pondering a garden workspace...
1 Check out local council rules. There aren't national standards, and permission to build depends on many factors, such as whether you are in a conservation area.
2 There's a huge variety of shapes and sizes. Some people personalise their shed – I've seen pubs, snooker rooms and even a Roman temple. Probably best to avoid having a telly or a sofa if you want to work.
3 Insulation Factor it in or your building won't be usable all year. You don't want it as warm as a sitting-room – just a pleasant atmosphere that's conducive to working.
Register for free to continue reading
Registration is a free and easy way to support our truly independent journalism
By registering, you will also enjoy limited access to Premium articles, exclusive newsletters, commenting, and virtual events with our leading journalists
Already have an account? sign in
Register for free to continue reading
Registration is a free and easy way to support our truly independent journalism
By registering, you will also enjoy limited access to Premium articles, exclusive newsletters, commenting, and virtual events with our leading journalists
Already have an account? sign in
Join our new commenting forum
Join thought-provoking conversations, follow other Independent readers and see their replies