Walking in the air: Castlefield's own High Line Park
A garden in the sky is Manchester's answer to New York high living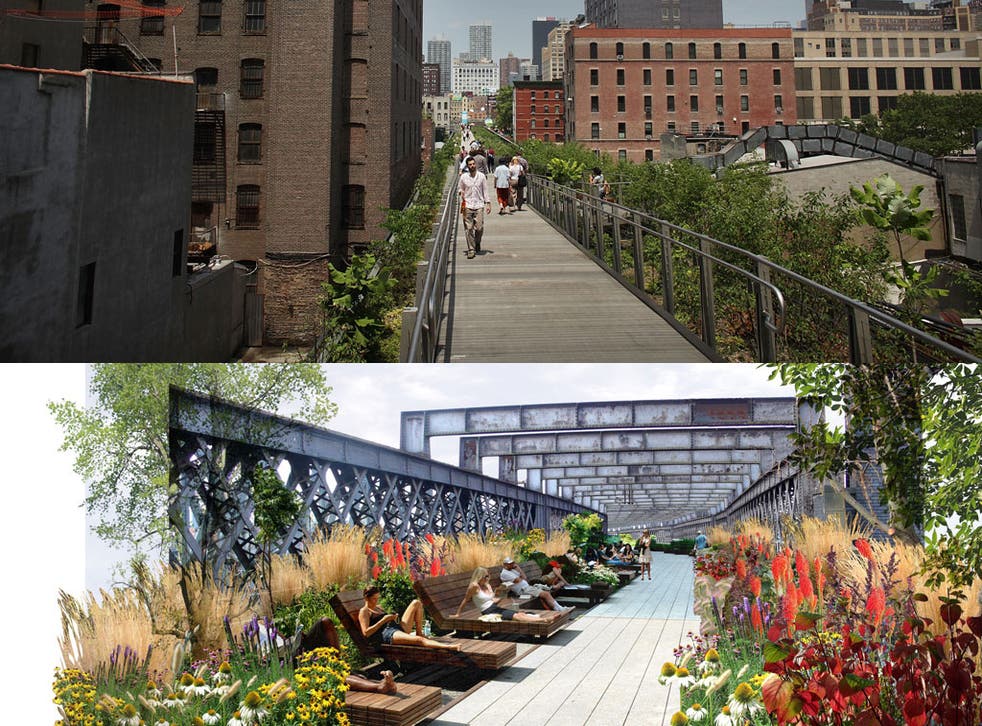 Anything New York can do, Manchester can do better. Or so say the residents of Castlefield who are campaigning to create their own High Line Park on the top of one of the city's derelict Victorian railway viaducts.
Members of the Castlefield Forum hope the Hanging Gardens will rival Manhattan's lauded elevated park, which was completed last year amid huge claims for the economic and social benefits it has brought to the area.
The High Line, on West 23rd Street, began in 1999, when Manhattanites Joshua David and Robert Hammond envisaged the mile-long disused aerial line being brought back to life as a green public space. It took 10 years and $112m (£70m) for their vision to be realised – the first phase was opened in June 2009 – but since then it is estimated to have attracted $2bn of investment to the area below it, which includes inner-city public housing. It attracts four million visitors a year.
Coincidentally, the first time a park was considered to revitalise Castlefield viaduct, the grand castellated, 1,000ft, eight-span marvel of Victorian engineering, was at the end of the 1990s. But it is only now, with the enthusiasm of local people backed by the vision of architects, that the project is gaining momentum. The current designs include plans for shrubs and plants, walkways, a café, allotments and open plazas, which perhaps optimistically in Manchester are designated as sunbathing areas.
Darrell Wilson of architectural firm BDP, who has worked with the forum on the project, said: "It would be amazing if the vision could be realised. It will be much more than a walkway but a multifaceted, community-owned space that creates the opportunity for residents to socialise, grow their own produce, even have barbecues in the summer – all within a beautiful and naturally designed landscape. A special place that leaves another memorable and lasting imprint on the rich cultural heritage of Castlefield."
As the terminus of the Bridgewater Canal, one of great waterways of the Industrial Revolution, the area is already rich in cultural heritage, but campaigners believe their Hanging Gardens can only add to its attractions. "Manchester suffers from a lack of public space," said Ali McGowan, a forum committee member. "Reusing the viaduct, which is under 'managed decline', will not only give us that space but will also stop the further deterioration of a stunning historical structure. It is awe-inspiring to look up at it, and to see it used in this way would not only benefit residents but would also be a great tourist attraction."
The Castlefield project will have to compete for the honour of being Britain's first high-line park with a scheme in east London to transform the Braithwaite viaduct as part of the redevelopment of the Bishopsgate goods yards. The east London scheme has still to draw up designs.
But, even in Manchester, there is still a long way to go. The current owners of the viaduct, British Railways Board, has estimated that it costs £30m a year just to keep the viaduct from falling down and even if, as has been rumoured, it was willing to sell it for £1, the forum will need all their fundraising skills to see their vision materialise. But Mr McGowan is undaunted. "We know the hard work has still to be done. It may take 10 years, but Castlefield will have its Hanging Gardens."
Register for free to continue reading
Registration is a free and easy way to support our truly independent journalism
By registering, you will also enjoy limited access to Premium articles, exclusive newsletters, commenting, and virtual events with our leading journalists
Already have an account? sign in
Register for free to continue reading
Registration is a free and easy way to support our truly independent journalism
By registering, you will also enjoy limited access to Premium articles, exclusive newsletters, commenting, and virtual events with our leading journalists
Already have an account? sign in
Join our new commenting forum
Join thought-provoking conversations, follow other Independent readers and see their replies