Gambling on the property market
Rising house prices have heralded the return of unorthodox investments, from property seminars to hotel buy-to-let offers. But are they too good to be true? Graham Norwood reports
Wednesday 11 November 2009 01:00 GMT
Comments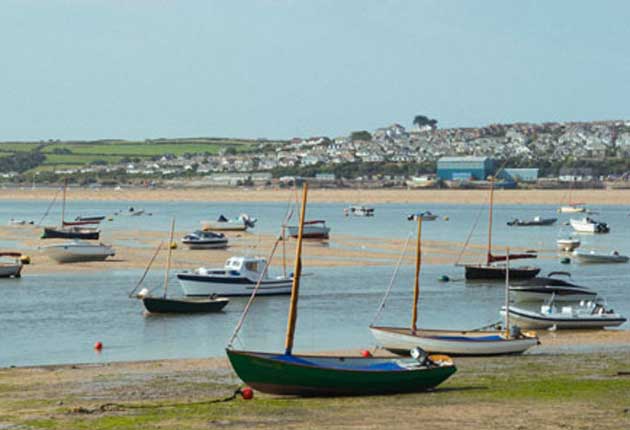 What a difference a few months make. It was just early summer when house prices were in freefall and estate agents and developers going bust. But now price indices are rising and agents are reporting a shortage of homes on sale.
But the apparent recovery of the market means that offers of innovative – some may say high-risk – schemes are pinging into email inboxes from entrepreneurs offering 'The Next Big Investment Thing' in bricks and mortar.
Take, for example, the return of hotel buy-to-let. This involves buying a room for you to use as a holiday home for a small part of the year. At other times it is let out as a hotel room and you get a share of the income. You may then make money when you sell up – assuming it has appreciated.
Several hotel buy-to-let firms went bust in 2008 but a new scheme, the St Moritz near Rock in Cornwall, has just launched. Investors buy three rooms for £499,000 plus VAT to use eight weeks a year; they receive a 5 per cent rent guarantee too.
"The holiday home season by itself isn't long enough in Cornwall to give a good rental yield to investors. That's why buying into a hotel makes sense. We can let out the rooms all the year round," says Hugh Ridgeway, one of the developers.
Perhaps. And the St Moritz has received rave reviews as a hotel but the buy-to-let room concept is still unproven. It works well in sunny climates, but in Cornwall?
PriceWaterhouseCoopers predicts a 10 per cent drop in British hotel income and property firm Savills, says: "There are an increasing number of distressed sales and closures of provincial boutique hotels. Luxury class hotels may continue to trade reasonably well in the capital [but] we expect more closures of such assets outside London."
Investors cannot get a cheap residential mortgage on a buy-to-let hotel room. Advice website Moneyextra.com says a few commercial mortgages exist but you pay at least 25 per cent deposit and a steep interest rate.
Another concept targeting investors is the online auction, which often offer properties for below the market rate. Two new ones launch next month.
Zorgvliet, a South African developer building holiday resorts, is auctioning homes via the Manhattan-based bidonthecity.com and pledges: "Due to lower sales and marketing costs consumers can benefit from [a] lower selling price."
For a variety of reason properties bought at auction tend to be cheaper but now online auctions are trying to attract buyers, often buy-to-let investors, with suggestions that prices will be below market rates.
British firm, www.bidprop.co.uk, is "dealing with big market names as well as niche market operators" and will be able to offer buyers "discounts of between 15 per cent and 20 per cent below market price on both new and resale properties".
It sounds like a winner but as an auctioneer's legal responsibility is to obtain the best price for the seller, and as a property's sale price is not agreed until an auction is concluded, how can organisers claim beforehand that it will sell below market value?
Especially when the tone of the market has changed and developers are no longer trying to offload their properties quickly. For example, Taylor Wimpey, the housebuilding, recently announced market conditions had improved so much it had already sold its 2009 stock and is raising prices next year.
While even established auction houses, which accept online bids, say it is hard to guarantee transparency.
The concept of buying 'below market value' is a popular one for entrepreneurs the term is commonly used in property seminars. These, too, are reappearing after the downturn, offering advice on entering buy-to-let – at a price. Just Google 'property seminars' and wait for the torrent.
The daddy of all seminars was Inside Track. It went bust 18 months ago, three years after reporting an annual profit of £12.1m. It offered free 'stage one' seminars but then charged £2,500 to attend further seminars with introductions to developers and financiers. For another fee, often £5,000, investors became 'members' and could buy property, supposedly below market value.
Today's seminar operators do not all charge merely for attendance but many operate in the spirit of Inside Track – which was, of course, entirely legal.
Some levy a commission on properties purchased by the investor, or insist investors use management firms run by the operator. Others set up clubs, costing thousands to join, in which you can buy supposedly-discounted property.
A consistent problem is that even if the properties really are sold at a sub-market cost, they are cheap for a reason – they may be unpopular with buyers or in areas tough for rentals.
Such seminars, auctions, hotel rooms and similarly unusual schemes may, of course, prove highly successful and profitable. Or they may not.
Certainly property professionals are highly sceptical that the market has recovered enough to allow high-risk investments to bring in solid returns – there is plenty to suggest that current price rises may be a false market, that could easily crash next year.
"Memories quickly fade. Recent history is littered with the corpses of those who rushed into the market over the past few years," warns Henry Pryor, a property analyst who was amongst the first to predict the housing slump and now runs website housingexpert.net.
In simple terms these schemes are just different and unorthodox ways of buying property, and as such don't attract any regulation.
"Those owning or running these businesses tend to do alright when things turn sour, the so-called investor is usually the one left without a chair when the music stops," Pryor adds.
Certainly, thousands of amateur investors today are smarting, and paying, for buying into earlier innovative that have sunk in the sands of the recession. There is an old phrase that applies today, more than ever: buyer, beware.
Risky ventures: Top tips
* If you invest in any type of property, seek independent advice from estate or land agents and research house price indices using authoritative sites like www.houseprices.uk.net. Do not take advice solely from the seller or agent.
* Use independent legal advice to establish 'clear title' (that is, legal ownership) for any land or property. Firms like the International Property Law Centre (01482 224 900, www.internationalpropertylaw.com) can advise on legal aspects ofoverseas purchases.
* Ensure that any property-related financial investment, like a property fund or investment scheme, is regulated by the Financial Services Authority.
* Advice is also available from the Royal Institution of Chartered Surveyors (0870 333 1600, www.rics.org), the Property Ombudsman (01722 333306, www.tpos.uk); Which? formerly the Consumers' Association (01992 822800, www.which.co.uk); and the Law Society (020 7242 1222, www.lawsociety.org.uk).
Join our commenting forum
Join thought-provoking conversations, follow other Independent readers and see their replies