Houses that Shapps built may be the cut-price route
The Housing minister is encouraging self-build as a cheaper way to ownership, says Chiara Cavaglieri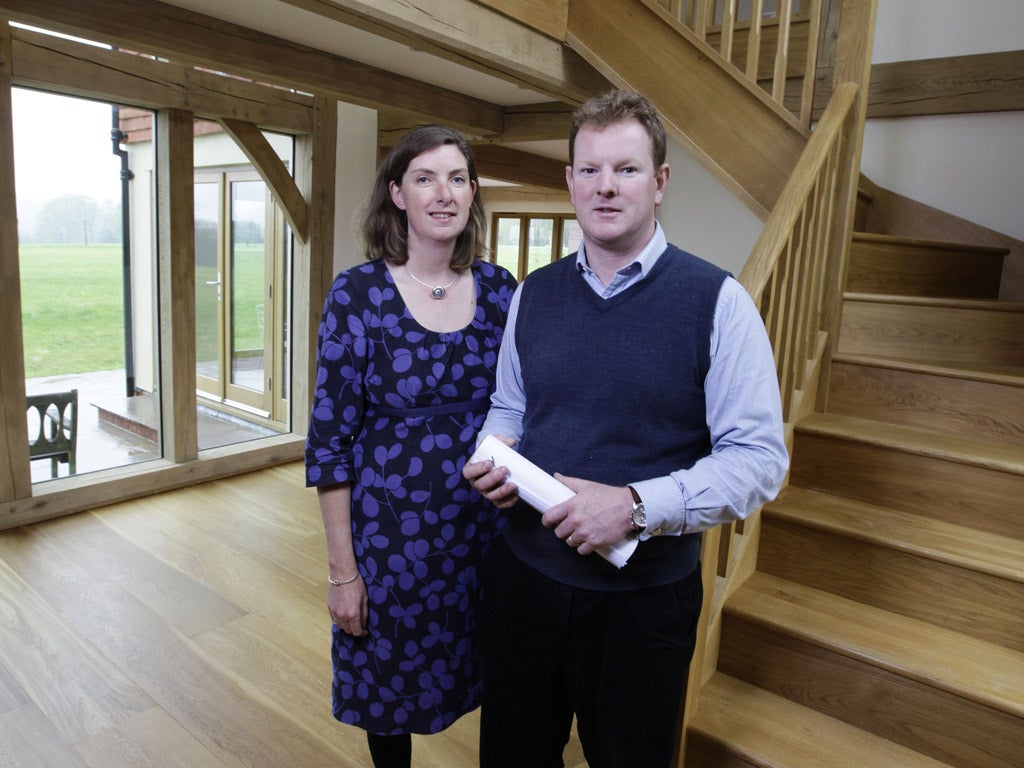 Self-build is often seen as the preserve of the wealthy; those happy to spend lots of time and money on their dream home. But it can also be an affordable option for aspiring homeowners.
Housing minister Grant Shapps has made it clear that he wants to see a self-build boom in the UK and a new package of support from Downing Street could trigger exactly that.
The Government is working to identify more land for development and has tweaked planning rules to make self-build easier. A big part of this package is a new website – selfbuildportal.org.uk – which is designed to guide prospective self-builders through the process.
Local authorities are being asked to assess the level of demand for self-build and take action to facilitate more plots. Additionally, although lenders see self-build as more risky than conventional mortgages, financing should improve too with the National Self Build Association predicting a 141 per cent rise in mortgage availability for self-builders.
For the most part it is building societies that are more amenable to self-build; some offer finance directly and others do so through BuildStore, a lender which also puts self-builders in touch with agents selling plots of land via its website buildstore.co.uk.
"Ten years ago it was almost impossible to get a self-build mortgage, but times have changed. Today there are more than 20 building societies that either offer a specific 'self-build mortgage' or will consider financing a self-build project," says Paul Broadhead, the head of mortgage policy at the Building Societies Association.
Affordability is a key selling point for self-builders; the NSBA say that a three-bedroom home could be yours with a budget of £150,000 when the average ready-made home will set you back £232,000. VAT can also be claimed back on most of the materials you buy, but one of the biggest savings is only paying stamp duty on the cost of the land, not on the final property's value.
"The consumer demand is there and the need for more new housing is clear," says Mr Broadhead. "It is also helpful that the Government, in its housing strategy, has committed to maximise access to land for self-builders as part of its land disposals programme. Putting these developments together, self-build is now a far more realistic prospect," he adds.
The first thing self-builders need to do is find the right plot, which could take many hours of careful research.
"We have a reasonable number of private individuals looking for their 'dream' plot of land and for many that's all it is ... a dream. They struggle to find the ideal plot and then have to overcome the hurdles of the planning process before they even think about appointing a contractor or starting the build themselves," says David Bentley from regional property consultants Bidwells.
Inevitably, self-builders must be prepared to compromise when it comes to plot and design. Local planning departments prepare maps to show which locations are suitable for new development, while specialist agencies, such as plotfinder.net, collect information from other estate agents and send lists of land out to subscribers.
"They are a useful starting point, and will help you identify those agents who are active in selling land in your target areas. It will also give you an idea of how much land is coming on to the market, and at what sort of price," says Michael Holmes of The Southern Homebuilding & Renovating Show.
Getting a mortgage will be another hurdle. Your budget should cover the total build; the land cost, build cost, warranties, labour, and a contingency fund for unexpected costs.
"Private banks may look at self-build for the right sort of client. It may also be worth considering a building society which has links to the locality as they are more likely to be sympathetic to the right project," says Calum Kerr, self-build specialist at mortgage broker SPF Private Clients.
A lender will need to see the site and assess its value before it can make an offer. They typically pay out in five or six stages and at the end of each they will send round a valuer to re-assess the property before releasing the next lot of cash. Generally they will lend up to 75 per cent of the land and end-value, with rates and fees of around 5.5 per cent with a 1.5 per cent fee.
If you want to do the building yourself, lenders will want evidence that you know exactly what you're doing and may want to re-inspect your home before releasing each payment. Lenders may be more comfortable if you hire a project manager, who should also be able to help you save time and money.
Case study: Simon and Vicky Parker, chartered surveyors
Simon and Vicky, both 40, self-built their home in Horsmonden, Kent. They bought a bungalow on 1.5 acres of land for £380,000, knocked it down and built their dream home in its place.
The couple built a Wealden-style oak frame home, using specialists Oakwrights to help them design and construct it. Along the way a false start with a local builder led the Parkers to invest money in employing a quantity surveyor who outlined exactly how many bricks, blocks and tiles would be needed and enabled them to get a specific quote for the build costs.
"As surveyors we both understand property and the best thing we did was get some professional advice where our knowledge was weak. The quantity surveyor's services were invaluable and in turn saved us money on the build as we knew exactly what our budget would be before we started," says Simon.
From conception to moving in took four years with the work taking a year. The total building cost came to £600,000 and their home is now valued at £1.2m.
"We love the open-plan layout of the house and the feel of the oak – it's very comfortable, with stunning views," says Simon. "I can see us being here for the next 20 years."
Join our commenting forum
Join thought-provoking conversations, follow other Independent readers and see their replies