How being haunted affects a house's value
If a deal seems too sweet, there could be a ghostly explanation. Jimmy Lee Shreeve reports
Wednesday 04 February 2009 01:00 GMT
Comments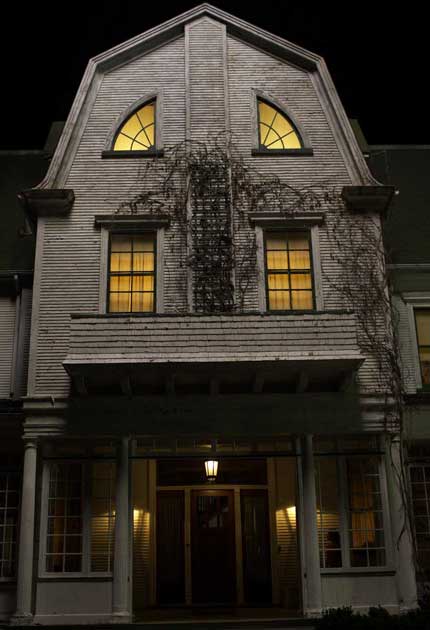 So, you've just moved into your new home. Beautiful house, fantastic location, and you got it for a good price. The previous owners seemed very keen for a quick sale. Wondering why? Well, could it be that they thought it was haunted? Stranger things have happened. Beautiful properties have become houses of horror thanks to unexplained happenings. Some families decide to move out. Others learn to live with their ghosts, or resort to exorcism.
Or, in the case of the actor Nicolas Cage, they simply don't sleep in the house. In 2007, he shelled out $3.5m for LaLaurie Mansion, reputedly the most haunted house in New Orleans. "At any given moment," said Cage, "I have five or six ghosts surrounding the house, all looking up at this haunted temple, and I'm in there. We'll [his family] come over and have dinner there but nobody sleeps there." The property is now up for sale.
Being saddled with an unwelcome spectral guest is more common than you might think. According to a 2005 study by the Portman Building Society (now merged with Nationwide), one in three people surveyed claimed to have lived in a house that was haunted, or rumoured to be. The question is, if you've got a resident spook, do you come clean about it to prospective buyers? And if you don't, could you be prosecuted under the Property Misdescriptions Act?
"The Property Misdescriptions Act 1991 does not refer to haunted houses," says the London-based lawyer Conor Walsh. "But it does create a general duty to avoid making false or misleading statements." Theoretically, this should stop a seller from claiming that a house is not haunted – or, indeed, that it is haunted – when he or she believes otherwise.
In the US, it's a different story. There was a case in 1991 where a seller was ruled liable to the buyer for failing to mention that the property she was selling was haunted, which could have affected the value. "The court held that a buyer would be highly unlikely to discover the existence of such activity himself prior to purchase," says Mark Pawlowski, professor of property law at Greenwich University in London. "And therefore the onus was firmly on the seller to make disclosure."
In one extreme case of apparent supernatural activity, the residents fled in terror – and left the bank to repossess the £3.6m property when they couldn't sell it. Businessman Anwar Rashid moved into Clifton Hall in Nottinghamshire in early 2007. The 52-room mansion, which dates back to the Norman Conquest, was the dream home for Anwar and his wife, and their four young children – until the resident ghosts came out. "I fell for its beauty, but behind the façade, it's haunted," says Anwar. "The ghosts didn't want us there, and we couldn't fight them because we couldn't see them."
The spooky happenings started the day they moved in. And over time, they experienced everything from tapping on the wall and unexplained voices, to screaming in the passageways. Investigators of the paranormal were called in, but failed to solve the problem.
In the end, the Rashids couldn't take any more. And that was that: £3.6m down the drain. The property went on the market again in October 2008 (at £2.75m, nearly £1m less than Anwar paid for it), and is now a conference centre rather than a private residence.
If you own a country estate, a resident ghost could well prove a boon. "An interesting and spooky history – particularly involving any famous or infamous characters – can add intrigue and appeal for more eccentric buyers," says Charles Wasdell, head of research at Propertyfinder.com.
Such a reputation certainly brings in the visitors to Blickling Hall in Norfolk, which is supposed to be the most haunted of all properties owned by the National Trust. Ghosts aren't always welcome, however, on NT properties. "The trust does exorcise some properties. It doesn't shout about it, though," says Siân Evans, author of Ghosts: Mysterious Tales from the National Trust.
According to Wasdell, exorcism is worth exploring if you're plagued by an unruly ghoul. "Every Anglican diocese in the UK has a specialist team of exorcists ready to vanquish evil spirits," he says. "So, if you're worried that a ghost is going to damage your sale chances, you can always call them in."
Join our commenting forum
Join thought-provoking conversations, follow other Independent readers and see their replies