My Home: Ab Rogers, designer
It was built for his super-tidy grandmother, but the designer Ab Rogers favours colourful chaos in this Sixties home, says Tessa Williams-Akoto
Wednesday 11 January 2006 01:00
comments
My Home: Ab Rogers, designer

Show all 2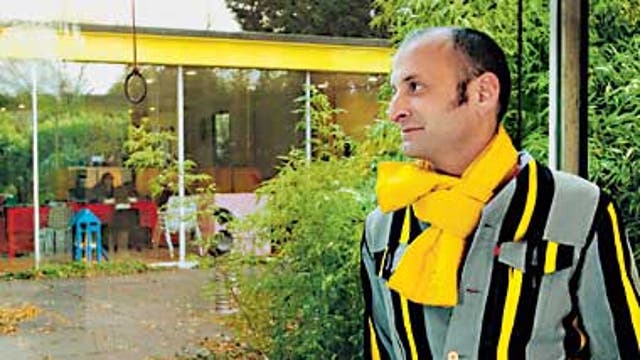 The designer Ab Rogers lives in Wimbledon with his wife Sophie and daughters Ella, six, and Lula, four
When my children are asked by their teachers to draw a picture of their home they always get into trouble. "Don't draw a space ship - you can't live there - you've got to draw where you live."
My father (Lord Richard Rogers) designed this house in 1969 for my grandmother Dada. She and my grandfather Nino William Rogers, lived in the house from 1969 until 1998, when she died.
The concept was based on the zip-up house, which was made for the Ideal Homes exhibition. Later there was the Spencer House, and this is the third-generation model of the zip-up house. It is a bespoke version, but many of the components are building materials and not all industrial, as one might imagine.
Before here, I lived in a huge double-fronted Victorian house in Liverpool. It only cost £30 a week and we had a pizza oven in the basement. It was a great place to be at the time because it was somewhere you could afford to run a studio outside London.
I trained to be a carpenter and left school at 16. As children, we were all so marinated in architecture and design by both sets of parents that I naturally wanted to rebel. For a while I worked in the Caribbean and also travelled around Australia for a year. However, I eventually found my own route into design, and as a designer this is a perfect place to live.
Often people that are delivering something completely miss us. They say they've never noticed the house before and have gone past so many times. I guess you don't get that many pure glass open-plan houses in this part of London. On the other hand, we do get a lot of visitors - architectural students mainly, or often people that have worked with my father some time ago .
It is very different from when my grandmother had it; she was very precise, and it looked immaculate. She would spend ages shuffling a pot of daisies from one place to another to get it in the perfect spot. She used to glide over the floor with dusters under her feet, like she was skating. I think the house has aged a lot since we took it over. She had a lot of modernist furniture by Eames and everything was beautifully classic.
One of the few drawbacks of the house is that you can't hide from anyone, the noise is always there. If the kids are awake, they wake us up, and vice versa. But it is a fantastic space - I love the fact that you can close it up or open it in a few seconds. You can change it from a party venue to a quiet cosy home very easily.
We had our wedding here last year on 16 July. Some of our furniture was brought out into the garden for relaxing on, the rest was concealed in the bedrooms. My stepmother Ruth (from the River Café) made the cake. A lot of the artworks hanging in our home are from our wedding; we stipulated that gifts had to be either wine or something creative.
My wife is a chef and she shares the office with me for cooking courses and demonstrations. She has bought me a designer chair each year, including an Alberto Meda chaise longue by Alias, and Martin Van Severen's chair for Vitra, both of which I adore.
We have to be very specific about what furniture we have in the house - we don't want it to look overcrowded. It is also an ideal space to showcase my own furniture designs. I have a pink cube chair made from fibreglass and the micro-office, which is a complete office encompassed in a chair.
I've always preferred space over location. I would never aspire to live in Wimbledon, the shops are too chichi and the houses being built here are hideous, mock-Tudor monstrosities.
When we go out we usually go into town, but there are organic shops opening and it is liberating being so close to the Common.
There are a few unexpected surprises in the house: fold-away bunk beds in the laundry room, which no one ever believes exist. They just pull out from the wall close to the ceiling.
There is also a hidden shower in a closet, which can be revealed by opening another door. The children have a tiny loo that is literally within the wall.
Another of our additions are the children's beds; they sleep in pods. I originally designed them for a client, Kenny Schachter, then he very generously gave them back to us. They do look rather like space ships and are fitted with their own entertainment centre, with a DVD and stereo. The girls love them because it is their own little environment within a larger space.
I think that light and life are the most important things in a home, I believe a home should be dynamic and exciting but warm; I also think one should be able to relax, whether there's a mess or not.
I'm not one for decorating just for the sake of it. I think these programmes about how to stencil a room and how to paint a room orange or brown are ridiculous. The question should not be how to paint it orange, but why orange? Or why brown?
When your house becomes monumental or so prescribed that everything has a place, it's time to move on, or out. I do think you need a certain amount of anarchy in a house, as well as colour, which is a personal passion of mine.
Living in an open-plan space like this means you either have to be super -tidy or live with mess and celebrate it. My grandmother was super-tidy, my wife Sophie is super-tidy, but the girls and I are not, so we live with the mess and make the most of it.
Join our new commenting forum
Join thought-provoking conversations, follow other Independent readers and see their replies