My Home: Robert Elms
With its constant traffic of children, friends and family, the busy house of Robert Elms is an everlasting work in progress. Interview by Joey Canessa
Wednesday 01 March 2006 01:00 Comments
My Home: Robert Elms

Show all 2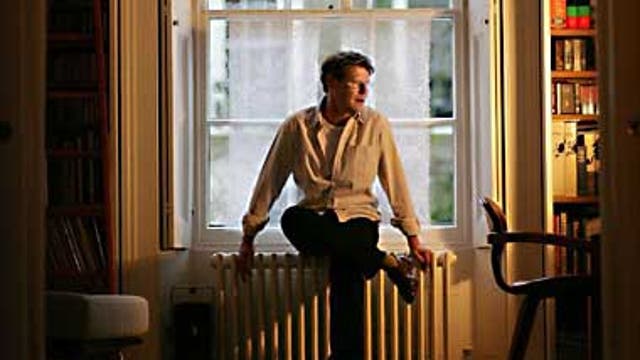 Robert Elms, writer and broadcaster, lives in a five-storey Georgian house in Camden with his wife, Christina and their children, Alice, Alfie and Maude.
We've been here for about 10 years now. When I married Christina, she was living in Belsize Park and I was in Russell Square. We found this house, which was halfway between.
It was scruffy and had been sub-divided into flats, so there was a lot to be done. We began by making it habitable, doing as much as we could within the means of our initial budget. Since then, we've continued with improvements, embarking on a new project every once in a while, but with the passing of time, the earliest works need redoing, like the Forth Bridge. It's inevitable with a rumbustious pack of children rushing around.
The most recent job we did was to replace the hideous Seventies front garden wall with railings, at unbelievable expense. These had to be of a specific style, approved by the heritage/ conservation department and there's only one guy who makes them, so he can charge as much as he likes.
I've lived in the borough of Camden for 20-odd years now, shuffling around between Holborn and Bloomsbury, and I've really grown to like it. I love our house. It's been well thought-out and I think it looks good; it's a family home and we're not fussy about things. Although we collect bits and pieces and treasure them, we feel that it's important that the children learn to play around these things, taking reasonable care, rather than putting them away out of harm's reach.
Although Alfie plays football in the sitting room, things rarely get damaged. The last breakage was mine, actually; I smashed the front window with a cricket ball.
My taste is modern and quite austere while Christina takes a more ethnic slant, so the overall effect is a balance between the two. Our style is not minimalist; we travel a great deal and pick up bits and pieces when we find them. There's a Russian doll, a Mexican cross, Venetian glass that we bring from our regular trips to Venice, little things that have taken our fancy. We've got hundreds of art books and a collection of CDs and records that extends through the house, but it doesn't feel cluttered.
We are both naturally tidy which is fundamental to our marriage, I think. I don't know how things would work otherwise. There are places to keep things, plenty of shelves and a big cupboard downstairs for all the unsightly stuff.
Most of our paintings have been given to us as presents or bought from friends, like the huge pelican book cover by Harland Miller that hangs in the sitting room. The sitting room is where I work these days since my top-floor, purpose-built study was taken over by my teenage daughter. Above my desk are photographic portraits of Chet Baker and Billie Holiday. I'm a jazz fanatic.
We don't really buy furniture any more, probably because we've got all we need. By the time we got married, we were both fairly well equipped with enough stuff to fill the house comfortably. We have a good supply of chairs, including three lovely bentwood Cherner chairs from the Forties.
Our kitchen is where we congregate and have most of our family arguments. We eat together as much as possible, always for breakfast and supper. On the same floor there's a bathroom, which I find works really well with small children around; they can have a bath and still be in touch with what's going on at the hub of the family. I do all the cooking. It started when the children were small. At six in the evening, there was a choice between bathing the children and taking refuge in the kitchen with a glass of wine. I chose the kitchen. I really enjoy it now and cooked for 17 people last week. We have two tables in the kitchen,which can be pushed together for large gatherings. It's a great house for parties.
I spend the early part of the day on my writing and journalistic work, and I also have my own projects bubbling away. I work at my desk in the sitting room, with the children running to and fro. I'm quite happy with this and their noise doesn't really bother me.
Our bedroom is a tranquil refuge, until morning, when the kids come in and jump on our heads. The room is an L-shape, with the bedroom area at the front, tall windows looking out to the street, leading into the bathroom which, in turn, opens on to a roof terrace - which we don't use much, but it looks nice all the same.
The windows have their original wooden shutters, which are lovely; I'm not a great fan of curtains and swags. The house has beautifully big windows throughout and is full of light.
In the bedroom, there's a picture by the Spanish artist Antoni Tapies, which I gave to Christina when we got married. In return, she gave me an incredibly old Colombian dish that was part of a burial ceremony, I think. Another treasure is the prototype of the Tom Dixon "S" chair.
I'm really glad that our children are growing up in such a great, vibrant, multi-racial city. To me, a childhood spent in the country is a life of sensory deprivation. I can't imagine them hanging out at bus stops with nowhere else to go. Alice has Camden Market on her doorstep. What could be more like heaven for a 16-year-old?
Our house fits us well. It's full of light and noise, and we all like it that way.
'The Way We Wore: A Life in Threads' by Robert Elms is published by Picador, £7.99
Register for free to continue reading
Registration is a free and easy way to support our truly independent journalism
By registering, you will also enjoy limited access to Premium articles, exclusive newsletters, commenting, and virtual events with our leading journalists
Already have an account? sign in
Join our new commenting forum
Join thought-provoking conversations, follow other Independent readers and see their replies