Britain is suffering from a housing crisis - who is to blame and how can we fix it?
The Independent's economics editor Ben Chu rates the possible culprits and touted solutions and asks how likely they are to help us get through this mess…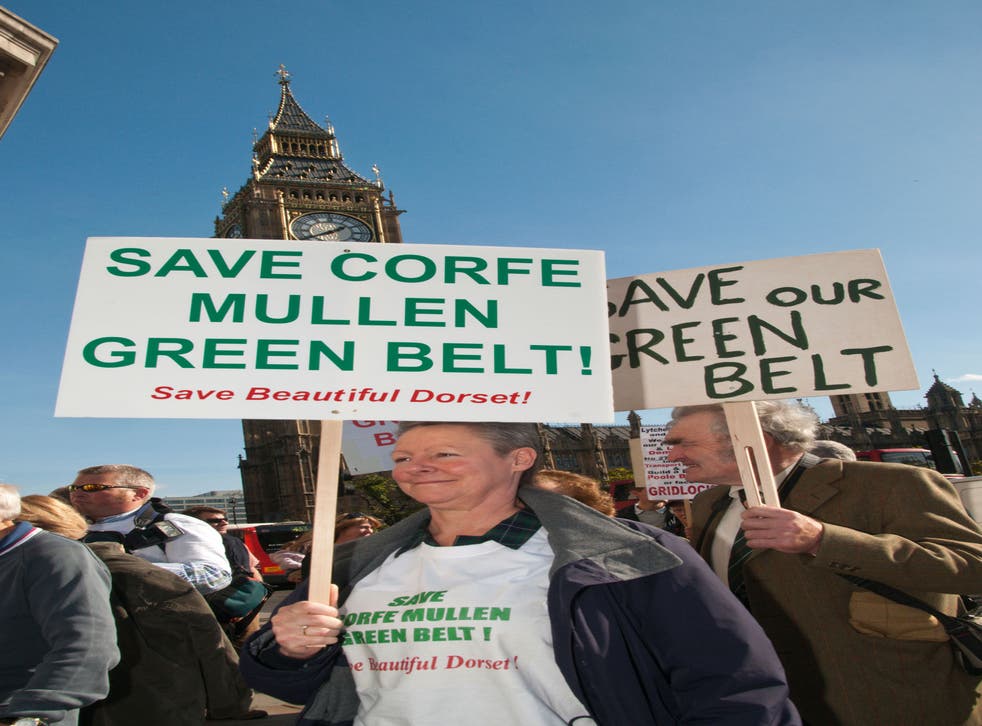 Britain has a nightmare, and its name is housing. At the heart of the nightmare is the sheer expense. The average house costs five times the average person's annual income, not far off record highs. And they're going up too. In December house prices were almost 10 per cent higher than they were a year ago, largely thanks to George Osborne's various mortgage subsidies. Rents have also been rising quickly too in recent years. Housing now eats up around 20 per cent of the typical family's weekly outgoings, up from 16 per cent in 2000. Housing is expensive for the Government too, as it must help the less well-off afford their soaring rents and there are now 1.7 million people hoping to secure a state-subsidised home.
Young people are finding it increasingly difficult to get on the housing ladder, and many are forced to live at home with their parents well into their twenties (or later) as they try to scrape together the enormous deposits demanded by the banks. Since the turn of the millennium, the proportion of the public who own their own homes has dipped from 70 per cent to 65 per cent, despite most people telling researchers they are as keen as ever to buy. Why is housing so dysfunctional in Britain? Here, we look at 10 oft-cited culprits and rate their level of blame – and we consider 10 frequently touted solutions and ask how likely they are to help us get through this mess…
TO BLAME?
1) Margaret Thatcher
The case against
In 1980, the Conservative Prime Minister gave council tenants the right to buy their houses at knockdown prices as part of her project of liberating people, as she saw it, from dependence on the state. But she did not allow councils to spend the proceeds from sales on building more council homes. The result was that the stock of state-owned homes dwindled, creating today's massive social-housing waiting lists and forcing many poorer people to rent from unscrupulous private landlords. The state must then subsidise those rents, hence the rocketing housing-benefit budget.
The verdict
Whatever one's view on the merits of Right to Buy, Mrs Thatcher undoubtedly diminished the social-housing stock. Yet no government since has done anything to restore council house constriction levels, so the blame cannot rest with her alone.
Culpability rating: *
2) Foreigners
The case against
A surge in immigration in recent decades has forced the existing population to compete with newcomers for housing. Unlike, say, America, Britain is densely populated and cannot respond to a sudden increase in demand for homes by simply building more. Too many people are chasing too few houses.
The verdict
While it is true that wealthy foreigners from Asia, the Middle East, Europe and America have been buying up property in the most desirable postcodes in London, pushing up prices in the capital, there is little evidence for the same effect in the rest of the country. Nor is there evidence of immigrants with families "jumping the queue" for social housing, a frequent complaint of the xenophobic right.
Rating: *
3) Buy-to-let landlords
The case against
Decades of rising house prices have encouraged many (particularly middle-aged) Britons to regard houses as financial assets, rather than simply as homes, and thus encouraged them to plough their savings into bricks and mortar and become landlords. Because "buy-to-let" landlords snap up so many properties, and since they are commonly favoured by the banks (as they can usually put more money down up front), younger people who merely want a place to live are often shut out of the market.
The verdict
Buy-to-let has certainly become popular among the postwar baby boom generation and banks have been happy to lend to landlords. But it is not clear that this trend has significantly worsened the property situation for younger people. Buy-to-let landlords often carve up big old houses and turn them into smaller flats to let. This has helped increase the supply of homes, rather than reduce it.
Rating: *
4) "Nimbies"
The case against
Rural communities, mostly made up of the old and well-off, have been campaigning against new housing developments that could house younger people with families. Their selfish motivation is that new housing will block their views of the countryside and depress the value of their own homes. They often claim that they are, in fact, in favour of housing for the rural young – only "not in my backyard".
The verdict
Local campaigns have indeed stymied many new construction projects. There is a political dimension to this problem because local politicians are more attentive to the needs of older, retired homeowners, who tend to have time to devote to lobbying, while the younger working people who would benefit do not.
Rating: ***
5) The Campaign to Protect Rural England
The case against
CPRE and other rural campaign groups such as the National Trust constitute a formidable obstacle to any construction of houses on the "green belt", which has protected the countryside from development since the 1950s. Making this vast area of the country out of bounds for construction (only 13 per cent of the UK's land is built on) means there is massive pressure on existing overcrowded urban areas, where prices inevitably go up.
The verdict
These lobby groups, like the Nimbies, have political clout. They often work effectively with the media to intimidate politicians who try to increase construction in rural areas. Scaremongering headlines about plans to "tarmac the countryside" are ubiquitous. Even though not all of the green belt is equally valuable, the CPRE and the National Trust tend to treat any encroachment as intolerable.
Rating: ***
6) House builders
The case against
They don't build enough houses. This inflates their profits, because what new homes they do sell become more expensive. In a competitive market, new firms would enter and erode those profits by building homes. But this hasn't happened in housing, pointing to a market failure.
The verdict
There is some evidence of "land hoarding", whereby firms acquire land for development and then sit on it while it goes up in value, but these tend to be investment companies rather than builders. A 2008 probe by the Office of Fair Trading in 2008 found no evidence of monopolistic behaviour among builders.
Rating: *
7) The banks
The case against
The banks suddenly stopped lending to young people to buy new homes in the 2008 recession, and are only now beginning to do so again. They became excessively risk-averse, demanding massive deposits and high interest rates for new lending. This is why it has been so hard for youngsters to get on the housing ladder in recent years: there is demand out there but they can't get the finance.
The verdict
The banks did stop lending abruptly in the recession, having previously been liberal with mortgages. And it has undoubtedly become harder for young people to get on the ladder as a result. Yet banks are right to be wary about lending to young people who overstretch their finances and could have trouble making their payments if interest rates were to rise sharply.
Rating: *
8) George Osborne
The case against
The Chancellor has cynically decided to stoke another housing bubble to give the economy a short-term sugar rush, with his Help to Buy scheme. This encourages youngsters to jump into an overvalued housing market by offering them state equity loans – which has helped prevent a correction of house prices and pushes us into another boom-and-bust cycle.
The verdict
No reputable independent economist looks favourably on Help to Buy. And despite the claims of the Government that it is spurring house building, there is little sign of it yet. Mr Osborne argues that he is helping first-time buyers. But this is belied by the fact that there is a second element of the scheme which guarantees mortgages up to £600,000 and which is open to all. The one defence of the Chancellor is that he is not responsible for the entire crisis; he is merely making it worse.
Rating: **
9) The law
The case against:
Compared with people in mainland Europe, renters in Britain have scanty rights. Contracts are often short-term, giving the whip hand to landlords. Fees for credit checks and estate agents can be large. This creates a corrosive feeling of insecurity for many renters.
The verdict:
Long-term renting is indeed more common on the Continent and it is very likely that greater tenant rights have something to do with that. If British renters had more rights vis a vis landlords, they might be less desperate to own their own homes, thus reducing demand for new mortgage loans.
Rating: ***
10) Councils
The case against
The planning system operated by local authorities is too restrictive. Developers want to start building but have to go through endless council approval processes and must negotiate a forest of red tape from town-hall bureaucrats. Reform this process and more homes will be built.
The verdict
Councils should certainly be more conducive to development. Many are overly influenced by nimby and rural lobbies (see above).
Rating: ****
SOLUTIONS?
1) Control rents
The case for
Landlords are gouging tenants, who have nowhere else to go in such a severely squeezed housing market. To offer tenants protection, the Government should impose some kind of cap on rents. They could, for instance, limit rent rises to below the rate of inflation.
The verdict
Controlling rents might sound superficially attractive, but it would have baleful knock-on consequences. In American cities that have rent-controlled apartments, tenants have a strong incentive not to move, even if the housing is no longer suitable for them, as they would likely lose the benefit. Meanwhile, all of those who can't get rent-controlled apartments are no better off. Controls also tend to deter landlords from developing more properties, which means that supply is even more constrained.
Effectiveness rating: No stars
2) Impose a mansion tax
The case for
Property is under-taxed in Britain. People in £1m-plus homes should be forced to pay a special annual levy. This would ensure that the wealthy pay their fair share to the public coffers, release the air from the incipient property bubble, and also help curb our national obsession with home ownership.
The verdict
Property does look under-taxed. Council Tax valuations have not been reviewed since the 1990s. And it is a regressive tax, meaning that those in less expensive homes pay a larger share of the value of their homes each year than those in extremely valuable properties. Levies on static wealth such as housing are also more economically efficient than taxes on labour, such as income tax.
Rating: ***
3) Confiscate land from house builders
The case for
Because firms are land-hoarding for private profit, the state should step in to guarantee the public good. This would mean a "use-it-or-lose it" law, whereby if a plot of land is acquired but not built on within a certain time period, perhaps a year, the council would be allowed to seize the land and sell it to a developer.
The verdict:
Where markets are not functioning properly, the state sometimes intervenes, so there are grounds in principle for this. But there could be complications with state confiscation if it were not coupled with further planning reform, as there may be legitimate reasons for some development delays.
Rating: *
4) Relax the planning laws
The case for
The planning laws are too restrictive and should be redrawn so that there is a strong presumption in favour of development when projects are proposed. This would unleash a flood of new building, increase supply and thus bring down prices. The Coalition has pushed through something along these lines.
The verdict
This is a sensible idea to counter the nimby lobby (see previous page), although it needs safeguards to ensure that construction isn't excessive or massively inappropriate.
Rating: ****
5) Protect tenants
The case for
As already discussed, tenants in Britain have minimal rights. Bolstering those rights would help create a renting-friendly culture. This would help Britain avoid some of the excesses of the boom-to-bust lending cycle. It would also make the workforce more mobile and result in less of our national wealth being tied up in housing stock.
The verdict
The ingrained British culture of aspiring towards home ownership will probably take a good deal more to eradicate than making life easier for tenants.
Rating: **
6) Impose a land value tax
The case for
Taxing the land underneath properties, based on its market value, would penalise anyone who did not develop land and generate an income from it. And people who live in desirable locations (and thus have expensive homes) would be required to pay a regular levy that would match the social benefit they receive. If councils received a share of the revenues, they would also have an incentive to develop more land.
The verdict
Taxing land values should have the same result as confiscating land from tardy developers and increasing the tax on expensive residences. The problem is that the land tax has been floating around as an idea in British politics for more than a century. The radical Liberal government of the Edwardian era came close to adopting it, but got cold feet. It is difficult to be optimistic that the time for this fine old idea has finally come now.
Rating: *****
7) Ban multiple home ownership
The case for
The wealthy are snapping up multiple properties and rubbing their hands together as prices soar. They often leave properties empty in areas where poor people live in cramped conditions, fomenting resentment and inequality. No one really needs more than one house to provide them with shelter, so that is the limit. As housing is a scarce resource, it should be rationed.
The verdict
Another superficially attractive proposal that would have malign consequences. Depriving people of their legally acquired possessions should always be avoided if possible, especially when there are effective alternatives to solving social problems such as a housing shortage.
Rating: No stars
8) Subsidise mortgages
The case for
Because house prices are so high, young people should be given a helping hand from the state to get on to the housing ladder. This means offering first-time buyers an equity loan and then guaranteeing the rest of their mortgage so the bank is persuaded to lend to them – even though the property is worth many times their annual income and they can only muster a 5 per cent deposit. This is the Government's Help to Buy scheme.
The verdict
This terrible plan promises to inflate the demand for houses, yet do nothing to increase supply, ensuring that prices carry on rising. This means that future first-time buyers will need to take on even-larger mortgages relative to their incomes and require even more state support to be viable borrowers.
Rating: No stars
9) Help housing associations to borrow more
The case for
Since local authorities stopped building council houses in the 1980s, institutions called housing associations have partially filled the gap. These are non-profit-making firms that buy and rent out properties at affordable prices. Often their tenants are on income support or housing benefit. They use their surpluses to bring new properties forward either by building or renovating. A state guarantee of their borrowing, as implemented by the Coalition last year, should enable them to step up their building rates.
The verdict
A sound idea, but there would have to be tight safeguards. If a housing association were to borrow imprudently and go bust, it would have to be bailed out by the government, since otherwise its – often vulnerable – tenants could face eviction. The policy should be re-enforced by lifting the cap on council borrowing for home investment, allowing local authorities to build council houses directly once again.
Rating: ***
10) Build more houses
The case for
Britain simply does not build enough houses to meet rising demand. The rate of new-home construction is around 150,000 a year, the lowest since the 1920s. But annual demand for new residences is an estimated 250,000. The laws of supply and demand dictate rising prices. Building more houses by whatever means – giving councils bigger development budgets, easing planning restrictions, allowing housing associations to borrow, imposing a land value tax, etc – will increase supply and reduce prices, removing many of the symptoms of our housing nightmare.
The verdict
All roads lead to the same conclusion: Britain needs more new homes – and anything that helps generate that should be embraced.
Rating: *****
Ben Chu is economics editor of The Independent
"Correction: the original article stated "Allow housing associations to borrow". This has been amended to "Help housing associations to borrow more"
Register for free to continue reading
Registration is a free and easy way to support our truly independent journalism
By registering, you will also enjoy limited access to Premium articles, exclusive newsletters, commenting, and virtual events with our leading journalists
Already have an account? sign in
Join our new commenting forum
Join thought-provoking conversations, follow other Independent readers and see their replies