Budget's incentive schemes cautiously welcome first buyers
Low-deposit mortgages were at the heart of the financial crisis but the Help to Buy scheme is a little different, writes Chiara Cavaglieri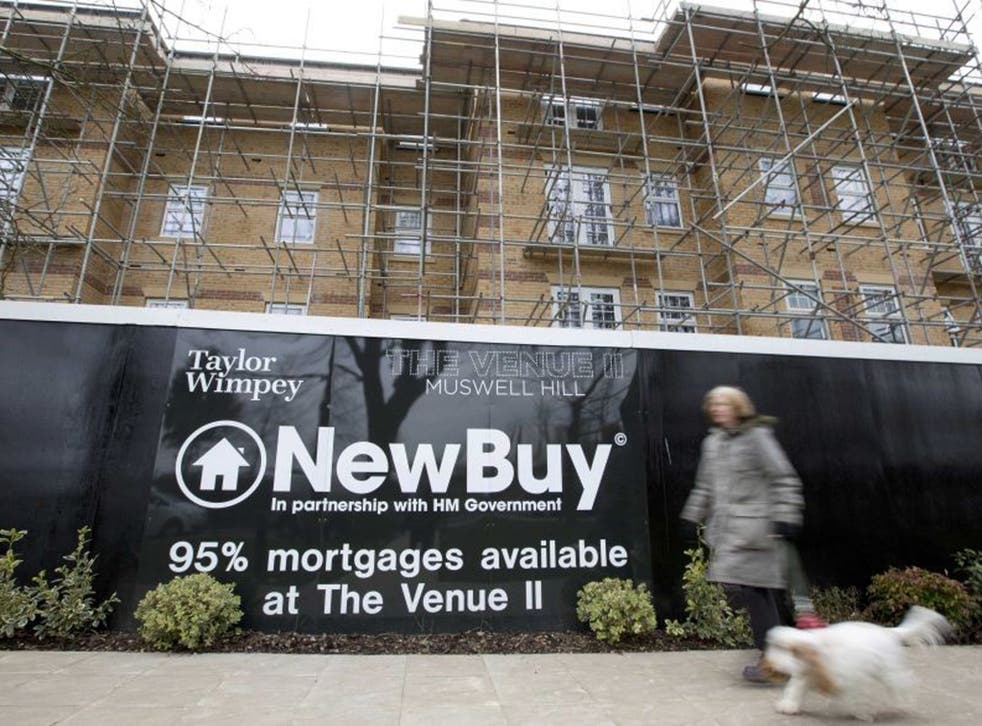 The latest housing initiative from the Government has been unveiled, offering support for aspiring homebuyers and sparking hopes for better mortgage rates and availability. The Help to Buy scheme is seemingly bigger and bolder than previous proposals to get the housing market moving. But is there a sting in the tail?
There are two strands to Help to Buy: equity loans worth up to 20 per cent of the value of a new home, which are available from tomorrow, which will run for three years, and mortgage guarantees for people with smaller deposits, which won't be available until next January.
Help to Buy is an expansion of the existing, more restrictive First Buy scheme. This time financial support is available to both existing homeowners and first-time buyers, with a more generous maximum property price of £600,000 and no cap on the amount homebuyers can earn to be eligible. All of these factors should widen its potential impact and stimulate pent-up demand at the bottom end of the market which has so far been stifled by steep requirements for downpayments.
Sean Wickes, a director at the estate agent Waterfords, says: "Lenders have the ability to reduce the risk they are perceived to take and buyers have the benefit of reduced interest rates through borrowing at 75 per cent or below, as opposed to 95 per cent with considerably higher interest rates."
Under the equity loan scheme, homebuyers need to raise only a 5 per cent deposit to buy a new property worth up to £600,000. A fifth of the property price will then be met by a government loan which is interest-free for the first five years. From year six a fee of 1.75 per cent is payable, rising annually by the retail prices index plus 1 per cent. The loan can be repaid at any time during the term of the mortgage, or upon the sale of the property.
The second strand of Help to Buy is the mortgage guarantee which covers existing homes as well as new-builds worth up to £600,000. Once again, homebuyers can secure a mortgage with a 5 per cent deposit, while the Government guarantees part of the loan to encourage lenders to relax their purse strings on low-deposit mortgages.
This limits the risk associated with high loan-to-value (LTV) lending, where first-timers typically operate, but also second steppers struggling to upgrade because they don't have enough equity in their properties to remortgage.
The finer details of the mortgage support scheme have yet to be ironed out, and one key issue will be whether there is enough of an incentive to persuade lenders to take advantage of the guarantee. However, the Government has promised to make £12bn of guarantees available to lenders, running for three years from January 2014, supporting an estimated £130bn of high-LTV mortgages.
The Chancellor also confirmed that he will look to extend the Funding for Lending scheme which was introduced last year to boost lending. Cheaper funding has been feeding through the mortgage market, encouraging banks and building societies to loosen their criteria and improve rates.
"Over recent months, mortgage products for buyers with a 10 per cent deposit have become increasingly available, with competitive interest rates that have not been seen for some time," says Nigel Stockton of the estate agent Countrywide, pointing to two-year fixed rates from Halifax (at 4.9 per cent with a £999 fee) and Nationwide (at 4.24 per cent with a £499 fee).
Despite the potential for Help to Buy to be a catalyst for further improvements, it has not been welcomed by everyone. Robin King at the residential property specialist Move with Us says that although the new measures are a step in the right direction, more could be done to offer first-time buyers a springboard to the property ladder including more incentives for pre-owned stock:
"This would give second-steppers greater freedom to work their way up the ladder by purchasing second-hand properties while at the same time freeing up more small homes that are ideal for first-timers," he says.
Critics have also voiced concerns that Help to Buy will encourage people to take on debt that they cannot afford to pay off – the type of lending that led to the financial crisis in the first place. Driving up demand is also risky if there isn't a corresponding increase in supply, because it could lead to a price spike.
"Without new houses being built in sufficient numbers, first-time buyers and new borrowers will not have houses against which to have their new government scheme applied," says Mr Wickes at Waterfords. "There needs to be a major funding encouragement to the building sector and easing of planning to allow houses to be built, to accommodate the huge demand for housing prevalent especially in the South."
A house price bubble is particularly concerning for those buying new builds which may already be overpriced. Nick Evans at Stacks Property Search explains that new homes can carry a premium of as much as 25 per cent, much as a new car does when it's driven out of a showroom. His advice is to compare similar "old" properties in terms of value, space and rental value and then check the price per square foot to see how it compares with the resale market. New homes should also be more energy efficient and low maintenance, so be sure you know exactly what you're getting for your money.
"Builders and developers have been through a tough period and their margins are tight; there's a possibility that they may have cut corners and quality," he says. "Make sure there is a snagging arrangement in the contract – many developers are trying to avoid this, but it's often the case that you need to live with a new house for a while before problems materialise," he says.
There are other options worth looking into for buyers with modest deposits. If your family is willing to help, there are a number of guarantor schemes that require only a 5 per cent deposit, including the Woolwich Family Springboard mortgage. This provides first-time buyers with a three-year fixed rate, currently available at 4.69 per cent, on the proviso that the applicant's family opens a linked savings account with 10 per cent of the purchase price.
There are even products requiring no deposit at all – namely the Aldermore Family Guarantee Mortgage which offers a loan of 100 per cent LTV as long as parents agree to a charge on their home.
Register for free to continue reading
Registration is a free and easy way to support our truly independent journalism
By registering, you will also enjoy limited access to Premium articles, exclusive newsletters, commenting, and virtual events with our leading journalists
Already have an account? sign in
Register for free to continue reading
Registration is a free and easy way to support our truly independent journalism
By registering, you will also enjoy limited access to Premium articles, exclusive newsletters, commenting, and virtual events with our leading journalists
Already have an account? sign in
Join our new commenting forum
Join thought-provoking conversations, follow other Independent readers and see their replies