My Home: Ian Rankin, crime writer
The home of the best-selling crime writer is a testament to his passions for rock music and 20th-century Scottish art
Tessa Williams-Akoto
Wednesday 05 October 2005 00:00 Comments
My Home: Ian Rankin, crime writer

Show all 2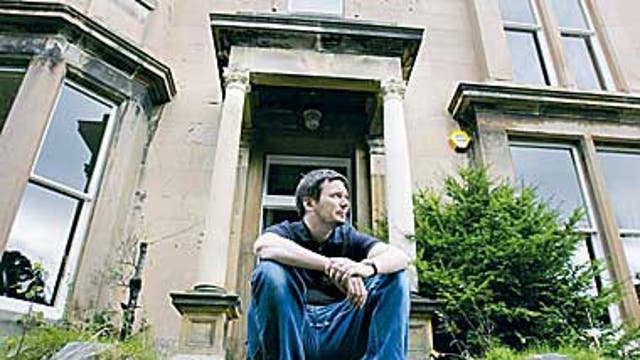 I often think that if I wasn't a writer I might have been a rock musician. I love music, and my house is full of CDs, as well as some amazing sound equipment.
I've just had a new Meridian system installed in our downstairs sitting room. Even when I'm writing I'm always listening to something, usually classical or jazz. Music takes you away somewhere else.
We've lived in this house for two years. It's very different from the house I grew up in, which was a council house on an estate in Fife. That whole house would probably fit into just one corner of this one. It has two huge Corinthian pillars at the front door and very high ceilings with amazingly decorative cornicing. One room has carved bunches of grapes, another has flying birds, another has flowers and roses.
It's very relaxing to look at. The ceilings are staggeringly high, and even though I am tall, I can barely change a lightbulb without getting the stepladder out. This is the third place we've lived in 15 years.
We lived on Dalkeith Road, on the other side of Edinburgh, which is where Rebus's police station was. And we also lived in France for a while, in a beautiful little ramshackle farmhouse in the south-west near Dordogne. It was a lovely place to live and both our children were born there. However, we moved back as one of our sons is disabled and it necessitated a lot of complicated conversations in French with specialists about his condition.
This house has about eight bedrooms, I always forget how many there are, it's so big. We first saw it in the very early stages. It was nothing but a shell. The floorboards had been ripped up, and there was no kitchen or bathroom. Because we got in early, we were able to specify what we wanted before it was finished, which was quite unusual and pretty lucky.
The development company, Tremmel, is run by two brothers - one is a builder and the other a conservation architect - and they buy up old houses and then restore them. They were very sympathetic to all our needs and finished it to our exact specifications. We had looked at one of their houses previously, but found it wasn't quite right for our son's wheelchair.
There were several things that we needed, like a downstairs bathroom, a downstairs living room and a big kitchen.
The one thing I like to spend money on is art. I'm a great collector of 20th-century Scottish art; I have a few works by Anne Redpath, and a huge, 6ft by 6ft, John Bellany painting of a really bright fishing boat in the hallway.
I also have some work by Robin Philipson, who paints these really eye-catching, bright church interiors, using very vibrant colours. We chose to paint the walls lemon-coloured throughout apart from the "snug", which is red and seems almost like an old-fashioned gentleman's club. Apart from that, everything is very neutral and calm.
One of my favourite features are the floors, which are beautiful. There is a white and grey marble floor in the hall, and a grey stone floor in the kitchen. The house consists of different textures; the stone floors, the decorative cornicing and the paintings all contrast with each other.
The kitchen is huge and we have two big black Agas. We haven't had an Aga before, and they are tremendously cosy in the winter. We had the cream kitchen cupboards specifically built by a local carpenter, and then we went for a custardy yellow for the rest of the room. My office is upstairs and it's a bedroom and dressing room knocked into one. I've got two desks in the office.
One has my laptop on it. I work on a fairly simple Sony; I used to have a Macintosh but I could never work it out. The other desk is for all my correspondence. I don't have an assistant, I'm a bit of a control freak and so I do like to deal with everything myself.
The former dressing room is now my library, and is completely full of books, mostly my own, translated into other languages, which is quite a lot as each of my 15 books have been translated into 26 languages.
I've also got thousands of CDs stacked up there, and a little leather two-seater sofa, which faces the speakers. We have a few luxuries, and one of them is a hot tub in our garden.
We went to a furniture warehouse to buy a bed and ending up going home with the hot tub. But it's therapeutic for our son, and it's wonderful for us too, as you can run across the freezing cold garden and jump into this lovely hot water in the winter.
Another luxury is a vibrating chair that we have in the downstairs living room. If I've had a long day at the computer, I tend to collapse into it and the sensation is like having a proper back massage. The living room is a great place to just sit, relax and look at the paintings. It's also got a little room off it where we keep all the booze, so you're never too far from a drink.
I guess having four bathrooms could be considered a luxury as well - there's one on the ground floor, two on the second, an en-suite to our bedroom, plus a shower room on the top floor. We like very long baths, and the shower is a very posh one where the water comes out in all directions. I haven't quite worked it out yet.
'Rebus's Scotland' by Ian Rankin is published by Orion Books priced £ 20
Register for free to continue reading
Registration is a free and easy way to support our truly independent journalism
By registering, you will also enjoy limited access to Premium articles, exclusive newsletters, commenting, and virtual events with our leading journalists
Already have an account? sign in
Join our new commenting forum
Join thought-provoking conversations, follow other Independent readers and see their replies