Solar panels: Power that pays for itself
From next month, the Government will pay for home-grown electricity – so installing solar panels won't just ease your eco-guilt, but make real financial sense. Jonathan Christie sheds light on a real green money-spinner
Wednesday 10 March 2010 00:00 GMT
Comments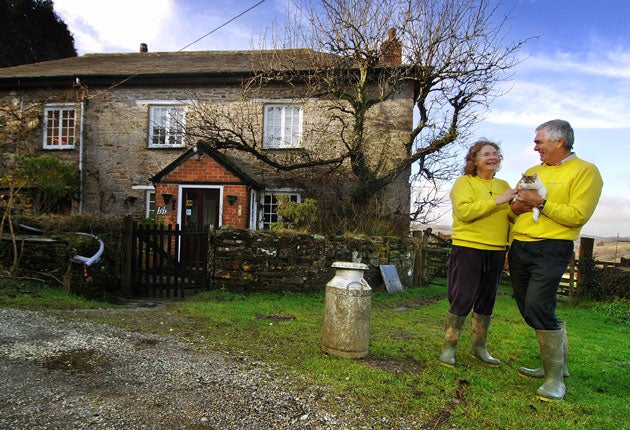 Ronald and Wendy Jordan are hoping the latest addition to their Cornish beef farm will be the most exciting yet. It's out in the lush meadows that surround their farm near Lostwithiel, but is unlikely to be grazing with the herd as they've recently installed a solar photovoltaic (PV) panel.
Solar panels are increasingly part of our urban and rural landscapes, but the reasons for installing these eco-energy providers is about to become not just environmentally sound—but financially savvy, too.
From next month, Feed-In Tariffs (FITs) will come into effect. They form part of the Government's "Clean Energy Cash Back" scheme, an incentive to move away from conventional fossil fuels to greener energies, with FITs allowing home owners with their own renewable power source to receive money for every unit of energy they generate. If you don't produce enough power for your needs, you can still draw on the grid for a boost, but if you produce more than you require, you can sell it back at a guaranteed rate.
The Jordans are keen to make their farm and its B&B business more sustainable. "We've always had a vested interest in renewable energy," Ronald says, "as an environmentally sustainable way to generate power, so solar panels were the next step towards making our home more energy-efficient and to protect ourselves financially in the future. We're even looking at installing a solar thermal system as well."
They took the plunge last autumn when their 2.2kWp (kilowatt peak) PV arrived on site. The cost of installation was £10,500, but almost immediately, they started to see their bills decrease, and now the solar panels generate most of the electricity used in the farmhouse.
Along with these savings, the new FITs will see them receive between 29.3p/kWh and 41.3p/kWh, which could deliver a tax-free annual income of nearly £1,000, regardless of whether the energy is used or exported back to the grid. Any energy they do export will gain them a further 3p/kWh.
Government figures show that in practice, a household using 4,500kWh of electricity a year could see an income of £750 from energy generated (at a tariff of 30p) and a top-up of £50 for unused electricity exported to the grid. They also quote a saving of £150 on power drawn from the grid as a result of owning a renewable energy source. This gives an annual saving of £950. The utility company and solar energy specialists Npower – who helped the Jordans realise their PV project – estimate that an average domestic PV (between 1kWp and 3 kWp) would start at around £7,500, meaning your investment would have paid for itself after eight years.
And it's not just PVs that will benefit from April. In all, there are five types of green energies that are eligible, all offering at least 10 years of fixed tariffs for their owners. And if you have more than one system – solar and wind, say – you'll be metered separately and gain on both.
But many potential customers will still find the upfront costs beyond their budget. Help is in the pipeline, though, as the Government backs up its figures with a parallel scheme of "green loans" that will be attached to the house rather than the person who took it out. Pay-as-you-save green finance has yet to become legislation, but once in place, home owners will see another common barrier to installing a renewable energy source removed.
It appears the Clean Energy Cash Back scheme has ambitions to stimulate a huge uptake on self-generated energy. Recently, the Energy and Climate Change Secretary, Ed Miliband, announced that 10 per cent of UK homes could be fitted with low-carbon-energy technology by the end of the decade, with hopes of 700,000 solar PV units being installed.
One such urbanite gre who's already signed up is Ismail Patel, who owns a house in Yorkshire. He has 10 panels on his roof, which generate more than two-thirds of his annual electricity. "The panels have been a fantastic investment," Ismail says. "The system works as easily as it did when we were using mains electricity."
Donnachadh McCarthy, who runs the environmental consultancy 3 Acorns Eco-Audits, has been campaigning for more than a decade for the government to introduce feed-in tariffs into the UK. He installed a solar electric system into his London home 13 years ago and has some tips for people wanting to benefit from the new tariffs.
"When installing a system, really try and get every extra panel you can, as a major part of the cost is the actual installation," says McCarthy.
"Ensure that any display dials showing output are easily seen to ensure you are using your own electricity when, for example, you want to run the washing machine on a sunny day. And consider contacting a green finance company like the Ecology Building Society or Triodos Bank to see if they will fund your solar installation."
And finally, he continues, "only choose an installer that is a member of a reputable industry body, such as the Solar Trade Association, and do not pay for the entire installation until it has been commissioned and is working properly. Cowboys exist even in the green market."
Join our commenting forum
Join thought-provoking conversations, follow other Independent readers and see their replies