Design: Where God is in the detail
A world away from plastic reproductions, beautiful plasterwork and cornicing is still being handmade by a few master craftsmen. Kate Watson-Smyth finds out what they can do for you
Wednesday 06 February 2008 01:00 Comments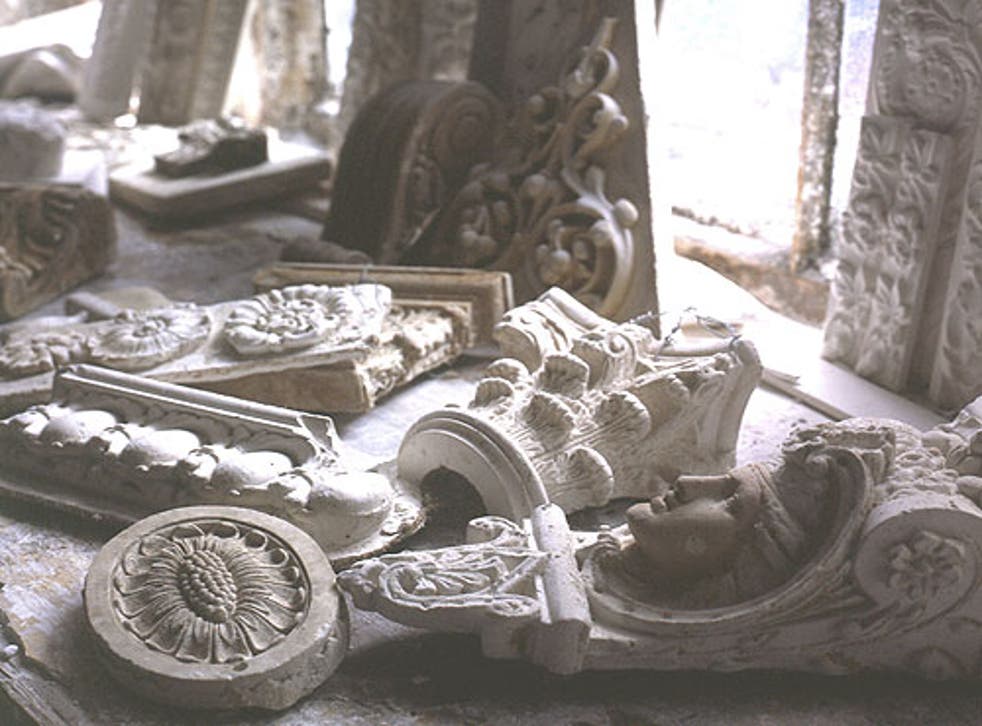 With the housing market in its current state of unease, the mantra for nervous homeowners is don't move, improve. But improving your property doesn't always mean building an extension, converting your loft or splashing out on a state-of-the-art fireplace.
Despite our desire for contemporary living, we still go mad for original features. Ceiling roses and cornicing draw gasps of delight from prospective buyers, but all too often these features have bits missing or are buried under paint or have been ripped out altogether when the room was knocked through to provide a more modern living space.
Jason Jewell knows better than anyone the wow factor that plaster details can create – he restores and repairs cornicing. It can be expensive, Jewell says, but he's convinced that such details add to the grandeur and finish of a room, not to mention the value of the house.
"They are purely decorative but let's not dismiss them because of that. Very often, people have intact cornicing but the detail will be lost under layers and layers of paint, with real botch jobs to fill the gaps where pieces have crumbled or been knocked off. I have seen car filler used to fill in gaps and even bits that don't match stuck up and painted over."
This is true of the classic Victorian terrace so many Londoners call home. Some cornicing fell down as a result of bombing, but that's not everyone's excuse, says Robin Ellis, whose company, Butcher Plasterworks, specialises in contemporary and restorative work.
"When it's been up there for 100 years the key, or glue, that holds it to the joists above can just wear out. Remember that it's attached to the floor of the room above, so it will just fall down eventually. During the 1960s and Seventies, when people were changing the shape of their houses, it was easier and cheaper to rip it down rather than repair it.
But these days, if you've got a mismatched, paint-encrusted cornice, with a chunk missing ,what can you do?
Unfortunately, the first answer is that you'll have to set aside a sizeable chunk of your budget to repair it properly.
If you really want to strip it down yourself, you will need a product called Peel Away (around £20 for a 3kg tub), some goggles and a lot of spare time.
Jewell says: "Peel Away will take off the modern layers, but if your cornicing is 100 years old, there will still be several layers that only the professionals will be able to remove."
You may decide that removing some of the paint is good enough, in which case, apply the product like a paste, leave for 24 hours and then scrape off. But if you want to get it back to its pristine state, you need specialised help.
"We have a special steamer and we reckon to strip an average-sized room takes one or two days," says Jewell. He then takes a moulding of the existing cornicing to make a copy which fills in any missing bits.
"We charge around £750 to strip a room and then it's about £100 to make the moulding and after that you can expect to pay around £15 for each length of cornicing that you need. There's no doubt it's a luxury; you can expect the final cost to be around £2,500, but if it's worth doing, it's worth doing properly."
A sentiment echoed by Robin Ellis, who has carried out work for Buckingham Palace, the Royal Academy of Arts and Alexander McQueen's shop on New Bond Street.
"About half our work is repair and restoration, but there is so much more you can do with this fibrous plaster material," he says.
Fibrous plaster is a tough, versatile material widely used in the 18th and 19th centuries made from a mix of plaster and hessian, which is formed in moulds and gives a level of detail that only carved wood can match. But it's quicker to make and cheaper than wood.
"There are myriad possibilities with this material and we are doing some really exciting things with it in contemporary interiors. One use is on walls, almost like wallpaper, which looks really stunning."
Not surprisingly, both Jewell and Ellis maintain that you can't buy cornicing off the shelf that will look good and insist that custom-made repairs are the only way to go.
However, there are cheaper alternatives. Marc Nicholson, of Regency Mouldings, has a large range of cornicing from about £10 a metre. Based in the South-west, he reckons you can expect to pay around £360 to fit cornicing to a room of 18 square metres, although if you want him to travel outside his region, the price increases.
"We keep the mouldings that we have made on repair jobs and then use them again, so our products are copies of real period designs," he says.
But if you are really determined to go the DIY route then there is one product that is lighter and cheaper than fibrous plaster and needs simply gluing in place.
David Lee, of Leeway, imports cornices that are made from a polymer material that is lightweight, needs only one coat of paint (fibrous plaster will need several) and is even suitable for damp areas, such as bathrooms. Prices start at around £16 for two metres and he reckons it takes around one third of time to install.
"We import it from Europe and it has none of the drawbacks of the plaster cornicing. You can even stick it onto uneven surfaces and some of our range is flexible so you can use it on concave or convex walls," he says.
Contacts
* Jason Jewell: 020-8529 7657; www.cornicecleaning.com
* Robin Ellis: 020-7722 9771; www.butcherplasterworks.com
* Regency Mouldings: 01278 439 218; www.regency-mouldings.com
* Leeway: 0121-449 8525; www.ukhomeinteriors.co.uk
Register for free to continue reading
Registration is a free and easy way to support our truly independent journalism
By registering, you will also enjoy limited access to Premium articles, exclusive newsletters, commenting, and virtual events with our leading journalists
Already have an account? sign in
Join our new commenting forum
Join thought-provoking conversations, follow other Independent readers and see their replies