Fashion designers turn to interiors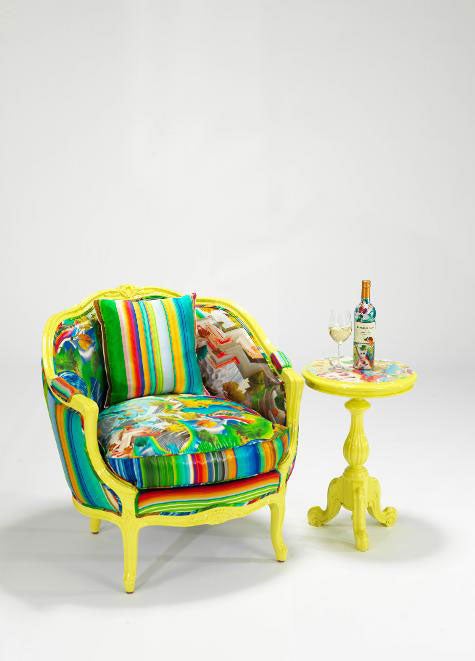 Interior designers had better watch their backs if the raft of fashion designers stepping on to their turf is anything to go by. Not content with supermodels, catwalks and a roll call of rich and famous clients, these fashion designers are increasingly spreading their creative wings to include interior design projects for hotels – see Hotel Maison Moschino in Milan, the Missoni Hotel in Edinburgh or the Hotel Armani in Dubai - or even launching their own interiors collections.
Search for the perfect furniture with The Independent house and home database, powered by mydeco. 
Take Jean-Paul Gaultier, former bad-boy of the fashion world, who has recently collaborated with contemporary furniture house Roche Bobois in a celebration of its 50th anniversary. As part of the collaboration, Gaultier has created a limited edition wardrobe, a combined bed and screen, a mirror, a chair, suitcases and two new upholstery versions of Roche Bobois' Mah Jong modular sofa.
Each design is based on some of Gaultier's most distinctive fashion collections, with the blue and white sailor stripes and blue and white check mariner pattern proving to be just as sexy on a piece of furniture as they are on a pouting male model (well, nearly). "One finds my three big loves in this collection," he croons, "corsets, sailor stripes and tattoos. It has a feeling of a 'boudoir' and is very sensual."
The design process for fashion and interiors meanwhile, isn't as different as you might think according to Gaultier, who explains: "I only know how to design clothes, so in a way I 'dressed' the furniture. When I design my couture and prêt-à-porter collections, of course I supervise everything. I can sometimes have ten fittings for a couture dress until I am satisfied with it. The dresses are then made in my atelier so I can follow it beginning to end. For the furniture, which is not my domain, I had a wonderful partner in Roche Bobois who could supervise the production and turn my drawings into a reality."
Gaultier is not the only fashion designer turning his vision for interiors into a reality. Bruno Basso and Chris Brooke of Basso & Brooke, who have recently dressed both Beyonce and Michelle Obama, have just launched a limited edition interiors line as part of their Turning Leaf collaboration exclusively with The Shop at Bluebird on the King's Road, London.
Turning Leaf, a Californian wine company, commissioned the fashion designers as part of its 'designers in residence' programme for June, July and August.
The new interiors range will include a limited edition drinks cabinet, wine tables and console table, plus a Bergere Gondola chair, lampshades and cushions, all using the digitally printed silk technique and designs that have made the designers so popular and well known.
"Fashion is what we love," say the designers, "developing other areas allows the consumer to appreciate our work in more ways than just wearing it. We already have a wallpaper range, but now we want to show the full range of B&B interiors – decoupage tables, upholstered furniture, luggage – everything is possible. One thing we really want to do is a hotel suite or restaurant interior and give it the total digital print experience."
"Fashion is more than a piece of clothing," said Jonny Johansson, the designer behind cult Swedish fashion brand Acne, recently. And so it seems. The cult label has recently launched a furniture range, available from the new Acne Studio on London's Dover Street from 15 July, and includes graphic design, publishing, branding and advertising as just some of the many strings on its 'fashion' bow.
Meanwhile, Sonia Rykiel, the French fashion designer, has recently signed a deal with furnishing company Lelievre to create a range incorporating floral patterns and the label's bright signature stripes. Though the label was cagey about giving away details ("you'll have to wait for September!"), American site WWD.com has reported on velvet cushions with encrusted rhinestone slogans and a range forming an extension of Rykiel's existing bedroom and bath furnishings collection.
Once fashion designers have discovered the joys of interiors, they may never turn back. Melanie Porter is a case in point. She designed knitwear fashion for a number of international fashion brands including Burberry over a period of ten years before turning her expertise to furniture. She now creates one-off contemporary knitted designs for antique pieces sourced at auctions and markets.
"You can be so much more creative with interiors than you can with clothes," she says, "people are more willing to take risks in their home than they are on their bodies and I love the sense of collaboration with the customer, which I didn't get in fashion design."
Could interiors be winning over the fashion pack? It looks like it. If interior designers still want to take the top jobs, they had better up their game, or consider branching out into fashion
Emily Jenkinson is interiors writer for furniture and interior design website mydeco.com.
Join our commenting forum
Join thought-provoking conversations, follow other Independent readers and see their replies