Gary Numan: Lord of the swords
Where does an Eighties electro-pop star recharge his batteries when he's not on tour?
Gary Numan: Lord of the swords

Show all 6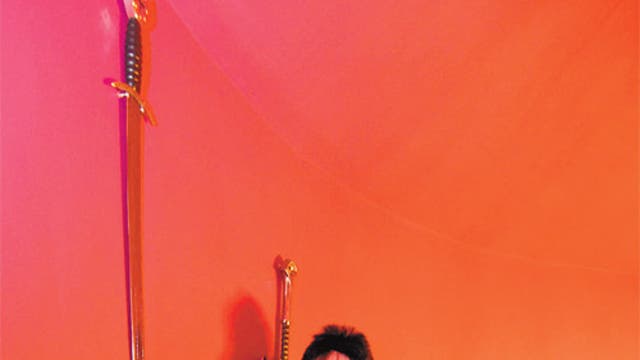 Gary Numan's electro-punk hits "Cars" and "Are 'Friends' Electric?" have been sampled by everyone from Basement Jaxx and Sugababes to Nine Inch Nails. As he prepares for a UK tour, he talks about the Sussex home he shares with his wife, Gemma, and his daughters, Raven, four, Persia, two, and Echo, eight months.
I was 21 when I had my first number one, and living with my parents near Staines. My record company called to tell me, and although it had been something I had been waiting for all my life, I didn't know how to react. I think I told my parents and then went back to watching telly. I wanted to be a pop star from a very young age, probably around seven or eight.
My interest in music came as a by-product of my fascination with being a pop star. It was more of a lifestyle decision. I wanted to have lots of girlfriends and loads of money.
For a short time in my early twenties, I lived the dream in LA, staying in a flat not far from the Hollywood hills, while the rest of my band had a huge place near Sunset Boulevard.
When I moved back to England, the first house I bought was on the edge of a golf course in Surrey. I thought it was the countryside, but it was suburban. After that, I bought a place not far from Stansted airport. I lived there for 17 years, and then with the expansion, they bought me out. I was glad to leave. We'd had our first daughter, Raven, and we thought we should go to the area we love the most: the south coast. Now our home is surrounded by 12 acres of grounds and it is just a half-hour drive from the beach.
I could never live in a city. There's too much noise - I'm too vulnerable and it's too unpredictable. You are very much at the mercy of other people. When I have space and peace, I can think and write.
I think this place is fantastic. I couldn't imagine living anywhere other than here. It is a four-bedroom house with three bathrooms that we changed from six bedrooms. The only drawback is the house sits on the edge of the land. It would be much better if the house was in the middle of the land and we were surrounded. Still, when you go out and walk in the grounds, it is almost like walking through a setting for The Lord of the Rings, especially in summer. There's a stream that runs all the way through the gardens and little bridges that we can walk across. I love it.
When we moved here in November 2005, we made a lot of changes. The plan was that it would be ready to move into by January, but we kept changing our minds - we experimented with an awful lot of different colours - and when we did move in, there was still a lot to do. The people who had the house before us had painted it red, then they'd painted it white to sell it. But then we painted it red again.
We have Thai-style portraits in the sitting room that we bought in Eastbourne, and next door I have a small study that is covered in pictures of my other great love, which is flying.
I flew around the world in a little plane in 1981. We started making a film about it, but we got arrested in India under suspicion of spying and smuggling and they took it from us. We had a second attempt, then wound up in Bangkok for a night.
Our bedroom is one of my favourite rooms. It is very calm and relaxing. It is painted dark red with lots of low glitter lights and is at the far end of the second floor. A huge Louis XIV bed dominates the space - it was one of the first things we bought for the house. Unfortunately, we didn't measure it, so we had to sleep for months on end on a mattress, until we had knocked down enough space to accommodate the bed. We were probably here six months before things started to take shape.
Most of the things we did were small and not structural, but it seemed to take for ever. We put in new doors everywhere and fencing all around the garden to protect the children.
On the ground floor, we put in a new fitted kitchen, and next door we have an adjoining dining room. We weren't going to have a dining room - we're not really sit-down-at-the-dinner-table types of people - but we went to Camden one day and happened across a closing-down sale and we bought this amazing dining table and chairs. They look rather Gothic, so match the rest of the house.
I'm very much into The Lord of the Rings, and I love all the swords and things that go with that. The hallway leading down from the first floor has a range of swords hung upon the wall. My wife usually gets me them for birthday or Christmas presents - usually they are film replicas - but I love their look.
Underneath the stairwell, we have a stuffed white Alaskan timber wolf, which is rather unusual, considering we are both into animal rights. I had to save him. I was coming back from America after a tour and the plane had stopped in Seattle for a while. I saw the wolf in the airport shop with children playing on it, and I just thought, "What a horribly undignified way to end your life." So I bought him, with the intention to build a tundra setting around him complete with mural and ice. Then we got this house and we didn't have room for all of that. But he's a happy wolf now and at least he has our own two dogs for company, Puddle and Bear Cub. Maybe one day he'll have his own ice surround.
Gary Numan performs his album 'Replicas' on a 15-date UK tour that starts in February ( www.numan.co.uk)
Where does an Eighties electro-pop star recharge his batteries when he's not on tour? For Gary Numan, it's a gothic-themed estate in Sussex
Join our new commenting forum
Join thought-provoking conversations, follow other Independent readers and see their replies