Secret History Of: Tupperware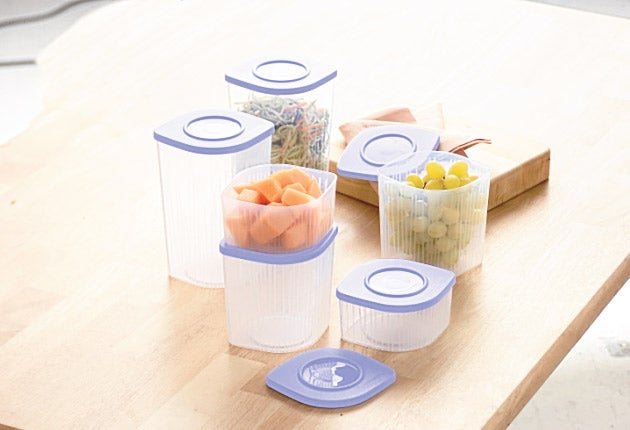 Its very name is synonymous with the product. Say "Tupperware" and everyone knows what you mean. They knows about the parties, too. But do you know anyone who has actually been to one? Or who has any?
You may not be aware, as you shop online and in those giant retail warehouses, that those parties are still going strong and it's still the only way to get hold of the genuine article.
Tupperware was invented by Earl Tupper, who introduced the first sales in 1946. He was an American, by the way, so that's his name not his title. Tupper, a chemist, was experimenting with plastic, which, back then, was new and unpopular. It was brittle, smelly and ugly and no one had worked out what it might be good for.
Tupper arranged for his employer, DuPont, to sell him their remnants in the form of polyethylene slag. It was black and hard and, yes, it smelt, but Tupper turned it into a mouldable plastic that was flexible and durable.
Next he created a waterproof, airtight lid for his plastic container that would keep food fresh and enable it to stack up in the fridge. And that, you might think, was that. Only it wasn't. Nobody wanted it. A comment in Business Week magazine said: "In retail stores, Tupperware fell flat on its face."
Tupper needed someone to explain his vision to the clients. Enter Brownie Wise who worked for a company called Party Plan and saw the potential for Tupperware to be sold in the same way. Soon she was selling more than anyone else. And that really was that. In 1951, Tupperware was taken from the stores and sold exclusively at parties under the aegis of Brownie Wise, the first vice-president of the new Home Parties business.
The success of the parties was down to a couple of key factors. Firstly, in the postwar era, Americans became mobile for the first time. The parties gave women an instant way of meeting their neighbours and settling in. Secondly, it gave them a way of maintaining their domestic responsibilities while earning their own money and being independent.
The first British party was in October 1960 at the home of Mila Pond in Weybridge, and the company will be celebrating that later this year with, you guessed it, a giant Tupperware party.
Although the company has stayed true to its roots, selling only through approved consultants, it has moved with the times. The range has expanded to include microwave, freezer ware, and products such as knives and scissors. You can also now book a breakfast party, a barbecue party, and an any time-you-fancy party. So if you want to give it a go, visit www.tupperware.co.uk for details of your nearest consultant. They might be closer than you think.
Join our commenting forum
Join thought-provoking conversations, follow other Independent readers and see their replies