The London Design Festival: Five of the UK's freshest new talents reveal how they are rethinking everything from lamps to wallpaper
The London Design Festival returns to the capital bolder than ever this week. Here, Holly Williams talks to young designers about their favourite pieces and what influences them
Holly Williams
Saturday 06 September 2014 00:34 Comments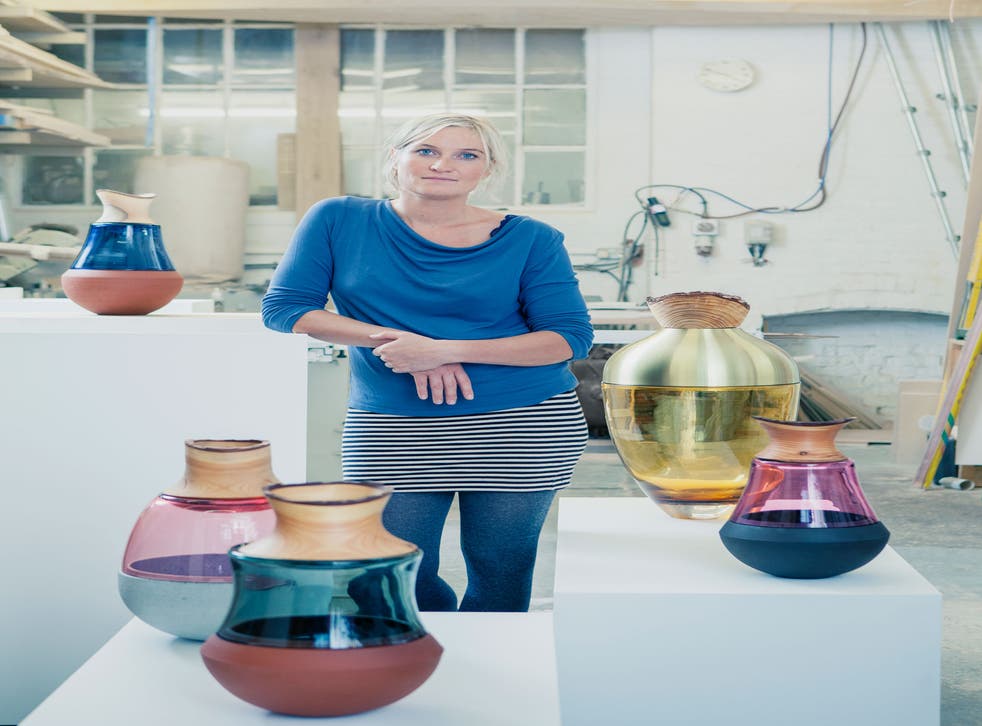 When the London Design Festival (LDF) began 12 years ago, it was one of only a handful of such events in the world; today, there are more than 100 international design festivals, as each and every major city shows off its wares. And, LDF founder Ben Evans feels happy to say, that is partly due to the success and profile of London's annual design bonanza, which takes place over the course of a week in September.
One of the festival's most important aspects is as a showcase for new, young designers, and Evans believes that LDF is hugely important in recognising and nurturing emerging talent. "It's an opportunity for young designers to reach out to new audiences," he says. "In the congested marketplace that is London, it can be very difficult to do; the festival offers a platform that's open, wide-ranging, and free, so young designers can use it as a shop window for their talent."
Below, we've put together our own display of new talents involved in some of LDF's 300-plus events; from textiles to furniture, pottery to prints, they offer a glimpse of the direction in which British design is headed.
The London scene, however, needs to be understood in global terms; as Evans points out, the notion of a "London look" or a "British feel" is rather old-fashioned. "The idea that you have city or national identities has passed; we're being constantly reshaped by outside k influences. You'll still get people who will try to present that – companies such as Burberry and Jaguar – but mostly we've moved on."
Our pick of young designers reflects that globalised trend – they are German-Finnish, Welsh-Russian, Irish-Australian… Evans suggests that London acts like "a magnet", drawing talent to study here – but also, crucially, to stay, to make their home and business in Britain. "We've got a design culture that is different to other places, with the organic growth of micro-businesses and small collectives."
Despite funding challenges for arts courses, Evans is optimistic about the state of design in the UK. He sees the younger generation, in particular, galvanising the relationship between designer and customer by harnessing the potential of the internet. "There's a new consumer class prepared to make design choices on their own," he suggests – which is to say, we know what we like, and we're happy to buy straight from the source, which directly benefits small start-ups. "The profile of design generally is in good shape: the internet has changed our relationship with it. There's a hunger, a thirst and a knowledge about design now."
The London Design Festival takes place across the city from Saturday to 21 September; for details: londondesignfestival.com
Pia Wüstenberg, 27
Design and crafts
With a BA in Furniture Design and an MA in Design Products from the Royal College of Arts, the half-German, half-Finnish Wüstenberg now splits her time between a studio in east London and a workshop by a lake in eastern Germany. She deals in contrasts – of materials, of function and art, of contemporary and traditional. In 2012, she was nominated for the Elle Decoration British Design Awards for her Stacking Vessels. She is showing at Design Junction at LDF
Who I've worked with I work for myself – Piadesign and my own brand, Utopia & Utility.
What I'm showing at LDF A collection of mixed media objects for Utopia & Utility.
My favourite piece My stacking vessels. They are functional sculptures. For each piece I work with three individual craftsmen, challenging the crafts and materials to work together. The pieces are unique sculptures that disassemble to form three individual containers which are functional. They encapsulate the principal idea behind Utopia & Utility, to combine art and design, function and fantasy.
My influences Nature and the urban environment.
The challenges of working in design Having the confidence to dare to try something new.
The state of British design Multicultural.
utopiaandutility.eu; piadesign.eu
Xenia Moseley, 25
Socially useful design
Born to a Russian mother and Welsh father in south London, Moseley (pictured above) trained at Brighton University, where her thesis was entitled 'Folk Art and Craft of the Russian Empire'. Her projects are rooted in social engagement; she has worked for a florist, builds websites, carves spoons and spins wool, and is currently a fellow of the social-innovation programme Year Home, working at an Academy school in south London. Her work is part of the V&A's Wish List at LDF
Who I've worked with Terence and Sebastian Conran, Richard and Ab Rogers.
What I'm showing at LDF The Ladder that Likes the Wall – a ladder designed to help explore the lost corners of a room, that was commissioned by Richard and Ab Rogers.
My favourite piece A basket-woven boat for my Journeywoman project; and my Welsh coal jewellery.
My influences Artists such as Alighiero Boetti, Grayson Perry, Gerhard Richter, Jeremy Deller. Designers such as Julia Lohmann, Formafantasma, Studio Swine. Thinkers and doers such as John Thackara and Alastair Humphreys. My Russian and Welsh heritage.
The challenges of working in design The product-design industry in the mainstream creates more problems than it solves. My difficulty is balancing my desire to make beautiful things with a passion to leave the world in a better state than I found it.
The state of British design During my Journeywoman project I found an abundance of talented craftspeople along a river only 22 miles long. They don't define British design – they're not accessible enough – but I think that's improving.
xeniamoseley.co.uk; journeywoman.co.uk
Kit Miles, 26
Interior-surface design
Since graduating from the Royal College of Art in 2011, gaining his MA in textile design, Miles (pictured above) has founded his eponymous luxury wallpaper, textiles and interior-surface design studio. His influences range from Surrealism to the Baroque. He is showing at Urban Living Interiors at LDF
Who I've worked with I am focusing a lot of energy at the moment on growing my work with high-end retailers.
What I'm showing at LDF One of my super-wide wallpapers. The design is made up of twisting, coiling stripes; it has a stunning, overwhelming effect as a repeat.
My favourite piece One in a series of nine ceramic coffee cups. The surface quality of the bone china holds print design beautifully.
My influences Art, literature, architecture. I am very hands-on in my approach, so inspiration evolves as I begin to draw; you could call it thinking through your fingers.
The challenges of working in design Allowing the worlds of creativity and business to overlap but also to be separate when necessary.
The state of British design The recession invented the start-up culture in London. New businesses are taking risks more than ever, which is leading to incredible innovation; British manufacturing is on the up and is very supportive of new firms.
Sam Lloyd, 22
Product and furniture design
Since graduating with a BA in Product and Furniture Design, Lloyd (pictured above) has been shortlisted for an award at New Designers 2013, featured in 'Icon' magazine's Graduates 2013 review and selected by furniture retailer Heal's to showcase his work as part of Heal's Discovers 2014. He is showing at 100% Design at LDF
Who I've worked with Heal's, the design workshop 2MZ and Edward Philips Interiors. I also worked with New Balance at the 2012 London Olympics.
What I'm showing at LDF My Sand Cast stool collection. It features a bar stool and a low stool in two different finishes.
My favourite piece A tie between Sand Cast stool and Alarm Clock – a dock that adds a traditional bell to a mobile phone.
My influences My dad was an architect, so I learnt how to sketch early on. I like learning about materials so I can use their full potential, so my influences are designers who work in that way, such as Edward Barber and Jay Osgerby, Thomas Heatherwick and Max Lamb.
The challenges of working in design It's challenging getting things into production due to finances.
The state of British design More and more companies are nurturing British talent, and many factories across the UK can now produce designs for a commercially viable price.
Michael and Georgie Gettings, both 33
Lighting and homeware
Michael, born in Belfast, grew up in Sydney from the age of seven, and qualified with an Advanced Diploma of Graphic Design from Western Sydney Design Centre. Georgie, born in Sydney, qualified with a Bachelor of Creative Arts from Macquarie University, Sydney. They met while working at Moon Design in Sydney and moved to London in 2008, establishing successful graphic-design careers. Now husband and wife, with a shared passion for concept lighting and homeware, they are launching a new venture, Michael & George, and their debut product range, Stationery Objects, in September. They are showing at Tent at LDF
Who we've worked with After working in London's graphic-design scene, we are now focusing our Michael & George brand on creating concept-driven product design, working with specialist UK craftspeople.
What we're showing at LDF Stationery Objects: we have taken familiar stationery items, such as an HB pencil, geometry set and ruler, and re-imagined the way we interact with them.
Our favourite piece The HB Lamp, which enlarges the humble pencil to gigantic proportions, to let people scribble over their walls and floors.
Our influences Our 2D backgrounds – we love generating ideas, which we can now apply in a tangible 3D world.
The challenges of working in design Venturing into product design, we are constantly faced with things we could approach in multiple ways – but what's the right way?
The state of British design We were originally drawn to the UK because of the strong design scene and its opportunities. In our opinion, London is the creative capital of the world.
All portraits by David Vintiner
Register for free to continue reading
Registration is a free and easy way to support our truly independent journalism
By registering, you will also enjoy limited access to Premium articles, exclusive newsletters, commenting, and virtual events with our leading journalists
Already have an account? sign in
Join our new commenting forum
Join thought-provoking conversations, follow other Independent readers and see their replies