The Secret History Of: Le Creuset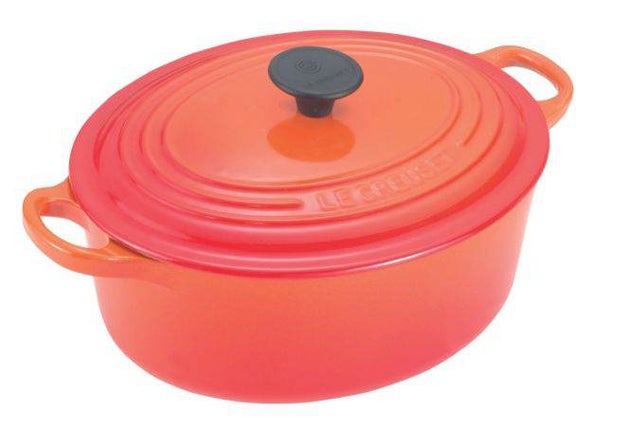 No self-respecting cook is without at least one piece of this cast-iron cookware, which gives dishes a certain je ne sais quoi.
Le Creuset's story began in 1925 in Fresnoy-le-Grand, northern France, where the company's foundry is still based. Two Belgian industrialists – Armand Desaegher and Octave Aubecq – introduced the Le Creuset cocotte (French oven), which remains its most popular piece.
Nine years later, the signature Volcanic orange was launched after the company owner happened to fall in love with a Scandinavian cooker in the same colour.
It wasn't until 1961 that the first UK orders arrived in Selfridges. The store's buyer is reported to have taken one look at the Elysees yellow cookware and announced with distaste: "Le Creuset won't sell."
It didn't just sell – it set trends. Le Creuset's Tostador, its first grill model, set the foundation for future cooking styles, with grilling still considered one of the healthiest ways to cook. The company hired Raymond Loewy, who designed the interior of John F Kennedy's Air Force One, to restyle the traditional Le Creuset round dish to fit in with the post-war passion for streamlined modern tastes. It became a classic piece.
The 1960s saw the launch of Le Creuset's first blue, which was, somewhat bizarrely, inspired by a cigarette packet. Elizabeth David, who brought Mediterranean cooking to the UK and was a huge Le Creuset promoter, was responsible. "She was a heavy smoker and her love of the Gauloise cigarette packet got Le Creuset thinking," says Laura Jones, the company's product manager for cast iron. David must have been chuffed – she went on to stock the biggest range of Le Creuset yet in her specialist London cookware shop and from then on, Le Creuset became synonymous with good food.
Many colours and designers later, Le Creuset has become not just a brand, but a mini-industry with more than 100 retail stores worldwide, producing stoneware, textiles, stainless steel, non-stick and ceramics. But its cast iron is still made from 15 per cent pure pig-iron, 35 per cent recycled steel from the car industry and 50 per cent recycled iron.
Most satisfying of all, just as in 1925, all materials are melted down into the furnace and then poured into a melting pot or creuset, from which the company takes its name.
Join our commenting forum
Join thought-provoking conversations, follow other Independent readers and see their replies