The Secret History Of: Marimekko Unikko fabric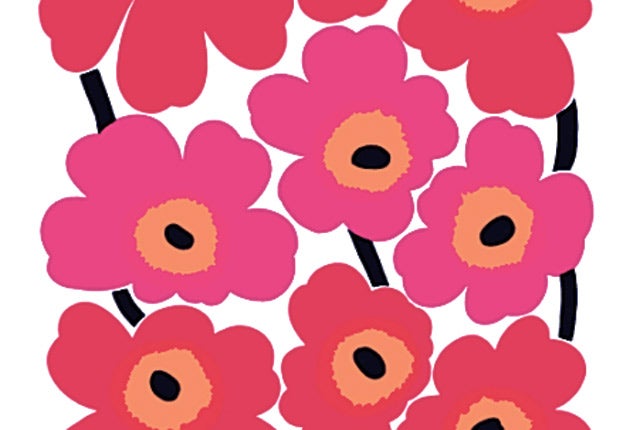 It's probably one of the most recognised fabric designs in the world. Huge splashy poppies in a variety of colours adorning umbrellas, bags, tea trays and bedding. And yet Unikko, from the Finnish design company Marimekko, only came about when a designer dared to defy her boss.
Armi Ratia, the creative vision behind Marimekko, bought a textile company with her husband, Viljo, in 1951. She insisted on bold colours but decreed that there would be no floral designs. In her opinion natural flowers were so beautiful they should not be used as motifs. But one of her designers, Maija Isola designed Unikko in protest at being told what to draw.
Tiina Alahuhta-Kasko, of Marimekko, said: "Armi had said publicly that she didn't want any flowers, but Maija refused to accept her decision and designed a whole range of floral patterns which were so gorgeous and distinctive that Armi bought eight straight away."
After the Second World War, Europe was ready for some colour and the Ratias came at just the right moment. But their designs, while popular, didn't sell as no one knew how to use such bold fabric.
Ratia hired a friend to make the material into simple shift dresses. At the first fashion show, the crowd went wild, buying the clothes almost straight off the models' backs. In 1957, they were invited to show at the upscale Rinascente store in Milan at the invitation of the then display manager, Giorgio Armani.
The company name was changed from Printex to Marimekko, an anagram of Armi's name together with the Finnish word for dress, and, as the formal gloved luncheons of the 1950s gave way to garden parties and barbecues, so their more relaxed style of clothes fitted the new mood.
In 1960 Jackie Kennedy bought seven dresses and was pictured on the cover of Sports Illustrated in a red sleeveless version.
A few years after Ratia's death in 1979, the company was sold but ran into financial problems. In 1991, Kirsti Paakenen bought Marimekko and is credited with having saved the company. In 2007, it began opening its own shops and when Carrie Bradshaw was pictured wearing a Marimekko bikini and later a dress in Sex and the City, the company was back at the forefront of fashion.
For its 60th anniversary this year, Maija Isola's daughter Kristina, who still works for Marimekko, has created a collage of patterns first designed by her mother.
Join our commenting forum
Join thought-provoking conversations, follow other Independent readers and see their replies