The Secret History Of: Philippe Starck's lemon squeezer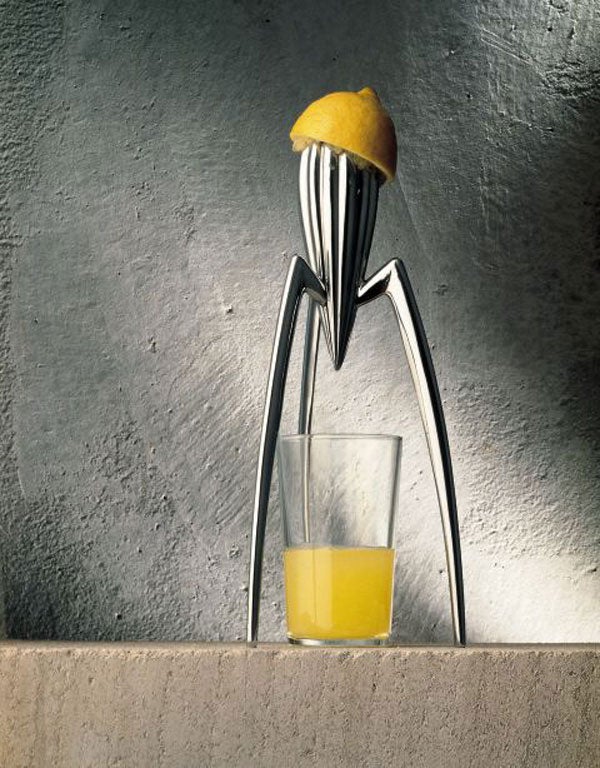 Philippe Starck was having lunch on the Amalfi coast. As he ordered a plate of calamari he was pondering his latest commission from the Italian design house Alessi. The company, responsible for so many acclaimed designs over the years, had requested a tray. Starck needed to work out how to bring his unique talents to such a humdrum object. Glancing down at his plate, he realised that he had no lemon.
As he beckoned to the waiter, Starck was suddenly seized by an idea. He began scribbling on his paper napkin.
Twenty years on, that napkin is now in the Alessi Museum. Greasy and lemon-stained, it depicts the very first doodles of what would become the now iconic Juicy Salif lemon squeezer.
Alberto Alessi, the manager of the company, recalls: "I received a napkin from Starck; on it, among some incomprehensible marks – tomato sauce, in all likelihood – there were some sketches. Sketches of squid. They started on the left and as they worked their way over to the right, they took on the unmistakable shape of what was to become the Juicy Salif lemon squeezer.
First produced in 1990, this squeezer is as controversial as many of Starck's other designs. Some say it doesn't work very well and makes a mess of the worktop. Others celebrate it as a piece of form over function. Whatever your opinion, it now ranks among the greats of modern design with a place in the Museum of Modern Art in New York, which means that it's a work of art in your kitchen.
Michael Czerwinski, of London's Design Museum, says of the squeezer: "Starck has imbued what was a perfectly adequate kitchen drawer filler with aspirational desirability, indications of intellectual meaning and a mythical lack of juicing prowess."
Salif stands 29 centimetres high, is made from cast and polished aluminium and is still available for £43 for Alessi.com. Alessi has also produced 10,000 gold-plated versions, which were never intended for use as the citric acid in the lemon discolours the juicer. Starck is rumoured to have said: "It's not meant to squeeze lemons, it is meant to start conversations."
And the tray? Well, two years later, Starck finally gave them his idea for the Voilà Voilà tray.
Made in Italy – the Influence of Italian Design talks are on throughout May at the Design Museum in London. (Designmuseum.org; 020 7403 6933)
Join our commenting forum
Join thought-provoking conversations, follow other Independent readers and see their replies