The Secret History Of: The Peugeot Peppermill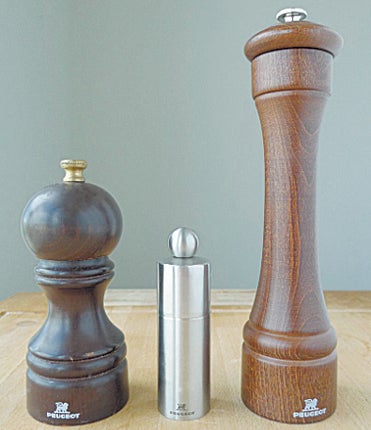 It looks like a classic wooden peppermill. You've probably used one without realising. But it is, in fact, a Peugeot peppermill. Yes, it turns out that the French company has been making pepper, salt and coffee mills for longer than it has been making cars. Who knew?
It is regarded by many as the best peppermill in the world. It comes with a lifetime guarantee and the parts are reckoned to be impossible to wear out. The key is in the helix-shaped teeth which grip the peppercorns while they are ground. Each one is cracked in half before the grinding starts, using the same technology that is used to produce ball bearings. The knob on the top allows you to adjust the size of the pepper that you wish to grind, from crushed corns for steak to finely ground ones for delicate sauces.
The story begins in 1810, when the Peugeot brothers converted the family flour mill to steel. They began making tools, watch and clock mechanisms as well as crinolines and corset stays, sewing machines and irons.
In 1840, they made their first coffee mill. This remained in production until 1975, becoming electric along the way. The peppermill followed and its milling system was patented, all under the emblem of the lion.
The company stayed in the kitchen and made washing machines, radios and, during the 1960s, the first food processor – the Peugimix.
And so the status quo would have remained had it not been for the advent of the motor car. Armand Peugeot was a fan. His cousin Eugène was not. So the company was divided into two. Under the terms of the separation, Eugène's company, Les Fils de Peugeot Frères, was banned from making cars and Armand's half, La Société des Automobiles Peugeot, was forbidden from making tools, two-wheeled vehicles, tricycles and quadricycles with a saddle.
Eugène's sons launched their own car brand, Lion Peugeot, in 1905, and began making models. Five years later, the companies merged once more. But many people still don't realise the connection between the two products. Kathy Davies, of www.salamandercookshop.com, says: "People seem to know how to pronounce the name of the car but when they see the peppermill, they ask for a 'Pewjo' and don't make the connection.
"It's the most fantastic peppermill, though. Each part of it is so well engineered that once you've used one of those, you can't go back to another."
Join our commenting forum
Join thought-provoking conversations, follow other Independent readers and see their replies