The Secret History Of: The Tolix chair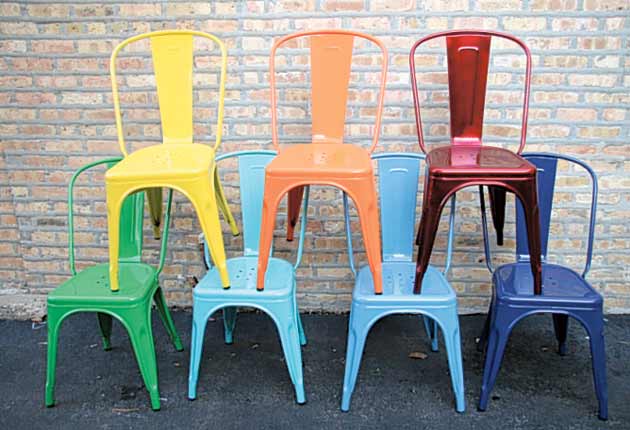 Xavier Pauchard was born in 1880 in Le Morvan, known as the green heart of France. Unsurprisingly wood was the most important construction material but despite that, he and his father and grandfather before him were zinc roofers.
In 1907, Pauchard discovered that he could protect sheet metal from rusting by dipping it in molten zinc, or galvanising it. Ten years later, he set up a factory making steel household items and eventually registered his trademark symbol as Tolix, by which name the company is still known.
That classic chair, a favourite of cafés and retro kitchens all over the world, was designed in 1934. It was meant to be outside in all weathers, which is why there are holes in the seats – to allow the rain to drain off. But café owners were quick to complain that the chairs wouldn't stack properly and Pauchard had to tweak his design. By 1956, the classic Tolix was finally created. With its slimmer frame, you could now stack 25 chairs to a height of 2.3 metres.
They were immediately popular, not just in cafés, where right up until the 1970s they were often given out by breweries in return for the owner stocking their brand, but also in factories, offices and hospitals.
By the end of the 1950s, the factory had about 80 workers and produced some 60,000 units annually. The company remained in the family until 2004. Now, the chair is part of the collections of the MoMA in New York, the Pompidou Centre in Paris and the Vitra design collection in Weil am Rhein in Germany.
You can buy them new from the Conran shop for £195 or you can hunt about for a vintage one and prices will vary. The modern ones come in around 50 colours, while the vintage are more classically red or their natural steel colour.
Sir Terence Conran is one of several influential fans of this simple-looking chair, which, nevertheless, takes around 100 manual operations to create. "Over the years, this chair has come to symbolise what I like to term democratic excellence, meaning that it's mass-produced and universally acceptable," he says.
And just as the Panton S chair was famously featured on the cover of Vogue magazine (with Kate Moss wrapped around it, admittedly. Oh, and she was naked), so the Tolix has just reached the dizzy heights of fame featuring in Agent Provocateur's spring-summer 2011 campaign, though it's just possible that some of you might not be looking at the chair.
Join our commenting forum
Join thought-provoking conversations, follow other Independent readers and see their replies