Shed of the Year 2014 finalists announced
Teapots, pubs and tardises are among the marvels of microarchitecture battling to be named Shed of the Year 2014
Alex Johnson
Tuesday 15 July 2014 13:52 Comments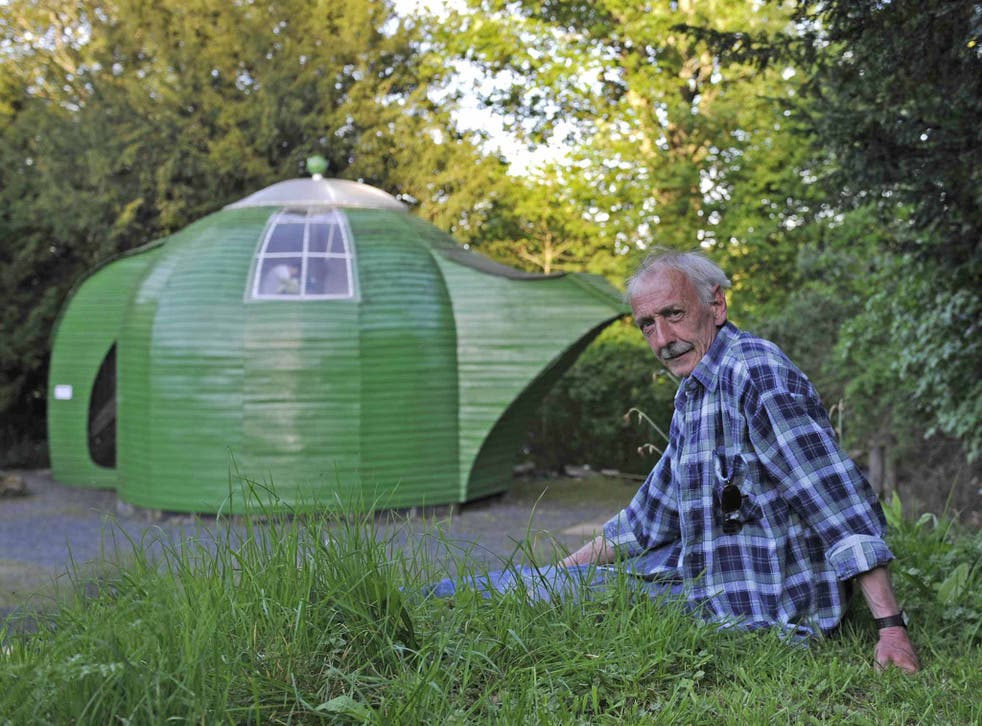 The competition that showcases Britain's most inventive sheds has received a recordbreaking 20,000 public votes this year and the nation has decided which sheds are the finalists in the annual Shed of the Year competition.
The top four sheds in each of the eight categories of the competition sponsored by Cuprinol have been whittled down from over 2,000 entries and will now go head-to-head in a bid to be crowned the overall winner of the 2014 Shed of the Year and win £1,000.
The finalists will also feature in a new three-part television series Amazing Spaces: Shed of the Year on Channel 4 at 8pm on 24 July, 31 July and 7 August where the category winners and overall 2014 winner will be revealed.
The Shed of the Year competition is the brainchild of shed-fanatic and Head Sheddie, Uncle Wilco from South Wales who launched the nationwide competition to celebrate the best of British sheds. The overall winner will be selected by a panel of shed experts including last year's overall winner Alex Holland, and television property expert George Clarke.
"The nation's love for transforming their garden shed to an extension of the home is really trending right now," said George Clarke.
PUB SHED FINALISTS
Golden Pheasant: Owned by Gary and Lorraine Curd from Yalding in Kent
The shed used to be a farm store that was on the edge of collapsing but was transformed into a garden pub which hosts a number of strange and unique artefacts including a stuffed squirrel and an old chain saw.
Lodge's Tiki Bar: Owned by Stephen
Lodge's Tiki Bar is a tropical hideaway constructed from wood and finished with bamboo. It's complete with a bartop collage design, handmade from old surfing magazines, remote control LED lighting, hand carved coconut cups, carved sign, carved tikis, surf memorabilia and a surfboard hanging from roof.
The Appleton Arms: Owned by Mark Appleton from St Helens, Merseyside
The Appleton Arms was built as a tribute to Mark's late father and brother, and contains a traditional hand-made wooden bar, a snug area, real pub signage, a dart board and a wood burning stove.
Charlie Browns: Owned by Patrick Lynch from Billericay
Built over two years, the shed holds 60 people and houses a pool table, two slot machines and a 50's juke box. The full bar with optics and pumps, cabinet fridge, cocktail barrel and sound system keeps the party alive long into the night.
ECO SHED FINALISTS
Pool Hoose: Peter McLaren from Fife
The Pool Hoose has been made entirely from recycled materials including telegraph poles, scaffolding battens, timber, roofing tin, and glass. Used as a studio, the shed links together the view between two pools and is furnished to accommodate passing touring cyclists.
Walking Home: Owned by Grant from North Devon
Currently placed on top of tree trunks, Walking Home is the first phase of an actual walking house. It's a living space which will be carried by four hydraulic articulated legs. The complete structure is 23foot tall and will be able to move.
The Allotment Roof Shed: Owned by Joel Bird from North London
Built from scratch using recycled materials, an array of vegetables are grown on the Allotment Roof Shed. All lights are powered by a solar panel and it contains a wood burner which is used to heat it. One half of the shed is for painting and art whilst the second half is a music practice room and studio.
Bottle Dome: Owned by Richard Pim from Pembridge
The Bottle Dome is made with about 5,000 glass bottles set between crossed arches - like a huge hot-cross bun. Some part of the glass hemisphere directly faces the sun at all times of the day reflecting the light into an interior pool.
GARDEN OFFICE SHED FINALISTS
Rapod Garden Office: owned by Toni Keers
The Rapod Garden Office has a unique type of cladding made with high quality and high specification materials, heated flooring, bi fold doors, a full length window, electric and lighting
The Little Thatch: Owned by Jamie Dix and Gemma Mitchell from Bedford
Designed and built by Jamie Dix in 2010, the picturesque shed has a beautiful thatched roof, bunk beds for the children and exposed oak beams.
The Poki Shed: owned by Huw Grantham
The Poki shed is an upcycled, recycled garden office and measures just 2meters squared externally. The shed was made using as much recycled and online auction items as possible; from the doors and window, to the VW camper bench seat, the recycled bed slats and pallets and even to the artwork on the wall
Denison Garden Studio
Denison Garden Studio took six weeks to build, has energy efficient double glazing and is fully insulated and carpeted. The Studio was originally a present for the owner Martin's mothers 50th birthday.
CABIN / SUMMERHOUSE SHED FINALISTS
White Lodge: Owned by John Leaver from Steeton
A traditional log cabin situated in a wood featuring a large curved window looking over a small lake. Self-built by stacking logs one on top of another, the shed is filled with unusual
Tom's Lodge: Owned by Alban & Angela Bunting from Binegar in Somerset
Built completely by hand, the shed is constructed with reclaimed oak timbers, lime plaster, thatch roof and handmade leaded diamond windows.
My Caribbean Retreat: Owned by Alison Kynaston Jones from Shropshire
My Caribbean Retreat shed houses a day bed, stereo, small mementos from trips away and Moroccan tapestry cushions. The roof is lined with pink and purple folded voile and embroidered with butterflies.
Gothic Retreat: Owned by Ann & Brian Bailey from Wolverhampton
Inspired by Castle Coch in South Wales, it's made from two tons of reclaimed stone, timber and cedar shingles and features stained glass windows, shell mosaics on the walls and ceiling and houses reclaimed church furniture.
UNIQUE SHED FINALISTS
Teapot: Owned by Ian Hunterfrom Melrose, Scotland
Built entirely from reclaimed materials, the ground level is used as a drying shed for timber with a summer house on the upper level accessed by steps through the teapot handle. The lid of the teapot, topped with an old fishing buoy, can be opened and shut by winding a reworked old hand drill creating a special open-air experience.
Reelwood: Paul Slim from Stourbridge
Reelwood is a shed-cinema made with exact dimensions for the surround sound. Reelwood also contains a full film collection, movie memorabilia and a cinematic screen.
Jack Sparrow: Owned by Jonathan Meliville-Smith from Cornwall
Designed for fairies and pixies, the door is shaped to match the unusual shape and outer structure. Inside there is a sitting area with circular table, gas hob, hand wash basin, shelves for crockery and also a bench seat with bunk bed over the top.
NORMAL SHED FINALISTS
Renee & Albert's Diner: Owned by Anne and Ian Bate from Sutton
The Renee & Albert's Diner is 1950s themed and was created as a tribute to Anne's late parents. The shed houses an original 1950s radio, juke box, diner booth, petrol pump, light-up bar and a TV.
Titanic: Owned by John Siggins
The Titanic shed is built from salvaged materials, including wood from skips, slates and windows from recycled materials. The shed has three stunning stained glass windows, floorboards from a Victorian house and a 1930s wooden fire surround.
Disco Shed: Owned by DJ's Paddy Bickerton and Aidan Larkin from The Cotswolds
The Disco Shed is a fully mobile shed that travels the country to play at music festivals. It contains DJ decks, lights, a smoke machine, giant rooftop visuals, disco ball and a record sleeve lined roof.
Blitz Street Museum: Owned by Darren Stride from Great Yarmouth
Transporting visitors back to the 1940s, the Blitz Street Museum consists of a life-size street display made up of five different themed sheds housing reconstructions of a wartime cottage, sweet shop and an air-raid shelter.
Retro Fairground: Owned by Paul Ruddiforth from Sheffield
Built to house Paul's growing collections of artefacts, Retro Fairground is filled with items such as old radios, a 1960s TV and a 1976 Raleigh chopper. With a lifelong love of all things related to Fairground rides and arcade machines - these were added to the collection and took over.
WORKSHOP/STUDIO SHED FINALISTS
Stencil Shed: Owned by Luke 'Syd' Hollingworth from Malmesbury, Wiltshire
The 'Stencil Shed' was created to house Syd's art work. It features a smiley face optical illusion, a cider bar, as well as a full sized gorilla that guards the entrance!
Vintage Motor Works: Owner by Martyn Prior from Hereford
Vintage Motor Works is a 1930s style garage shed and restoration workshop which houses several period classic Austins and provides plenty of space to work on cars. Constructed with heavy timber and painted in Cuprinol Garden Shades, the shed spans a large area finished with classic retro touches.
The Den: Owned by Mike in High Peak, Derbyshire
Used as a space to chill, do woodcraft and generally wind down with good music, The Den includes a wood burner to heat it during the winter, and a rocking chair.
Folk in a Box: Owned by Howard Mills
Designed specifically for one-on-one musical performances, Folk in a Box has been presented at the Venice Biennale and Sydney Festival as well as many music and arts festivals around the UK. It is constructed from a soundproof metal which has no windows but two doors - one for the performer to enter, and one for the audience member.
TARDIS SHED FINALISTS
Thomas's Tardis: Owned by Helen Waddington
The Tardis replica was built after Helen Waddington's son asked for a Tardis for his birthday. Taking eight weeks to complete, the shed signs were handcrafted and added to the outside whilst inside there is a large backdrop of the tardis interior on the rear wall.
The Tardis: Owned by David Lifton from Little Bentley, Essex
Built for his Doctor Who mad son Rhys, the slightly scaled down version of the original took five months to create.
Bluebox Type 40: Owned by John Willams from Northamptonshire
Designed to be an exact replica, the shed has internal fluorescent lights and a roof lamp to provide illumination for evening entertaining. Internal speakers and sound effect recordings provide the famous take-off and landing, door opening and cloister bell sounds
Swedish Tardis: Owned by Carl de Boulloche
The Swedish Tardis is a replica of the BBC classic and is the home to the property's water system.
Register for free to continue reading
Registration is a free and easy way to support our truly independent journalism
By registering, you will also enjoy limited access to Premium articles, exclusive newsletters, commenting, and virtual events with our leading journalists
Already have an account? sign in
Join our new commenting forum
Join thought-provoking conversations, follow other Independent readers and see their replies