Review of the Year 2018
There was so much more to this crazy political year than just Brexit
With 2018 turning out to be an even more tumultuous 12 months that many had expected, Joe Watts looks at how the nation got itself in a tangle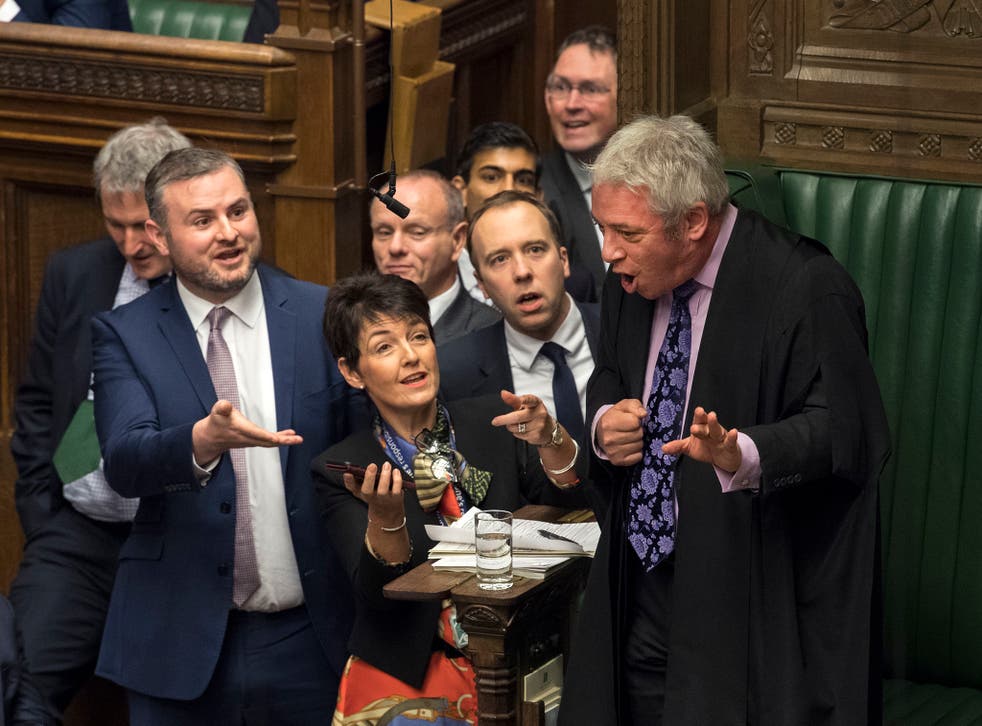 Brexit is so suffocating at times that one might be forgiven for thinking it was the only political event of 2018. But if you take a moment to look, you can see the past 12 months have been a terrible reflection on British politics for all sorts of reasons.
It began early in January when the prime minister sought to undertake a reshuffle, starting her year as she meant to go on with a planned event that went off the rails.
Of the three ministers she wanted to shuffle, one quit (Justine Greening), one persuaded her that he should stay (Jeremy Hunt), and the other (Greg Clark) wasn't even asked to move.
"She couldn't even get rid of Greg Clark," said one insider of Ms May's crippling lack of authority – the mood music to her year.
Downing Street realised that if it couldn't be on the front foot everywhere, it needed to somewhere. So started a long list of announcements to tackle plastic pollution
On 11 January there was a pledge to eradicate plastic waste by 2042, followed by bans on plastic straws and stirrers. A plastic bottle repayment system, a new "plastic tax" and a waste strategy were also introduced.
But the respite in the first month of 2018 was shortlived, with Westminster's media immediately switching to the more titillating story of Donald Trump scrapping a visit to the UK amid fears that it would be met with massive protests.
The president blamed the cancellation of the trip, to open the new US embassy, on Barack Obama's "bad deal" in choosing a new site.
Deliciously, and apparently unbeknown to Trump, the move had actually been signed off by Obama's predecessor, the president's Republican forebear George W Bush.
Trump did finally make it back to the UK later in the summer, and was indeed met with massive protests, including a huge "Trump baby" blimp that was floated across central London by campaigners.
While Melania, the first lady, did make a visit to the capital, organisers kept the president himself out of harm's way with tours of countryside locations (including Chequers), finishing off at his own golf course in Scotland – where the UK taxpayer still picked up the bill for his security.
Another seedy subplot hatched in January – the total degeneration of Ukip. Once a force to be reckoned with, the party began now the full swing of a death spiral, having gone through a string of leaders in quick succession, leaving them with Henry Bolton.
The 54-year-old ex-army officer might have seemed a steady choice, but the membership soon realised their mistake when it emerged he had split from his wife to start a relationship with 25-year-old model Jo Marney.
Ukip leader Henry Bolton's girlfriend suspended from party over claims she made racist remarks about Meghan Markle
In modern politics personal relations are not so important to the electorate. Or at least so Bolton thought, until party bosses ordered him to break up with Marney after she described black people as ugly and said Prince Harry's fiancee, Meghan Markle, would "taint" the royal family.
He refused to stand down, but later lost a vote of no confidence and was forced to anyway, clearing the way for Gerard Batten.
The new leader has taken the party into a more shady part of the political spectrum, embracing attacks on Islam which he has branded a "death cult", and cosying up to Stephen Yaxley-Lennon, the darling of the far-right known as Tommy Robinson.
The move to actually employ Yaxley-Lennon as an adviser was beyond the pale for many of the party's senior elected representatives, who quit as Christmas approached.
It was in March that another key feature of 2018 began to crystallise, when Ken Livingstone's year-long suspension from Labour, for saying Hitler had supported zionism in the 1930s, was extended – underlining the party's apparent inability to deal with antisemitism.
As people tried to explain the inertia, it emerged Corbyn had offered backing to a Los Angeles-based street artist in a 2012 Facebook post that seemed to endorse his mural, which was due to be removed after complaints, featuring as it did several known antisemitic tropes.
Labour MP Luciana Berger complained about Corbyn's actions, and claimed the leader's office failed to properly react. One statement failed to kill off the story, as did a second stronger one, but the problem was now flaring up across the whole of the Labour realm.
Momentum activist Christine Shawcroft was forced to resign from Labour's ruling national executive committee (NEC) over her defence of a council candidate accused of Holocaust denial.
Jewish community leaders published an open letter accusing Corbyn of "siding with antisemites"; hundreds of protesters gathered at Westminster; Berger and another Jewish Labour MP, Ruth Smeeth, delivered impassioned speeches in the Commons.
Then in July the party's NEC, dominated by Corbyn supporters, decided against adopting all examples of antisemitism as set out by the International Holocaust Remembrance Alliance (IHRA) for the purposes of party rules.
While the committee argued that legitimate criticism of Israel could be deemed antisemitic under the existing code, the move was angrily condemned across the political spectrum.
Veteran Labour MP Margaret Hodge confronted Corbyn in parliament, calling him a "racist and antisemite", leading to her facing disciplinary action that was later dropped.
The Jewish Chronicle, Jewish News and Jewish Telegraph printed unprecedented joint front page editorials calling any potential Corbyn-led government an "existential threat" to Jewish life in the UK.
A few weeks later a recording emerged of Corbyn addressing an event in 2013, when he accused a group of British zionists of having no understanding of "English irony".
Around the same time pictures emerged of Corbyn at a ceremony in Tunis in 2014 during which wreaths were laid at a monument to individuals involved in Black September, the terror group that killed Israeli athletes at the 1972 Munich Olympics.
In September, Labour's NEC finally agreed to adopt the IHRA code in full, with all its examples, but added a clarification to safeguard the right of party activists to criticise Israel.
The NHS, as always, was the centre of much debate through the year. Hospitals in England recorded their worst ever A&E performance in the spring, and after years of austerity the service's 1.3 million workers were finally given a pay rise.
On 4 March its staff were called upon to handle a wholly unexpected event – two members of the public had been poisoned with an unknown substance in the market town of Salisbury.
The assassination attempt on Sergei Skripal, a former Russian spy now living in the UK as a British citizen, and his daughter became a major incident, involving a dangerous tailormade nerve agent called novichok.
Ten days later Theresa May expelled 23 Russian officials from the UK, with other western allies soon following suit.
July saw the departure of Amber Rudd, the home secretary, from the cabinet after she apparently misled a select committee amid the Windrush scandal, which saw some British citizens wrongly deported by apparently overzealous immigration officials.
Although she returned later in the year, it looked like the end of her chances of ever becoming leader. Other senior Tory figures, meanwhile, continued the never-ending beauty contest to be seen as Ms May's rightful successor.
Boris Johnson acted out his "prince across the water routine" after quitting the cabinet in the summer, with his monologue becoming shrillest in August when he penned a piece for The Telegraph declaring that Muslim women in Burqas and Niqabs resembled bank robbers and letter boxes.
It was a moment that marked a decline in support, even among Tory members, for the one-time foreign secretary, with his speech at conference later in the year being applauded by Brexiteers but failing to galvanise the rebellion his supporters wanted.
Support free-thinking journalism and attend Independent events
After Ms May's catastrophe of a 2017 speech, things could hardly go worse for her big conference moment this year.
But the PM still managed to surprise many people. Firstly by dancing onto the stage, and then by announcing the end of austerity, which really was news to those struggling on lower incomes.
The Maybot, as her dance came to be known, was spawned during a trip to Africa a couple of months earlier when she had been forced into a little jig while schoolchildren sang to welcome her.
But for whatever reason, as a rare moment when her fun side came into view as a cringe-inducing embarrassment or a humiliation, it proved an unstoppable news item.
The period from the start of November onwards was genuinely almost all about Brexit, with repeated summits, leadership talks, an attempted coup, cabinet resignations – all precipitated by the prime minister's thankless and quite possibly futile slog towards securing a deal with the EU.
There was one moment, however, when the Westminster bubble, out of exasperation, in a desperate cry to think about anything else, momentarily lost its marbles amid the chaos of our alleged departure from the European Union.
It happened on 19 December when Jeremy Corbyn's lips moved in the Commons chamber, apparently making the shape that a mouth would make if saying the words "stupid woman", while looking at Theresa May.
Jeremy Corbyn appears to call Theresa May a 'stupid woman' during PMQs
The incident germinated into one of the most bizarre 20 minutes of parliamentary debate in recent times, during which Commons leader Andrea Leadsom also tried to take down John Bercow, the speaker. Thus ensued 24 hours in which everyone found lipreaders (or lipspeakers) to prove that the Labour leader had or had not said it.
Either way, the confusion and chaos, the bitterness and dishonesty of the whole affair, seemed a fitting end to a political 2018 that many may wish to forget. Surely 2019 can't be as bad? It is a time of faith in miracles after all.
Join our new commenting forum
Join thought-provoking conversations, follow other Independent readers and see their replies