The Independent's journalism is supported by our readers. When you purchase through links on our site, we may earn commission.
China launches main module to begin first permanent space station of its own
Over next two years or so, country plans to piece together space station in 11 missions
Vishwam Sankaran
Thursday 29 April 2021 14:00 Comments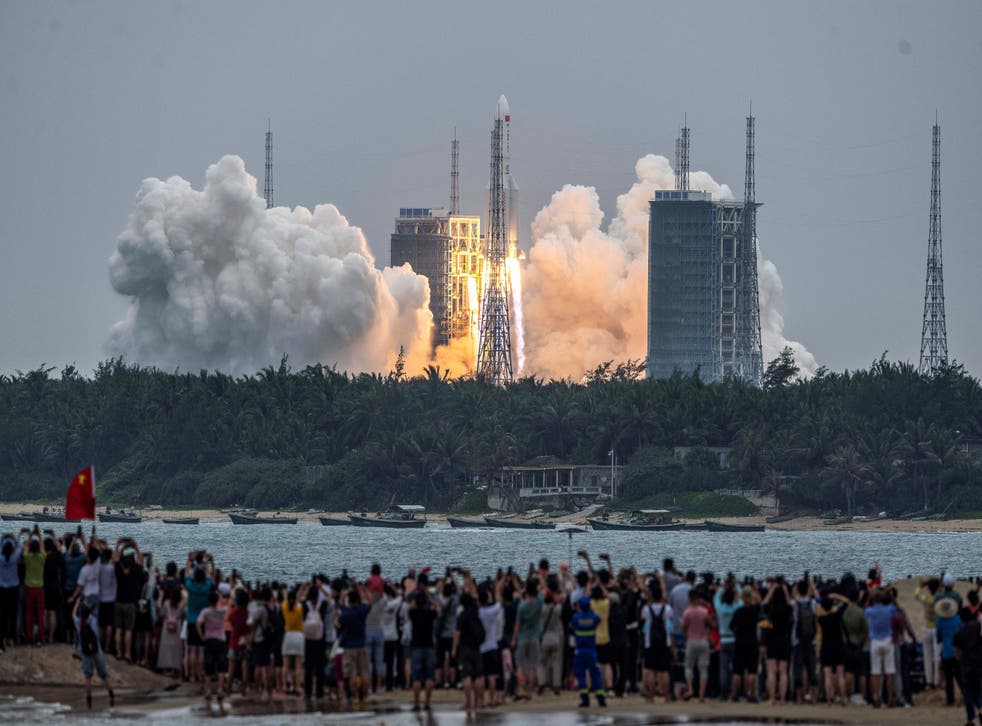 China has successfully launched the 22-metric-ton core module of its Tianhe, or "Heavenly Harmony" space station on Thursday in a major milestone towards the country's space exploration programme.
The 17-metre long module – expected to serve as the living quarters of the Chinese Space Station (CSS) for up to three astronauts, and will contain the station's control centre, power, propulsion and life-support systems – was launched using the Long March 5B heavy-lift rocket from the coastal Wenchang spaceport in China.
According to Chinese media reports, the core module separated from the rocket's first stage after 490 seconds of flight, and the solar arrays deployed and over an hour after launch. 
SpaceNews reported that the module is expected to raise to its orbit at about 370 km above the Earth.
Two other main modules that will be subsequently launched are expected to house scientific tools to conduct experiments in areas such as astronomy, space medicine, biotechnology, microgravity fluid physics and space technologies.
The CSS, which would be about one-sixth the size of the International Space Station (ISS), is also slated to be joined in orbit by Xuntian optical module, a Hubble-class space telescope.
In 11 missions planned over the next two years or so, China plans to piece together its space station with two more launches planned in mid-late May and June that will help build the 66-ton three-module orbital outpost.
China has been planning to build its own permanent space station since the 1990s since it has not been part of the International Space Station (ISS) and the US has often objected to the secrecy and close military ties of its space missions.
Recent advancements in its space programme, including two successful lunar landings, and growing strong ties with Roscosmos, Russia's space agency, have enabled China to inch closer to its own space station.
Previously, China had launched its first crewed space station in 2011 – Tiangong-1 – but its orbit gradually decayed over the years and in September 2016, officials announced that they had lost control of it.
While its successor Tiangong-2 fared better and allowed two astronauts in orbit for 30 days – enabling them to conduct research on space radiation and weightlessness – it too was decomissioned in 2019 as planned.
The new CSS will be the will be the 11th crewed space station ever built, and China's first permanent space station that will host astronauts long-term, staying in orbit for at least ten years.
Register for free to continue reading
Registration is a free and easy way to support our truly independent journalism
By registering, you will also enjoy limited access to Premium articles, exclusive newsletters, commenting, and virtual events with our leading journalists
Already have an account? sign in
Register for free to continue reading
Registration is a free and easy way to support our truly independent journalism
By registering, you will also enjoy limited access to Premium articles, exclusive newsletters, commenting, and virtual events with our leading journalists
Already have an account? sign in
Join our new commenting forum
Join thought-provoking conversations, follow other Independent readers and see their replies