Elon Musk reveals new Tesla that can play The Witcher 3 and Cyberpunk 2077
The car may be able to compete with the PlayStation 5 and Xbox Series X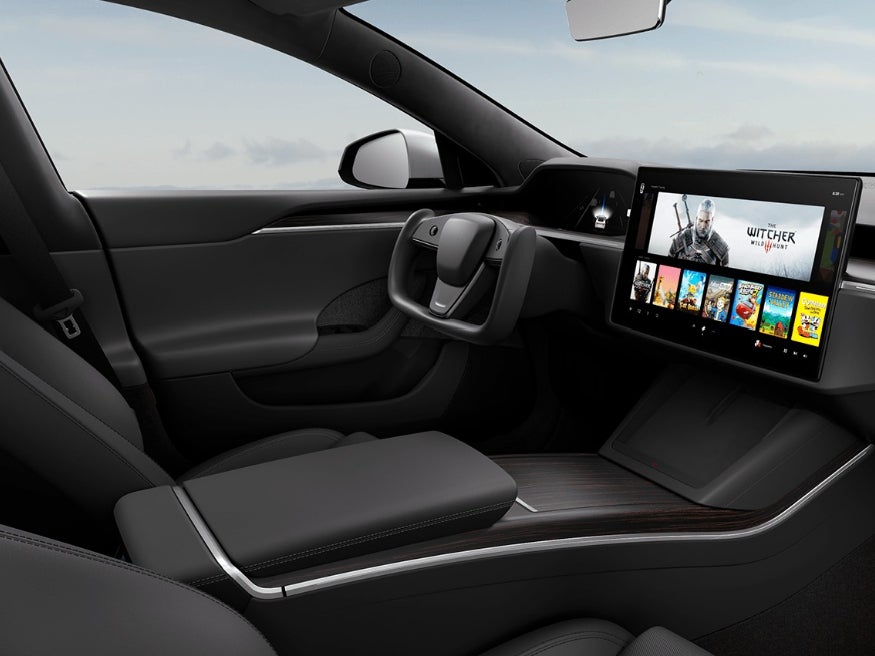 Leer en Español
Tesla has refreshed its new Model S sedan, most notably with a 10-teraflop gaming computer in the middle of the car's interior.
CEO Elon Musk tweeted a photo of the interior of the car with the caption "Plaid Model S ships next month", with the screen next to the steering wheel displaying a range of games including Fallout Shelter, Cuphead, and The Witcher 3: Wild Hunt.
The announcement was made as part of the company's fourth-quarter earnings announcement, CNET reports, and should the company's claims be accurate the car may in fact be able to compete with the newly-released PlayStation 5 and Xbox Series X which offer 10.28 teraflops and 12 teraflops of GPU power.
Mr Musk said that the vehicle is the "first production car ever to achieve 0 to 60 mph in less than 2 seconds" and that it has a "0 to 155mph trap speed in a 1/4 mile [and] 200mph top speed (with right tires)" – as well as claiming the car can also play games that are infamously too powerful to run properly even on the last generation of consoles.
Games can be purchased via "Tesla Arcade", and the car apparently has "wireless controller compatibility [which] allows gaming from any seat", in a screenshot posted by The Verge that now does not appear to be visible on Tesla's shop.  
While video games in Tesla cars can currently only be played while the car is stationary and in park, it's unclear whether the feature would be available when the vehicle is loaded with self-driving technology.
Mr Musk claimed that the Full Self-Driving system used by Tesla will be capable of Level 5 autonomy by the end of 2021 – ""at least 100% safer than a human driver," the CEO reportedly said.  
This prediction is, as CNET points out, particularly lofty considering its current beta is not reliably Level 3 autonomous.  
There are clear safety concerns regarding self-driving technology, and those would potentially be exacerbated should the car gain more features that could distract drivers – such as video games.
In 2016, a Tesla Model S collided with a trailer on a Florida highway, killing its driver who was reportedly watching a Harry Potter movie at the time. 
"Autopilot is getting better all the time, but it is not perfect and still requires the driver to remain alert", Tesla said at the time, and encouraged drivers to "maintain control and responsibility for your vehicle" while using the system, staying prepared to take over at any time.
Tesla did not respond to The Independent's request for comment before time of publication.  
Join our commenting forum
Join thought-provoking conversations, follow other Independent readers and see their replies