New app gives stock advice based on horoscope sign
'I did it. I found the worst app in the world'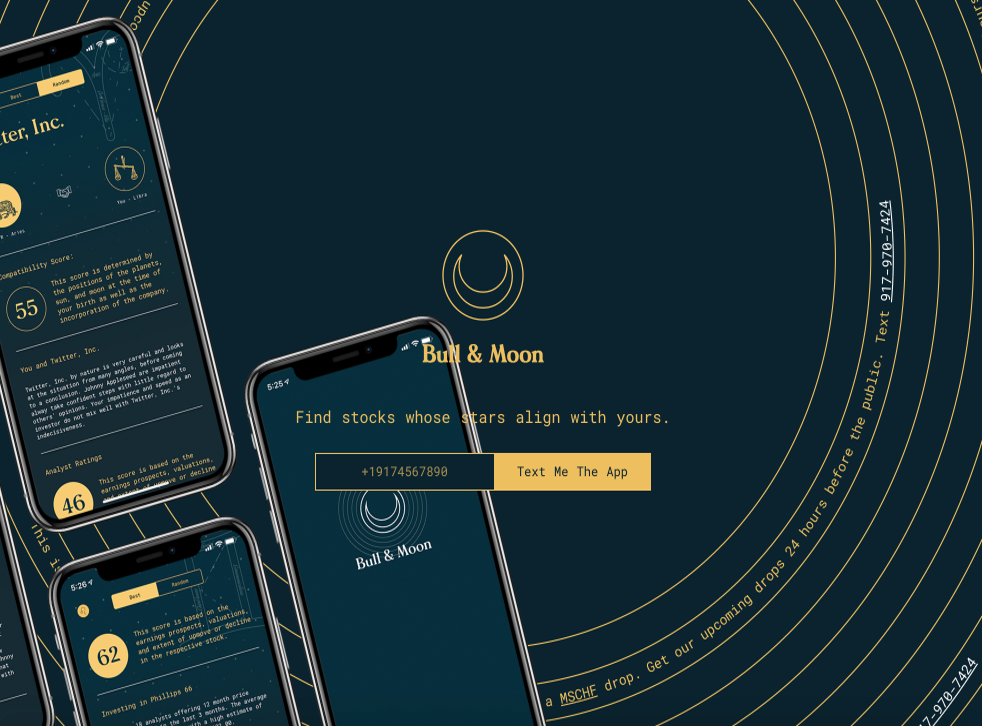 If you've always been intrigued by the stock market, but haven't known where to start, a new app advises looking to the stars for direction.
The app, called Bull and Moon, creates personalised stock and investment advice based on your astrological sign.
"The moon, stars, and planets govern the fortunes of companies just as they do those of people," the app prompts. "We match you with stocks based on your proprietary financial astrology."
As an Aries, the app suggested we were most compatible (100 per cent) with Cisco Systems.
According to Bull and Moon, the score was determined "by the positions of the planets, sun and moon at the time of your birth as well as the incorporation of the company" and means the pairing a "perfect match".
However, as there is no scientific evidence to support astrology, the reaction to the app has been less than glowing.
"I did it. I found the worst app in the world," one person wrote on Twitter. The tweet has been liked more than 78,000 times.
Another said the app was "probably the dumbest thing" they'd seen in years.
Fortunately, Bull and Moon is little more than an internet stunt, created by a Brooklyn-based company called MSCHF - the same company that previously launched Jesus Shoes.
In the terms and disclaimers section of the Bull and Moon website, it reminds users they should "not base any investment decision upon any materials found on this website or in our application," as Bull and Moon does not "guarantee the accuracy or reliability of any of the information".
"Individuals should assume that all information contained on our website or in our newsletter is not trustworthy," the section continues, before adding that users should be "extremely careful, investing in securities carries a high degree of risk; you may likely lose some or all of the investment".
If that weren't enough to convince you to avoid the app, it has also been pointed out that Bull and Moon does not take into account the time of day users were born - a factor that many consider an important part of the astrological chart.
Top 10 paid iPhone apps in 2015

Show all 10
Previous releases from MSCHF have included the creation of Times Newer Roman, a new version of the font that is just slightly bigger, and Netflix Hangouts, which makes it look like you are on a call so you can watch the streaming service at work.
According to the company, new creations will be released online every second and fourth Tuesday of the month.
Register for free to continue reading
Registration is a free and easy way to support our truly independent journalism
By registering, you will also enjoy limited access to Premium articles, exclusive newsletters, commenting, and virtual events with our leading journalists
Already have an account? sign in
Register for free to continue reading
Registration is a free and easy way to support our truly independent journalism
By registering, you will also enjoy limited access to Premium articles, exclusive newsletters, commenting, and virtual events with our leading journalists
Already have an account? sign in
Join our new commenting forum
Join thought-provoking conversations, follow other Independent readers and see their replies