Indian rocket launch fails in latest setback for pandemic-affected space industry
Failure happened due to the rocket's third stage failing to ignite, the Indian Space Research Organisation noted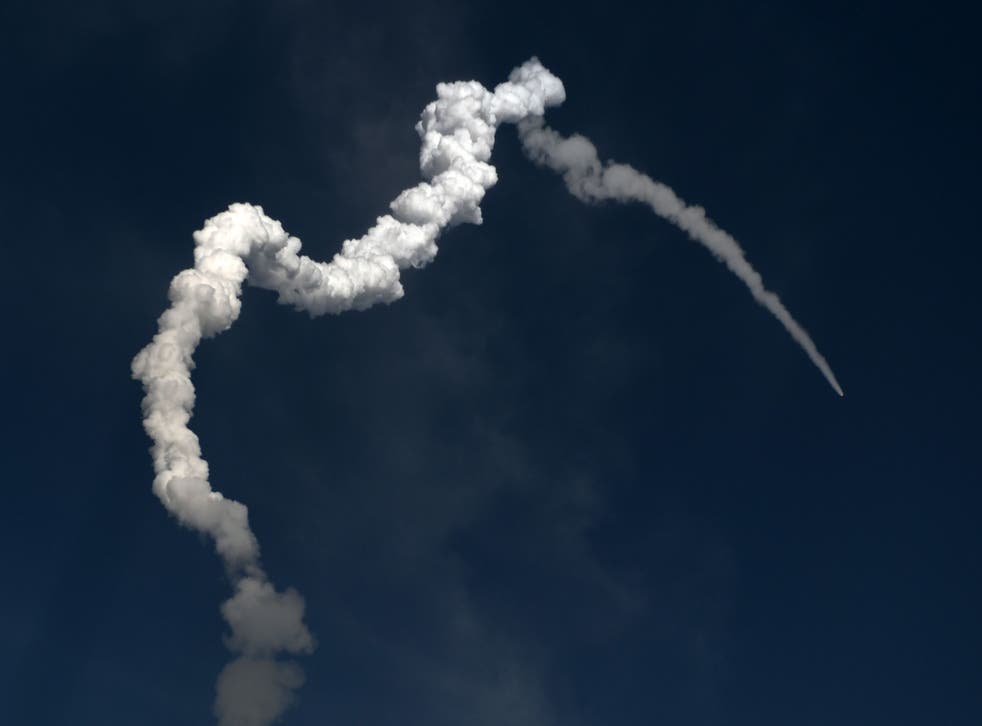 An Indian rocket carrying a satellite payload tumbled out of control and crashed five minutes after lift off in a setback to the Indian Space Research Organisation (ISRO) which is already seeing launch delays due to the coronavirus pandemic.
ISRO said Thursday that the failure happened due to malfunction of the rocket's "Cryogenic Upper Stage ignition."
"Performance of first and second stages was normal. However, Cryogenic Upper Stage ignition did not happen due to technical anomaly. The mission couldn't be accomplished as intended," the space research organisation tweeted.
In the mission, designated F10/EOS-03, ISRO attempted to put an earth observation satellite, into a geostationary orbit using its 51.7m tall Geosynchronous Satellite Launch Vehicle (GSLV) from the Satish Dhawan Space Center on India's east coast.
The launch was supposed to happen in March last year but was put off first due to technical glitches, then later postponed due to the devastating second wave of Covid-19 in the country earlier this year.
During Thursday's launch, while the GSLV's strap-on boosters, first and second stages showed good performance, the cryogenic third stage – fed by super-cold liquid hydrogen and liquid oxygen propellants – did not ignite, according to ISRO, as the rocket attempted to accelerate into orbit.
Displays in the launch control centre showed that the rocket veered off its intended trajectory, reaching a maximum altitude of about 140 kilometers at about 4.8 kilometres per second, falling short of its needed velocity.
The rocket was carrying a satellite payload capable of near-real-time imaging of large area regions at frequent intervals, monitoring of natural disasters and other episodic events, obtaining spectral signatures for agriculture, forestry and water bodies, The Wire news website reported.
The satellite launch mission was India's second of this year after a successful flight of the smaller Polar Satellite Launch Vehicle (PSLV) in February.
It is also the first failure following a streak of 16 straight successful Indian space launches.
Compared to PSLV launches, ISRO has had relatively less success launching heavier payloads with its GSLV rockets.
Out of ISRO's 14 launches involving a GSLV rocket, the current one marks the fourth failure with the last happening in 2010, The Indian Express reported.
The schedules of further missions involving these rockets, which have been planned for the coming months to years are likely to be affected by the current failure.
Register for free to continue reading
Registration is a free and easy way to support our truly independent journalism
By registering, you will also enjoy limited access to Premium articles, exclusive newsletters, commenting, and virtual events with our leading journalists
Already have an account? sign in
Register for free to continue reading
Registration is a free and easy way to support our truly independent journalism
By registering, you will also enjoy limited access to Premium articles, exclusive newsletters, commenting, and virtual events with our leading journalists
Already have an account? sign in
Join our new commenting forum
Join thought-provoking conversations, follow other Independent readers and see their replies