The Independent's journalism is supported by our readers. When you purchase through links on our site, we may earn commission.
Blue Origin: Jeff Bezos's rocket tests Nasa's system for going to the moon
Jeff Bezos' space company launched a rocket with NASA's newest moon-landing tech on board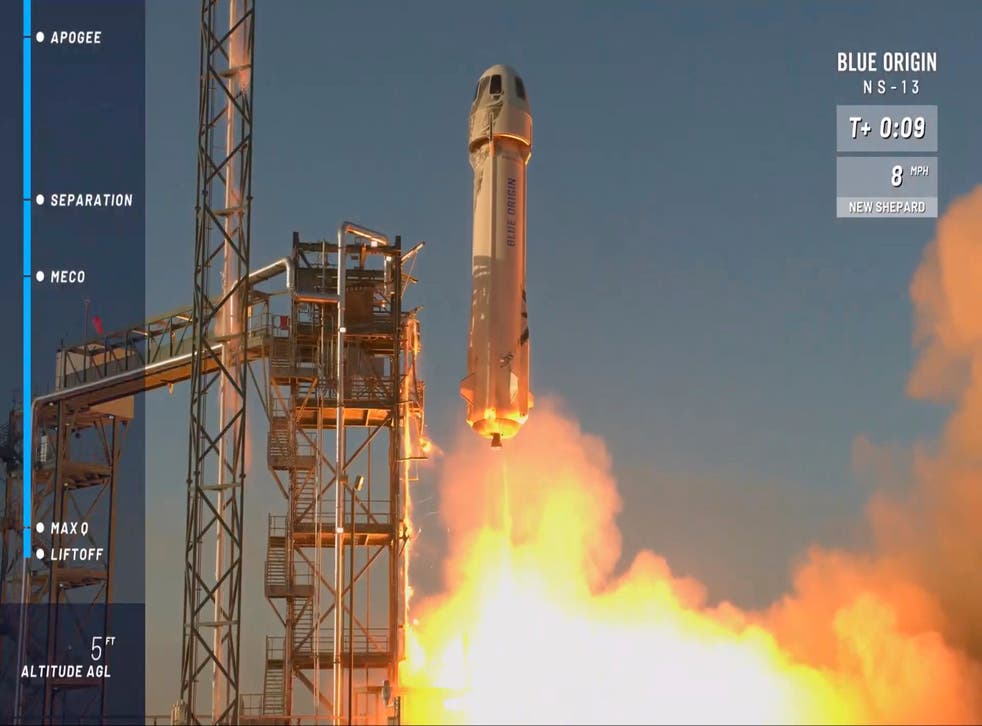 Blue Origin, the private space transport company owned by Amazon founder Jeff Bezos, has tested equipment for Nasa's 2024 moon mission.
The Blue Origin space company launched a New Shepard rocket for a seventh time from a remote corner of Texas on Tuesday, 
It was testing new lunar-landing technology for NASA that could help put astronauts back on the moon by 2024.
The flight reached a peak altitude of 106 kilometers (66 miles) and lasted 10 minutes.
The booster landed vertically afterwards at the launch site with the capsule, which carried science experiments and children's postcards, parachuting onto the desert floor.
On board the booster was Nasa's navigation equipment, including sensors and computers which will be reused in future missions.
The payload is called 'Splice', which stands for "Safe and Precise Landing - Integrated Capabilities Evolution".
Using cameras to gether real-time information about its environment, the computer can perform "terrain relative navigation".
The data is compared to maps in the computer's system so it can better understand its surrounding and land safer, the BBC reports.
Over time, the New Shepard rocket will fly 12 payloads to the edge of space and back, including the deorbit, descent, and landing sensor demonstration that will be used as a part of Nasa's Artemis missions.
"Our engineers look forward to analyzing the data and preparing for the next flight!"
"Touchdown! New Shepard, here we go. I'm sorry you couldn't hear me pounding the desk in my mic," said launch commentator Caitlin Dietrich.
Nasa Administrator Jim Bridenstine tweeted congratulations following Tuesday's demo. The space agency needs the ability to land precisely on the moon at specified locations, he noted.
Texas-based Southwest Research Institute had a magnetic asteroid-sampling experiment on board, as well as a mini rocket-fueling test.
Led by Amazon founder Bezos, Washington state-based Blue Origin is leading a team of companies to develop a lunar lander for astronauts. Elon Musk's SpaceX is also working on a lander, as is Alabama-based Dynetics. 
Nasa chose three teams in this early phase of the Artemis moon-landing program to increase the chances of getting astronauts to the lunar surface by the end of 2024, a deadline set by the White House.
Tuesday's launch was the first in nearly a year for Blue Origin: The pandemic stalled operations. Blue Origin said its staff is maintaining social distancing and taking other safety measures.
Blue Origin said it needs a couple more flights before launching people — tourists, scientists and professional astronauts — on short hops. The capsule has six seats and six windows, the biggest to fly in space.
Blue Origin had also recently shot a capsule into space higher than it ever has before. The spacecraft reached an altitude of 389,846ft – or 74 miles.
Additional reporting by agencies.
Register for free to continue reading
Registration is a free and easy way to support our truly independent journalism
By registering, you will also enjoy limited access to Premium articles, exclusive newsletters, commenting, and virtual events with our leading journalists
Already have an account? sign in
Register for free to continue reading
Registration is a free and easy way to support our truly independent journalism
By registering, you will also enjoy limited access to Premium articles, exclusive newsletters, commenting, and virtual events with our leading journalists
Already have an account? sign in