Spacex Launch: Starship SN15 test dates set as debris hotline launched
Elon Musk says Mars-bound craft is 'getting fixed six ways to Sunday'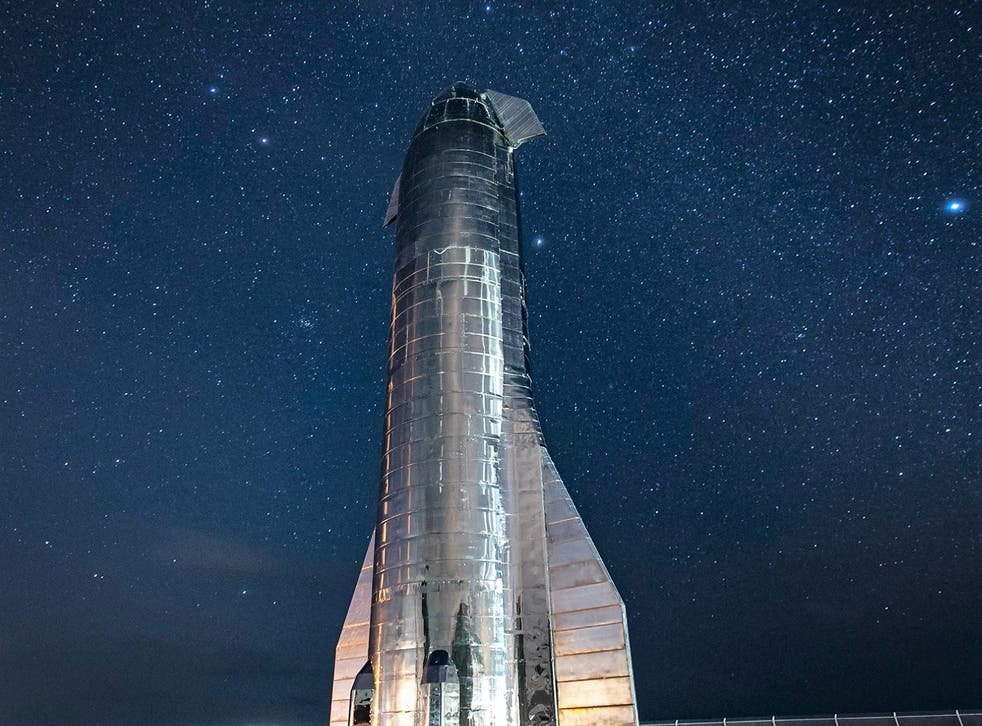 SpaceX has set the date for the next major flight test of its Starship rocket, which it hopes will eventually take people to Mars.
Starship SN15 is expected to roll out to the launch site at SpaceX's Boca Chica facility in Texas on Friday 9 April, before testing begins on Monday 12 April.
Public notices issued by Cameron County show that local road closures are already in place for both dates, as well as a back-up launch attempt scheduled for Tuesday 13 April.
It will be the fifth high-altitude test of a Starship craft, with all previous attempts ending in a fiery explosion.
The most recent effort on 30 March concluded with a "rapid unscheduled disassembly" after a methane leak hindered the landing procedure of the next-generation craft.
"Test flights are all about improving our understanding and development of a fully reusable transportation system designed to carry both crew and cargo on long-duration interplanetary flights, and help humanity return to the Moon, and travel to Mars and beyond," SpaceX wrote in a statement following the explosion.
Read more:
SpaceX boss Elon Musk said this week that the issue is "getting fixed six ways to Sunday" ahead of the Starship SN15 flight test.
As part of the investigations into the explosion, SpaceX has opened a Debris Hotline to encourage anyone within the local area to report any findings of the ill-fated Starship rocket.
SpaceX first established a debris recovery hotline in 2015 for its CRS-7 mission, which resulted in the loss of a Falcon 9 rocket and Dragon spacecraft after an anomaly occurred shortly after it launched from Cape Canaveral Air Force Station in Florida.
It is the first time a hotline has been issued for Cameron County, where residents of Boca Chica Village are forced to evacuate ahead of each flight test.
The proximity of SpaceX's facility to the village has allowed local residents to capture images of Starship SN15 ahead of its launch attempt.
SpaceX is expected to make significant improvements to finally achieve a safe landing and progress with its timeline to make the first orbital flight before July.
The first commercial Starship flight is already scheduled for 2023, before crewed missions to Mars in 2024 or 2026.
Register for free to continue reading
Registration is a free and easy way to support our truly independent journalism
By registering, you will also enjoy limited access to Premium articles, exclusive newsletters, commenting, and virtual events with our leading journalists
Already have an account? sign in
Register for free to continue reading
Registration is a free and easy way to support our truly independent journalism
By registering, you will also enjoy limited access to Premium articles, exclusive newsletters, commenting, and virtual events with our leading journalists
Already have an account? sign in
Join our new commenting forum
Join thought-provoking conversations, follow other Independent readers and see their replies