Yusaku Maezawa: Who is Elon Musk's first commercial passenger to the moon?
Art collector and online fashion retailer signs up for SpaceX 'lunar loop'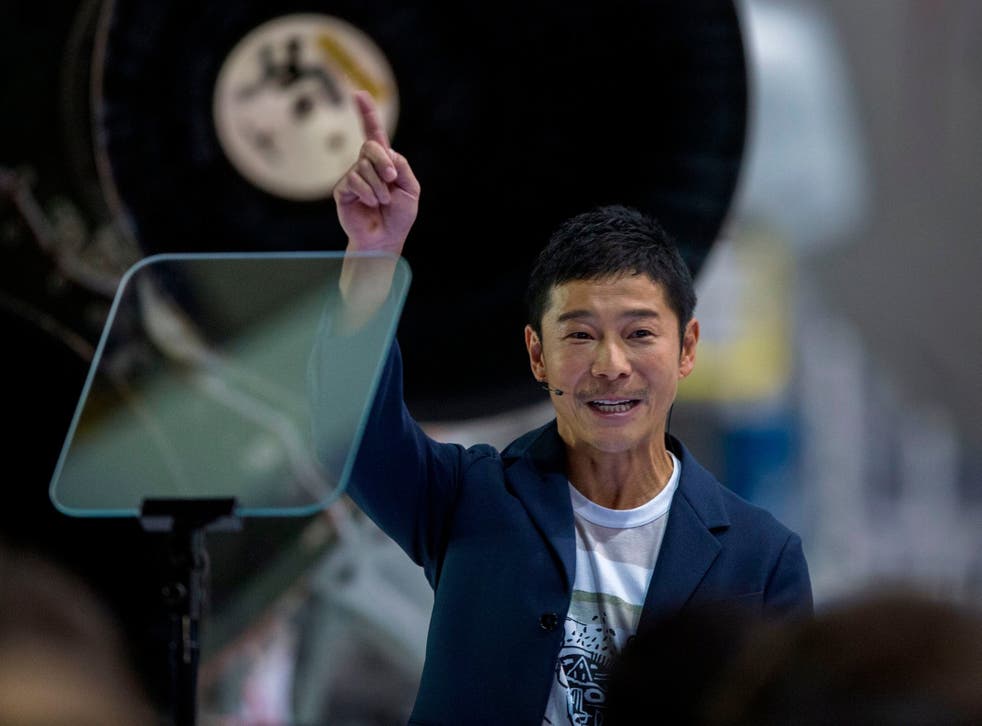 Elon Musk's SpaceX has signed up its first private passenger to travel to the moon: Japanese billionaire Yusaku Maezawa.
Mr Maezawa, 42, who owns Japan's leading online fashion brand, has paid a "significant deposit" to take part in the "lunar loop" orbiting Earth's nearest neighbour in SpaceX's Big Falcon Rocket (BFR), due for launch in 2023.
The businessman said he would take a team of artists from different disciplines as part of the crew to record their impressions of the spectacular journey – a project known as #dearMoon.
"Ever since I was a kid, I have loved the moon. It's always there and continues to inspire humanity," he said at a news conference in Hawthorne, California.
"I would like to invite six to eight artists from around the world to join me on this mission to the moon.
"These artists will be asked to create something after they return to Earth and these masterpieces will inspire the dreamer within all of us."
The BFR is a 35-storey ship capable of carrying a greater number of people on board than the Falcon 9, the craft originally slated for the mission. Its launch will mark the first stage in realising Mr Musk's plan to establish a human presence on Mars.
Assuming the BFR mission achieves its aim, it will be the first manned trip to the celestial body since the final Apollo mission in 1972, although the SpaceX vessel will not land on its surface.
Mr Maezawa was born im Kamagaya on 22 November 1975 and attended Waseda Jitsugyo High School, where he started a band with his classmates, Switch Style, which released its debut EP in 1993 and signed to major label BMG Japan five years later.
Briefly relocating to the US after graduation, he continued to pursue his love of music and accumulated a huge collection of albums. His hobby would provide the basis for his first business, Start Today, a mail order operation selling imported CDs.
Branching out into clothing in 2000, Start Today moved online and listed on the Tokyo Stock Exchange. It opened the dedicated fashion site Zozotown in 2004, which has since gone from strength to strength and recently pioneered its own custom-fit label ZOZO and an innovative at-home measuring system, the ZOZOSUIT.
Currently estimated by Forbes to have a net worth of $2.9bn (£2.2bn), Mr Maezawa retains a 38 per cent stake in Start Today and has long held an interest in modern art, founding the Contemporary Art Foundation in 2012 to support young talent.
In 2016, he twice broke the record at auction for purchasing work by the American street artist Jean-Michel Basquiat and also bought pieces by Pablo Picasso, Jeff Koons, Bruce Nauman, Alexander Calder and Richard Prince. He has expressed interest in opening a museum in Chiba to house his collection.
Nasa's most stunning pictures of space

Show all 30
His decision to take a team of artists into space allows him to explore a lifelong curiosity with how creative minds like Basquiat might have responded to the final frontier, he said.
"What if Picasso had gone to the Moon? Or Andy Warhol or Michael Jackson or John Lennon?" he asked in California.
"What about Coco Chanel? These are all artists that I adore."
Register for free to continue reading
Registration is a free and easy way to support our truly independent journalism
By registering, you will also enjoy limited access to Premium articles, exclusive newsletters, commenting, and virtual events with our leading journalists
Already have an account? sign in
Register for free to continue reading
Registration is a free and easy way to support our truly independent journalism
By registering, you will also enjoy limited access to Premium articles, exclusive newsletters, commenting, and virtual events with our leading journalists
Already have an account? sign in
Join our new commenting forum
Join thought-provoking conversations, follow other Independent readers and see their replies