Amir Khan v Devon Alexander: Khan knows victory on the Strip could pave the way for Floyd Mayweather showdown
In reality it is more an audition to determine whether the boy from Bolton is worthy of an even bigger billing in a Mayweather mega-show next year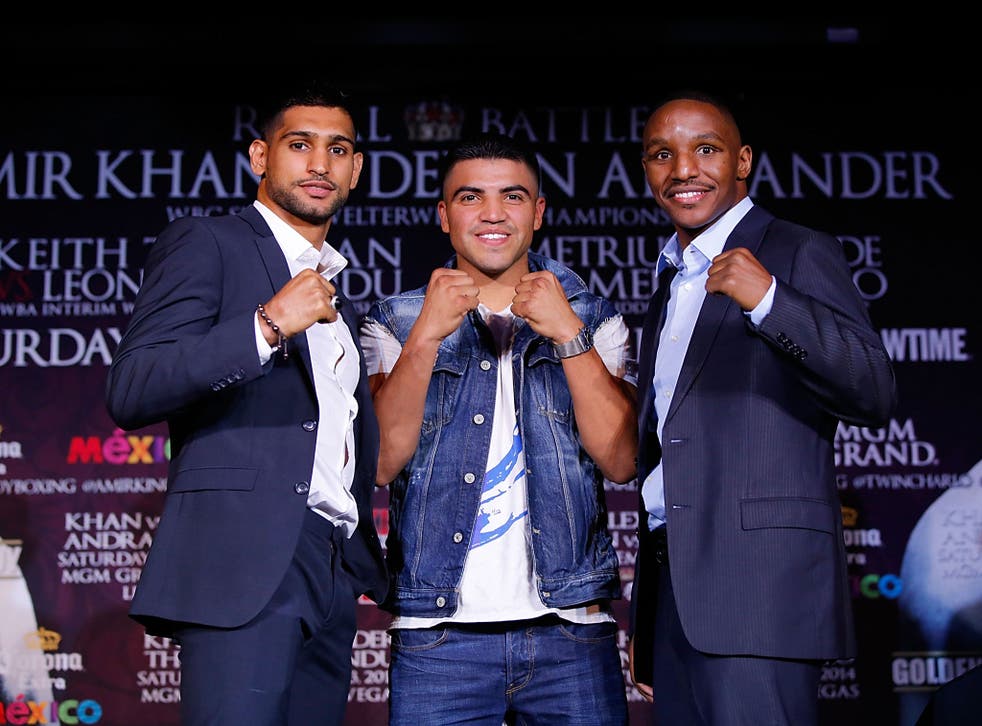 Amir Khan's name is up there in lights outside the MGM Grand in Las Vegas, the fight game's theatre of dreams where he finally gets to headline, following top-class acts like Muhammad Ali, Floyd Mayweather Jnr, Manny Pacquiao, Mike Tyson and the Brits Lennox Lewis and Ricky Hatton.
Next Saturday night brings a timely starring role against American welterweight Devon Alexander, a genuinely world-class opponent. Yet in reality it is more an audition to determine whether the boy from Bolton is worthy of an even bigger billing in a Mayweather mega-show next year.
While the word is that the Money Man and the Pacman are closer to coming to terms than they have ever been, nothing is certain in boxing until the ink is dry on the contacts. And sometimes not even then.
So if the long-overdue Mayweather v Pacquiao blockbuster fails to happen, Khan would be the logical choice to get a crack at Mayweather – providing he demonstrates against Alexander that his would not simply be a walk-on part.
Naturally, the former world light-welter champion is excited by the opportunity to prove his worthiness in the higher weight division. "If you walk on the Vegas Strip, you'll see huge posters of us," he says from his San Francisco training base. "I've fought in Vegas before but never at the MGM Grand's main arena, so I think we've hit the big time now."
If meeting Mayweather proves a no-no, there is still a big-money option for Khan, as an open-air domestic showdown with IBF champion Kell Brook could be highly lucrative, perhaps even more than a fight with Mayweather, who beats his opponents' purses down. Brook won the title from Shawn Porter, who had taken it from Alexander. So Khan cannot afford to slip up against the slick boxer who labels himself Alexander The Great.
However, he knows it is a promotional as well as a personal risk. Oscar de la Hoya, who heads Golden Boy Promotions, will be keeping an anxious eye on the ticket sales and TV viewing figures, hoping that Khan's ever-pleasant persona will overcome any Islamophobia that may linger in America following recent terrorist atrocities, which Khan has vigorously condemned.
Khan insists he is unaware of any antipathy towards him because of his religious beliefs, and his father, Shah, says: "I certainly hope it is not the case. It would be very unfair because Amir has always done his utmost to harmonise relationships between communities."
Religion means a lot to Khan. "When I run I listen to verses from the Koran," he says. "It gives me peace and mental strength. I have never been afraid of saying I am a Muslim. People respect you more when you are honest."
This is a tricky fight for Khan against the 27-year-old from St Louis, whose only two defeats in 28 bouts have been on points in world-title fights but is not a destructive puncher. Khan has three losses in a nine-year career of 32 fights.
"It's going to be like a game of chess – hit and move. It's whoever comes out stronger," says the man who turns 28 tomorrow. "I have the better punch power and the better knockout percentage. It'll be tough but it's a fight that favours me more because I have got the speed to out-box him. He's a good boxer but he's not on the same level as me."
After a couple of tepid performances, which followed two successive defeats, Khan re-discovered his mojo in razzle-dazzling rated Luis Collazo in May. He has also survived several brushes with tabloid infamy which, he says, is "the downside of being famous". Responsibilities of fatherhood – he has a baby daughter – seem to have settled him down. He has also worked on his fragile defence.
"I'm older, wiser and better now," he says. "I'm still fresh and I love the sport. It's addictive but I need to get out before too many fights. In another three years I'll think about calling it a day but right now I want to make the most of the time I've got left as a fighter."
Khan v Alexander is live on Sky Sports on Saturday 13 December
Join our new commenting forum
Join thought-provoking conversations, follow other Independent readers and see their replies