Amir Khan accuses wife of having relationship with Anthony Joshua after revealing separation on Twitter
Faryal Makhdoom Khan responded to the messages with a series of accusations of her own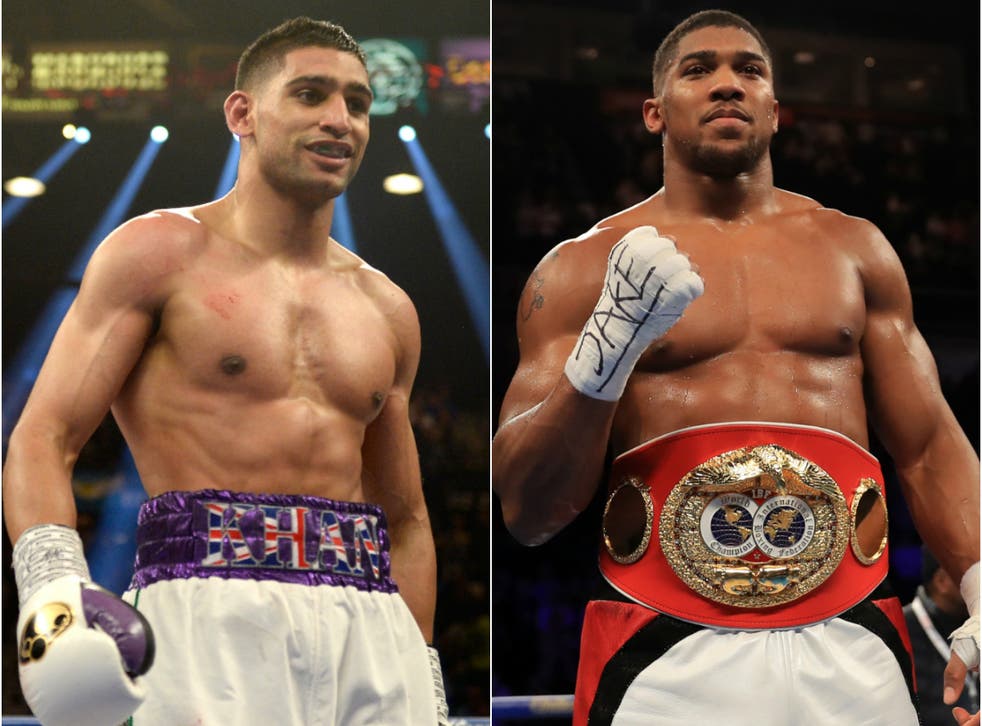 Amir Khan appears to have accused fellow British boxer Anthony Joshua of having a relationship with his wife, Faryal Makhdoom Khan, after announcing they are separating in a fiery exchange on Twitter.
Former world champion Khan took to his account on Friday to post a series of accusations against his wife that dragged in current heavyweight world champion Joshua.
The 30-year-old Khan posted an initial message that announced he and his wife were ending their four-year marriage, writing: "So me and the wife Faryal have agreed to split. I'm currently in Dubai. Wish her all the best."
The post appeared to suggest an amicable break-up, but Khan followed up with a series of messages accusing Ms Khan of having a relationship with 27-year-old Joshua following their break-up, and labelled her a "Golddigger".
Alongside a picture of a separate conversation, Khan wrote: "Faryal moved on quick. Always mentioned to me how much she wanted to be with another guy, from all people another boxer.
"Lol moved up in the weight classes lol. Trust me I ain't the jealous type. No need to send me pictures of the men your talking to #disgusted.
"Left my family and friends for this Faryal. I'm not hurt but another fighter. I'm making it public. You getting the divorce #Golddigger."
Who next for Anthony Joshua?

Show all 8
Khan's messages did not go unanswered for long though, and Ms Khan immediately launched a series of accusations herself, with the 26-year-old defending herself and calling her husband "bad company, [a] bad role model and always around women".
She wrote: "@amirkingkhan I'm not sure if it's your family tweeting for you. But I'm not the one who been in the papers for cheating.
"I'm sure you left your family because they robbed you? Not because of me. Stop making false things up.
"Accusing other boxers just because your boxing career is finished. Man up Amir.
"After all these years. I've always defending a cheat, always stuck around for him, always had his back. And I'm called a gold digger?
"LOL! He's given me jack s*** -- I pay house bills and bills for my daughter myself! It's like I'm a single mother while he's out messing around. And he has the nerve to blast me like that? The amount of evidence I have on you. It can destroy you. But since I loved you at one point in my life. I'll just let it go.
"@amirkingkhan p.s I'm not the one who's been in the papers for cheating.
"I'm not the one who's been in the papers every month with my pants down Cheater!
"You have actually lost it. Wtf where do u make this stuff up from? And maybe your boxing career is finished because you're an adulterer.
"At the end of the day I can hold my head high knowing I've given this marriage my 100% while Amir clearly hasn't. Bad company , bad role model, always around women , alcohol and then he calls himself a Muslim and runs a charity."
Khan did not reply to the responses, and Ms Khan ended the conversation by apologising to her followers and claiming that her husband was making the accusations up because "he just needs some attention because boxing hasn't been going well."
She added: "I'm sorry to all the fans & family hurt by this. But Amir did not need to do stupid tweets accusing others when he's in the wrong. #guilty.
"I think he just needs some attention because boxing hasn't been going well for him so he's just been acting up #30yearoldbaby."
Khan has not fought since being knocked out by Saul 'Canelo' Alvarez in May 2016, and was unsuccessful in his attempts to secure a fight with boxing legend Manny Pacquiao earlier this year. The Bolton-born boxer, who used to hold the WBA and IBF light-welterweight titles until he lost to Lamont Peterson and Danny Garcia in successive fights, has only boxed once a year since 2015.
The Independent has contacted Joshua and is awaiting a response. Neither Khan nor Mrs Khan could be contacted at the time of writing, and it is not clear if the Twitter accounts have been hacked or not.
Join our new commenting forum
Join thought-provoking conversations, follow other Independent readers and see their replies