Andy Lee: Boxer from same traveller community as Tyson Fury retains leading role in the ring
Traveller moved from London to Ireland as a teenager but working with Emanuel Steward changed his outlook and put him on path to middleweight world title
Kevin Garside
Monday 14 December 2015 19:44 Comments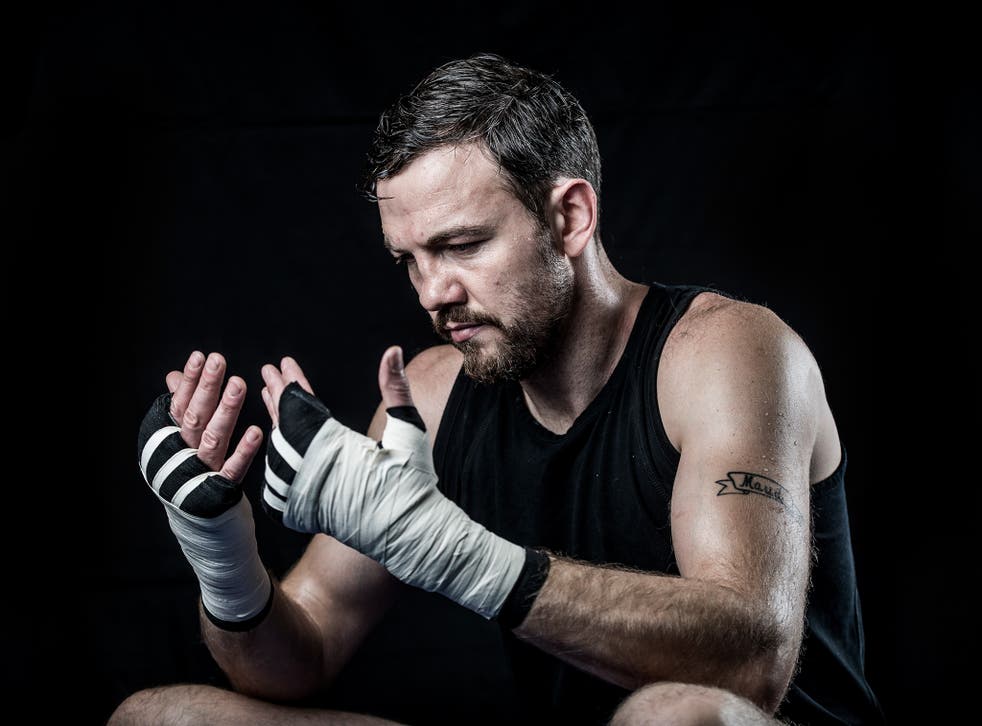 Andy Lee hails from the same travelling community as Tyson Fury. Their grandmothers were sisters, he is fond of his distant relative... but there the similarities end. You will hear no foul outrage coming from the mouth of Lee, no boorish prejudice culled from a narrow appreciation of a sacred text. You might, however, hear a few lines of Chekhov.
Indeed, were you in Dublin in October last year, in the audience at a small theatre perchance, watching a production of Chekhov's first play, Platonov, you would have seen the WBO middleweight champion treading the boards as the horse thief Ossip.
This, of course, makes him a kind of inverted Marlon Brando. Brando's Terry Molloy famously "coulda been a contender" in the Fifties American classic, On the Waterfront. Lee is considerably more than that, and defends his crown in Manchester this coming weekend against Billy Joe Saunders.
The contest is framed by their shared travelling backgrounds, and thus fits easily into the "gypsy" fighting stereotype.
Lee, as you might imagine from his extra-curricular interests, is not that easy to pigeonhole. The acting story demands he tells you more but, in this context anyway, Lee is far too modest to explore a part of his life discovered via marriage to a musician with theatrical interests. So we stick to the noble art, which is itself a mighty tale.
Born in east London, Lee quit Bow and the itinerant life as a 13-year-old, moving to Limerick, where his parents built a permanent home on land they owned. He claims the change in circumstances, though unwelcome to a teenager coming to understand the world in broader, livelier terms, proved pivotal in his development as a boxer.
"If we hadn't moved I'm not sure I would have stuck at it," he tells me. "I was getting bold enough to go where I wanted, messing around on the streets and stuff. But in Limerick I didn't know anybody. So boxing gave me a position, made me somebody. Even though I hated moving at the time, it was the best thing that could have happened."
Lee was a graduate of the East End amateur boxing mecca of Repton, good enough to win a couple of schoolboy titles before relocating to Ireland, where he built a stellar amateur career at the Saint Francis ABC, yielding world junior silver and Olympic exposure in Athens.
Crucially, his march to the world junior final in 2002 brought him to the attention of the great Emanuel Steward at the Kronk Gym in Detroit. Though Lee lost in the final, he took down tournament favourite Jesus Gonzales of the United States en route, and in so doing lit a flare in the imagination of Steward that would have remarkable consequences.
"He heard about a tall, skinny, Irish kid who beat the No 1 in America, who he used to sponsor. We had a mutual friend in Belfast and made the connection through him. Emanuel called me on Christmas Day 2002. I thought it was a wind-up. It was mind-blowing. I told him that my goal was to go to the Olympics in 2004 and after that we would see.
"I eventually moved over in 2006, lived in Emanuel's house in Detroit. First I went to the gym just to visit. Emanuel said, 'come down and have a look around'. I got there and he had me sparring.
"He put me in with a guy called Cornelius Bundrage, who was unbeaten at the time and went on to win a world title. Tommy Hearns ended up doing my corner. It was like George Best telling me how to dribble. We sparred four rounds. That was it. I was hooked."
The partnership endured until cancer claimed Steward three years ago. "Emanuel was a genius and a gentleman. I was very lucky to spend that time with him. During my six years he had Wladimir Klitschko, Jermain Taylor, Kermit Cintron, Miguel Cotto, Chad Dawson and more, all world champions.
"It was an education in boxing and in life being around Emanuel. The Kronk philosophy was to go for the knockout, aggressive box fighters, that's the way they are over there. For Emanuel, to win alone was not good enough. You had to win by KO, even in sparring. Klitschko drove him mad with his cautious approach."
The knockout mentality gave Lee both an electric edge but also a weakness that was exposed in his first world title fight against Julio Cesar Chavez Jnr, his last bout under the aegis of Steward.
"I wish I could do it all again, training like I do now. That's the only thing about the Kronk, the training is all about sparring. Emanuel did not do enough on conditioning. I was gassed in that fight."
His only other defeat came in 2008, subsequently avenged, against Brian Vera, and that was attributed to attitude and scales.
"I underestimated Vera. I was a young kid and learned a valuable lesson against him. He weighed in at 162, four pounds heavier than me. On the night of the fight he was 185, almost two stones heavier. You could see the difference in him physically. He was basically a cruiserweight."
A year ago almost to the day Lee became the first boxer from the travelling community to win a world title, beating Matt Korobov in six rounds in Las Vegas. He has done it the hard way. As an Irishman in Detroit, there were no gimmes. He has spent his career as the away fighter, travelling across the United States as well as taking fights in Germany and Denmark, and now to Saunders in Manchester.
Lee has been with Adam Booth since Steward passed away, staying as a guest in his house, just as he did Steward's in Detroit, during his south London training camps.
There is a cerebral element to their work, a journey into the mind of the opponent if you like, rehearsing scenarios that he is likely to encounter in the fight.
In this mature phase of his career – he is 31 – Lee is a fusion of the old and the new, his broken face telling of the heavy spars at the Kronk, his considered southpaw choreography under Booth reflecting a lethal stealth. There is something about the classic middleweight frame. Lee comes in at a shade under six feet. There is nothing obviously threatening in his slim torso, no forbidding musculature that makes you gulp.
Some might ask where he is hiding his guns. The answer is delivered in crisp, brilliantly timed punches that earned him the nickname "sharp-shooter" under Steward. A poster of Mike Tyson stares down from the wall at the entrance to Booth's Purley fighting emporium. "Everybody's got plans until you get hit," Iron Mike advises. It is just this kind of hard-knuckle wisdom acquired over 37 fights, plus a little of life's measure, that Lee intends to visit on his 26-year-old opponent this week.
"I don't know him personally but I know his mindset. I know who he is, what he's about, what he is doing. I've seen it a million times. I have to be detached from the gypsy battle, from team Billy Joe, his friends, his cousins, from team Andy Lee, even. If I go by what happens in the ring I don't think it is going to be my hardest fight.
"He's an Olympian but I don't think he did what I did in the amateurs and he hasn't fought anybody of real note yet. I have fought in the States, across Europe, have more experience, but I know I'm going to have to beat him in the ring.
"He has never lost, not even lost many rounds, so I have to let him know from the start, let him taste the punches, taste the jab, nullify the things he wants to do. A bit of doubt will creep in and then he will get desperate.
"The best thing he has going for him is his attitude. He believes he is better than he is. Technically he is not that great, he's floppy and doesn't have a punch, but he knows how to win fights because he has that never-say-die attitude. When you come from the travelling community you can't lose face. Reputation is a big thing. I know what's coming. He doesn't. For the first time in his life he is going to find out that attitude alone won't be enough."
Tickets for Lee v Saunders are available from www.frankwarren.com. Watch exclusively live on BoxNation, go to www.boxnation.com
Register for free to continue reading
Registration is a free and easy way to support our truly independent journalism
By registering, you will also enjoy limited access to Premium articles, exclusive newsletters, commenting, and virtual events with our leading journalists
Already have an account? sign in
Join our new commenting forum
Join thought-provoking conversations, follow other Independent readers and see their replies