Boxing baby Anthony Joshua has time on his side to emulate the great heavyweight title fighters
The fear for developing heavyweights is that Joshua improves his defence, his ability to pace fights and avoids danger in the next few outings. In doing so, he could become unbeatable
Steve Bunce
Wednesday 25 October 2017 19:11 Comments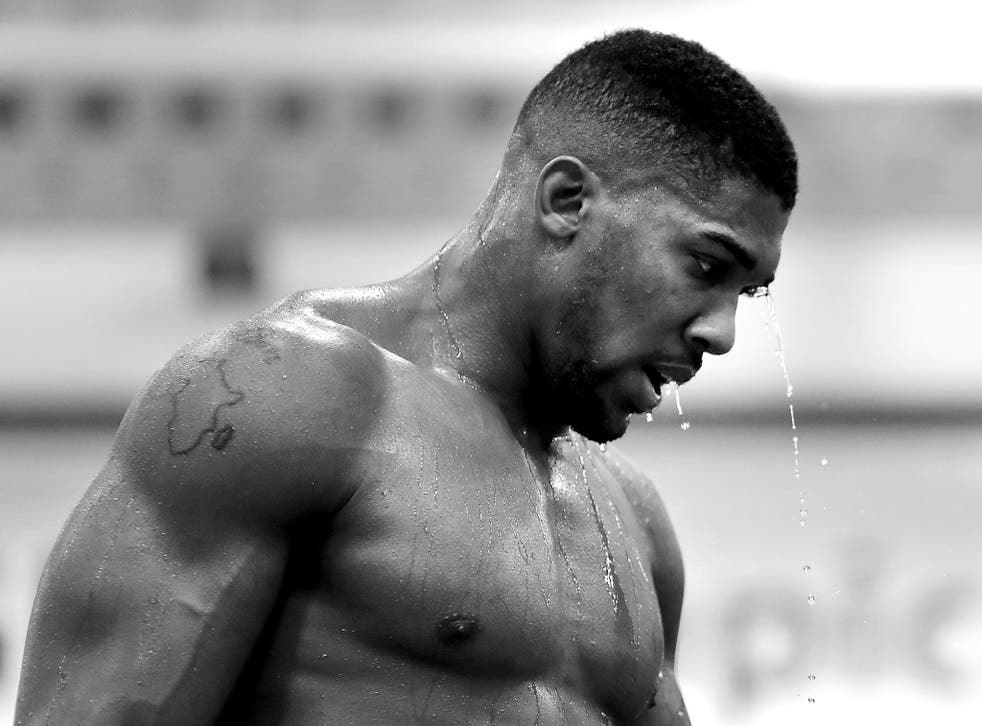 If Anthony Joshua keeps his heavyweight title as long as Joe Louis kept his eighty years ago, he will still be fighting for the title in 2029.
If Joshua was still in world title fights in 2029 he would be 40, Louis was just 36 when he had his last title fight in 1950 in what was his 60th fight of a career still considered one of the greatest in heavyweight history. The reign of Louis remains the longest consecutive run by a heavyweight but both Muhammad Ali and George Foreman held the title over a longer period of years.
Ali first won the championship in 1964 when he beat Sonny Liston, lost it to the US legal system in the late 1960s, regained it in 1974, lost it in 1978 and that was the last year he held it. However, Ali did fight for it again in 1980 when he took a merciless beating, aged 38, from Larry Holmes in one of boxing's true crimes. Ali had a total of 25 world championship fights and Joshua will be having his fifth on Saturday against Carlos Takam in Cardiff. When I call him a boxing baby, I'm not joking.
Big George held the title briefly between 1973 and 1974, retired after ending up in hospital when he lost in 1977, returned a decade later and won the championship again in 1994. Foreman was 45 the night he poured Michael Moorer on to the canvas like a hot sauce covering an ice-cream mound in Las Vegas to become the heavyweight champion again.
Moorer had been five when Foreman crushed, dusted and obliterated Joe Frazier to become champion for the first time in the Sunshine Showdown in Jamaica in 1973. On that glorious day Foreman, who was the betting underdog, looked like the most fearsome, destructive and mean heavyweight ever - an observation I'm not sure will ever change.
Joshua will be having his 20th fight against Takam. He is only 28 years of age and he admitted before April's fight with Wladimir Klitschko that he could retire, live comfortably and not even have to fight the towering Ukrainian. He fights because he likes it and because he has found ways to remain, for want of a better expression, "hungry". He does not rent a suite in a hotel or a nice, roomy, all mod-cons house in Sheffield when he is in camp. He stays, instead, in a bed-sit, one with dodgy lights and a broken television. He uses a certain black card to eat at a restaurant for free and treats members of the GB boxing team; last week in the Sheffield gym a dozen or so fighters all insisted that Joshua had not changed one bit since acquiring millions and heavyweight title belts.
"Marvin Hagler tells a story about not letting the riches change the way you prepare for a fight," said Joshua. "Hagler talks about how hard it is to get up at 5am in the cold and get out of your silk pajamas to go for a run. I have to have that attitude." It is the only attitude that extends a career and in modern Boxing there are fewer and fewer long careers.
Anthony Joshua's career in pictures

Show all 23
Joshua has six or seven challengers waiting for a chance and a few others ready to develop fully by about 2020 and that means his schedule - he wants to fight three times each year - will be full. It makes little difference if he loses - all heavyweights lose - and with rematches there are five or six good years of Joshua fights left at a minimum and if that happened he would still only be about 34 and a veteran of about 28 fights.
The fear for developing heavyweights is that Joshua improves his defence, his ability to pace fights and avoids danger in the next few outings. All great heavyweights change their styles, slow down, throw less and use their brains a lot more as age and punishment take their inevitable tolls. A seasoned, hardened Joshua is a nice prospect in the next couple of years.
Joshua talks about ten more fights but that could be stretched if some are easier and it could be drastically reduced if they are brutal slugfests like the Klitschko fight. There is always the chance that a great rival develops - a Joe Frazier figure, if you like - to push Joshua and keep him avidly inside the business. Joshua will not still be the world heavyweight champion in 2050, but he could still be fighting for a long, long time yet.
Register for free to continue reading
Registration is a free and easy way to support our truly independent journalism
By registering, you will also enjoy limited access to Premium articles, exclusive newsletters, commenting, and virtual events with our leading journalists
Already have an account? sign in
Join our new commenting forum
Join thought-provoking conversations, follow other Independent readers and see their replies