Anthony Joshua interview: IBF heavyweight title challenger the poster boy among giants
Briton prepares for first world title fight with history already beckoning. Ian Chadband meets him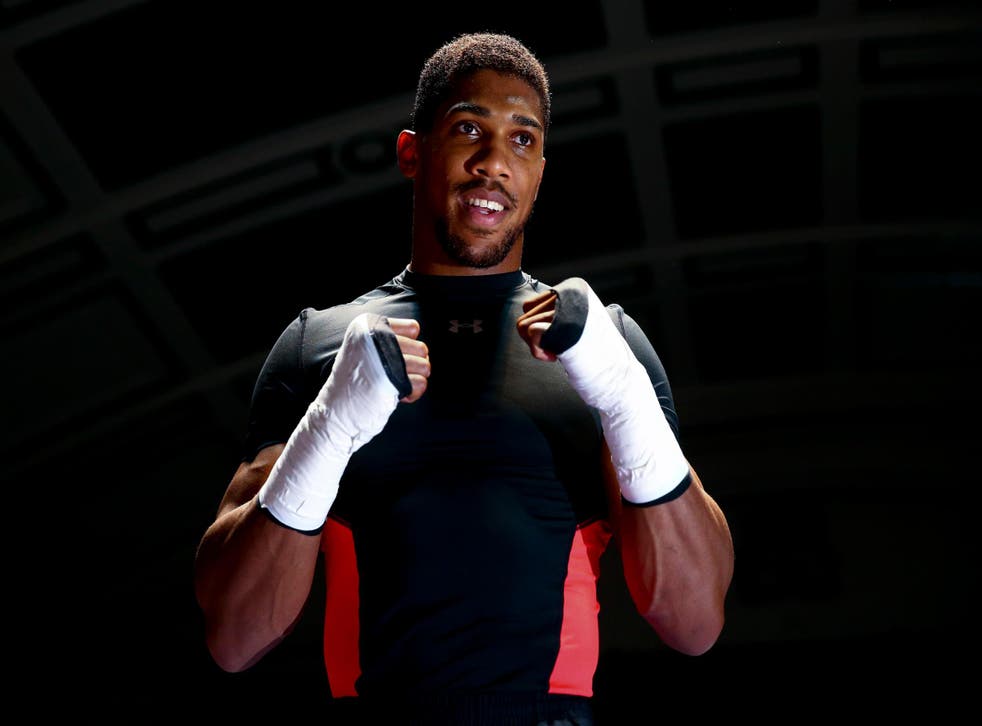 Britain's Olympic champion Anthony Joshua is on the cusp of what he calls "the ultimate double" this weekend and fancies it could help him capture the boxing world's imagination like no heavyweight for a decade.
Nothing ignites the hype as feverishly as the emergence of a big man with a big punch and the unbeaten super-heavyweight 2012 gold medallist – chiselled, 6ft 6in and with dynamite in his fists – fits the bill perfectly.
On Saturday, he fights America's IBF world champion Charles Martin at London's O2 Arena and can become the first boxer to hold a version of the professional world heavyweight title while being reigning champion in the Olympics' heaviest weight division.
"Hmm, Olympic champion and world pro champion at the same time. It's the ultimate double really. That would be really cool if I could," the 26-year-old said.
Only exceptional fighters win world titles while still being Olympic champions – including Muhammad Ali, who beat Sonny Liston for the world title in 1964 while holding the 1960 Olympic light-heavyweight crown.
Boxing greats such as Sugar Ray Leonard, Oscar de la Hoya and Floyd Patterson have also achieved the feat. As gold medallists at heavyweight or super-heavyweight, Joe Frazier, George Foreman, Lennox Lewis, Wladimir Klitschko and Alexander Povetkin all went on to win world heavyweight belts but not in the same Olympic cycle or at Joshua's destructive pace.
Joshua vs Martin - the boxing world predicts the winner

Show all 8
He has won all 15 of his pro fights inside the distance – just 32 rounds in all in his 30-month career – leaving even Klitschko marvelling at "his amazing potential, like no other boxer I've seen".
The good looks and laid-back personality conceal a "mean streak". "It's a blood sport business. You want to go in and take someone's head off," he says with chilling sweetness.
Tickets for Saturday's fight sold out in 90 seconds. Yet Joshua so far seems immune to the clamour. "I think towards the end of my career, I'm the man. But right now I've still got that underdog mentality to keep on proving myself time and again. I'm not going to believe the hype."
His opponents do not believe it either. Fellow Briton Tyson Fury, who ended Klitschko's decade-long reign as world champion last year, claims Joshua is a "talentless bodybuilder who has no footwork, no jab and can't box... that means he's useless". And Martin, also unbeaten in 24 contests but with one draw, dismisses Joshua as "green", a novice ripe for the taking.
To which Joshua just smiles disarmingly and says: "They're all just waiting for me to fail. Listen, they'll be waiting a long time."
He is not bothered about fighting in Las Vegas because "the heavyweight scene is now in the UK" with a potential domestic blockbuster in prospect between Fury, painted as the controversial, pantomime villain, and Joshua.
"Promoters would love that fight and so would I," he said, adding: "But Fury should just be himself and not try and be this character. Boxing's a sport that gives you licence to act like an idiot, I think."
Joshua has arrived at an intriguing period of revival for the heavyweight division after the stagnant years of mediocrity underpinned by Klitschko's mechanical stranglehold. And the Briton could be the poster boy who, as in all the best boxing Cinderella stories, unifies the division.
Join our new commenting forum
Join thought-provoking conversations, follow other Independent readers and see their replies