Anthony Joshua says Tyson Fury 'talks like a kid' after winning IBF title by beating Charles Martin
Fury was quick to criticise Joshua after the fight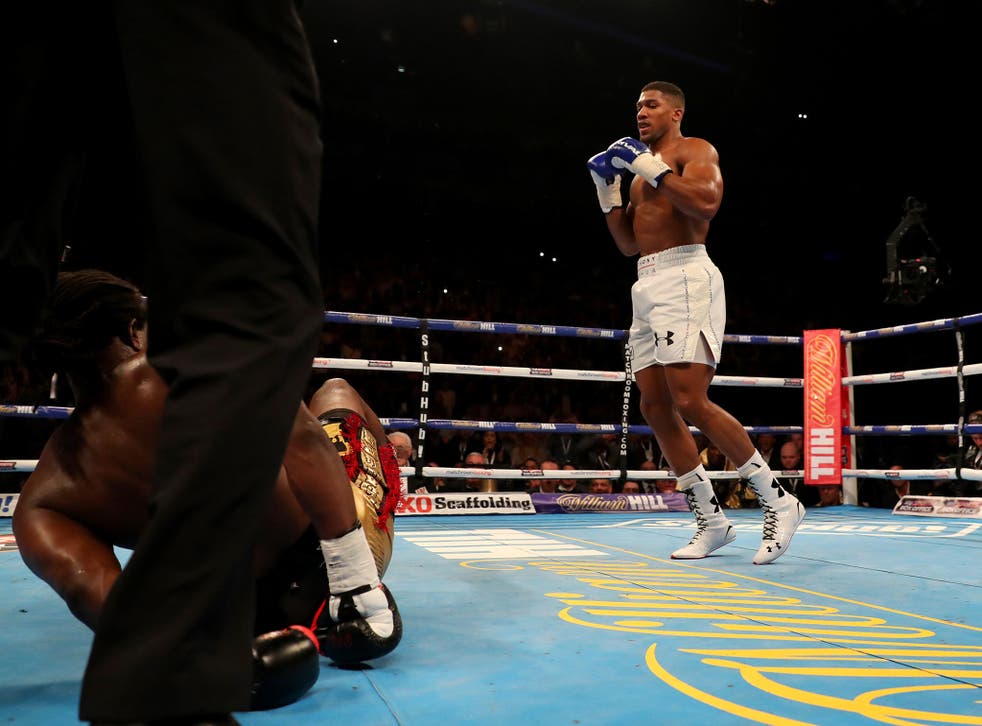 Anthony Joshua insisted he is not yet satisfied at becoming the IBF heavyweight champion and revealed he was more excited at securing his title shot than winning the title itself.
The 26-year-old clinically stopped defending champion Charles Martin in the second round of only his 16th professional fight to win the IBF heavyweight title and, just miles from where he won his Olympic gold medal in 2012, to take a significant step towards fulfilling his considerable potential.
Joshua could be seen discreetly celebrating the first of the second-round knockdowns, in the belief that he had already finished the fight, and threw a similarly-powerful right hand to secure victory shortly after America's Martin met the first count.
His profile will grow further and make him one of boxing's greatest assets, but amid plans for him to make his first title defence on July 9 - the same night WBA and WBO champion Tyson Fury's rematch with Wladimir Klitschko is scheduled - and possibly at Wembley Stadium, Joshua said: "Getting there is one thing, now maintaining it will be harder so I need to be a bit more disciplined.
"We've got more to go. Probably when I retire I will be happy but as I'm still fighting, I've got to put this behind me.
"Yeah (I was more excited at getting the fight). I'm happy I got the fight, we developed a different level of stamina, composure. A new level of man was born.
"I knew 100 per cent (it was over after the first knockdown). I know not to rush in, and I know if I've got enough power to hurt him once, if I keep my shape and keep on doing the same things to hurt him first time, I just knew I'd be able to get to him sooner or later."
For all of his talent and obvious power, Joshua remains raw when compared to the division's other leading fighters Tyson Fury, Wladimir Klitschko, Deontay Wilder and David Haye.
Possessing the IBF title means there will be pressure to match him with the other big-name heavyweights, and therefore force him to compete at a level at which he is not yet proven.
None of those names are in contention to be the first challenger of Joshua's championship reign, but he said: "George Foreman, Muhammad Ali, Joe Frazier fought; Mike Tyson, Evander Holyfield, Lennox Lewis fought...
"Me, Tyson Fury and David Haye, we have to fight. We can't get through this whole era without fighting, that would be silly, we will get it on at the right time. It's just bound to happen at some stage.
"I'm not going to lower myself (to Fury's level after he took to Twitter to criticise my performance), he talks like a kid. He's predictable really. He should be happy I won."
Matchroom promoter Eddie Hearn staged the last fight at Wembley Stadium when Carl Froch defeated George Groves in 2014, and revealed he wants to organise Joshua's first defence for there in July.
"July, it was always going to be the ninth," Hearn said. "We'll have to take a look at the top 15 (of the IBF heavyweight rankings), a lot of the guys are taken up.
"If he's ready, I don't see why we can't get back early July. That's the plan. That was why Sky turned down the Fury-Klitschko fight; they see 'AJ' as the future.
"The plan would be to build AJ as a Pay-Per-View fighter in America as well.
"Wembley's where we were looking to go."
Join our new commenting forum
Join thought-provoking conversations, follow other Independent readers and see their replies