Anthony Joshua vs Charles Martin has the makings of a great fight – just not a great world title fight
The two meet at the O2 Arena to contest the IBF belt
Steve Bunce
Tuesday 16 February 2016 20:22 Comments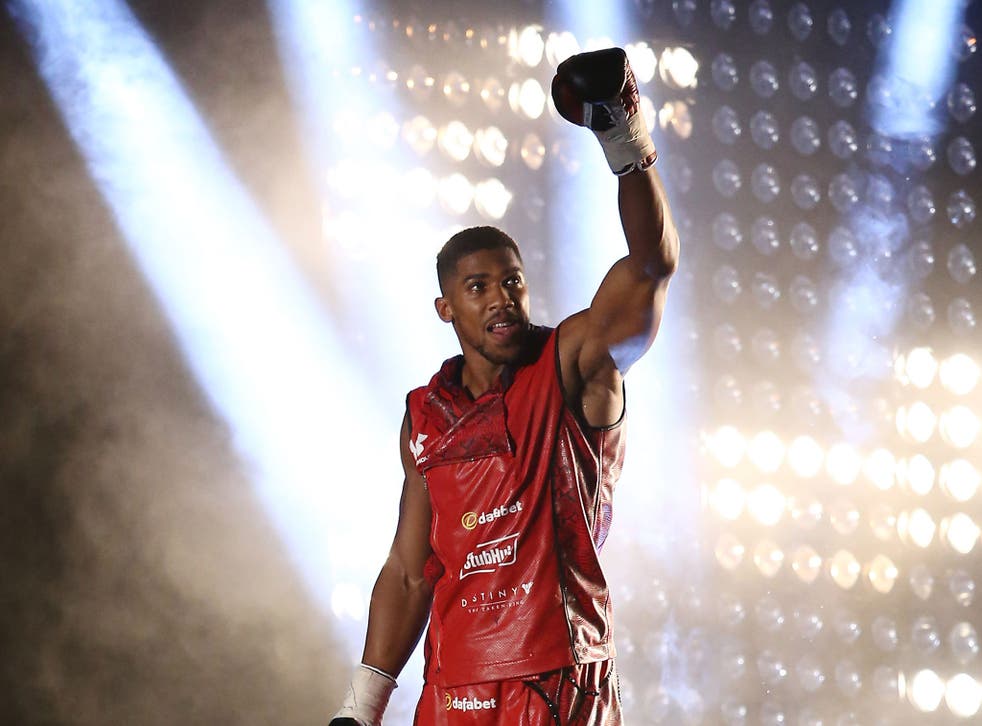 There is no great mystery attached to Sunday's news that Anthony Joshua, a popular novice, will fight Charles Martin, an unknown novice, for the IBF's heavyweight championship of the world on 9 April at the citadel known as the O2 in London.
Last month in New York, during a night of thrills, knockouts and freak accidents, Martin collected $250,000 (£175,000) when he became the 13th man to hold the IBF title since it was introduced in 1984. Martin joked that he had connected with a short right hook on the glove of Vyacheslav Glazkov and that was enough to send Glazkov down and out in round three. "That's how hard I punch," he jested, but it was not funny.
Glazkov was poor on the night, looked scared and timid, and when he collapsed with a broken knee in round three it meant that Martin followed great fighters like Larry Holmes, Riddick Bowe, Evander Holyfield and Lennox Lewis as the IBF champion. He is a nice guy and can fight a bit, but he is the weakest IBF champion ever and it is possible his payday for winning the belt is the lowest ever received by a champion in a title fight.
However, the real crime was committed in the hours after Tyson Fury gave Wladimir Klitschko a boxing lesson last November to win the IBF title. On that joyous night a series of ever-darkening phone calls were made between Mick Hennessy, who manages Fury, and the people in charge of Glazkov, who was the mandatory challenger for the IBF version.
It was obvious the following morning that the IBF, a governing body with a history straight from the pages of crime fiction, would strip Fury of his belt if he persisted with his lucrative plans to give big Wlad a rematch. There are many that consider the arrival of the IBF in the mid-Eighties as a pivotal time in the decline of boxing's credibility; the FBI fell in love with the lunatic governance of the New Jersey-based sanctioning body during its formative years and filmed executive officers of the IBF unloading financial kickbacks from their silk socks.
Fury was stripped of his title in early December, Martin agreed terms to fight Glazkov straight away and then Joshua came through his first real test, surviving a horrid second round to knock out Dillian Whyte in the seventh round. Whyte, by the way, is superior to anybody Martin has beaten in his 24 fights. The simple truth is that had Martin not taken the Glazkov fight – a bout he was given because he was considered an easy touch by Glazkov's people – he would have been an ideal 16th opponent for Joshua in April.
Martin deserves praise for taking the fight – he actually asked for it two weeks ago – and it is possible that by midnight on 10 April his team will all be sacked for taking the risk. A management team is meant to manage and I doubt that Don King, Bob Arum, Mickey Duff, Frank Warren or even Eddie Hearn would be travelling to London with their new world heavyweight champion, and potential cash cow, to fight Joshua.
It is not Joshua's fault that the IBF sanctioned the bureaucratic savagery against Fury and it is not Martin's fault that Glazkov was exposed. Martin is an inch shorter than Joshua, has shorter reach, is identical in weight, three years older, and a southpaw, which poses its own set of unique problems. He would have been easy to book, having fought on an obscure circuit for three years and met men from seven different countries in his last seven fights. The win over Glazkov changed everything, though, and in many ways changed nothing.
This fight is marvellous, the costume belt irrelevant and Martin has accepted it only because he is in a heavyweight backwater in the United States, where the big men make peanuts for their efforts. It is thought that Joshua, who has a complicated deal with his promoters, Matchroom, pocketed £3m for the Whyte fight; a decent share of that would make it financially worthwhile for Martin to travel. It is possible that Joshua has never fought for less than the $250,000 Martin received for the Glazkov fight. It was, incidentally, Martin's highest payday by some considerable distance.
It still remains a fight between two untested and dangerous novices. The belt, the sanctimonious dribble about being a world champion and any other nonsense concerning legitimacy, history or legacy needs to be ignored. This is simply a great fight between two unbeaten heavyweights with too much to prove and not enough ring knowledge to protect their deeply layered records. So, sit back and enjoy it. Meanwhile, the real heavyweight champion, Fury, is getting ready to announce his rematch with Klitschko, which is the fight that started the mess in the first place.
Register for free to continue reading
Registration is a free and easy way to support our truly independent journalism
By registering, you will also enjoy limited access to Premium articles, exclusive newsletters, commenting, and virtual events with our leading journalists
Already have an account? sign in
Join our new commenting forum
Join thought-provoking conversations, follow other Independent readers and see their replies