Anthony Joshua vs Charles Martin: Joshua claims Tyson Fury is 'jealous' in build-up to IBF title fight
Fury has been critical of Joshua, describing the Olympic gold medallist as 'useless'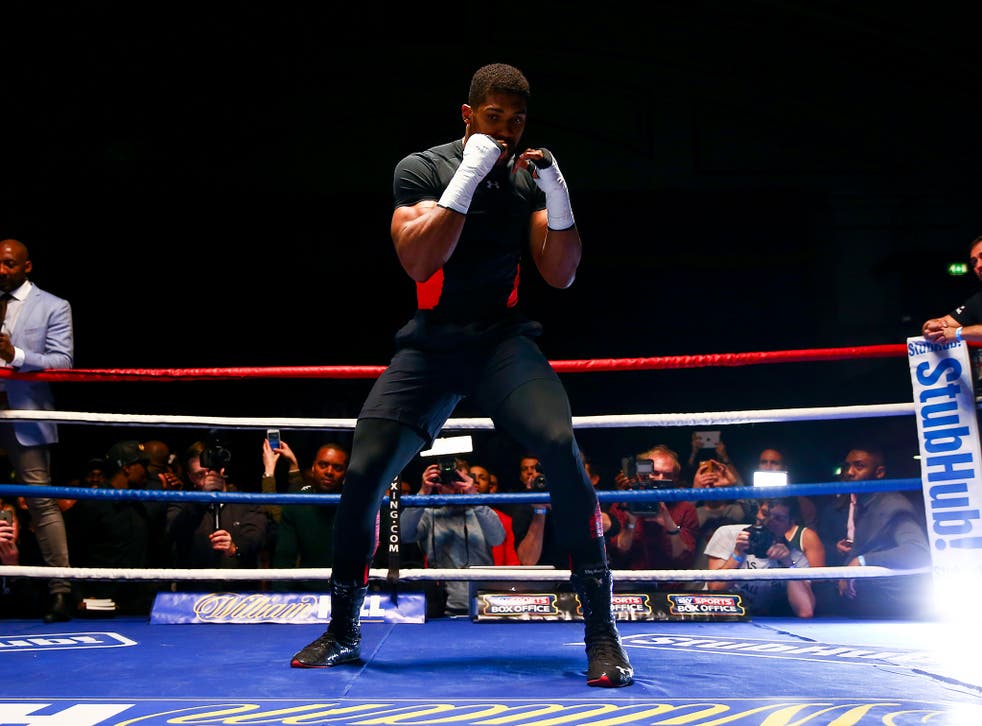 Anthony Joshua has accused Tyson Fury of being jealous of his "beach body" and offered to lend the WBA and WBO heavyweight champion a hand in training.
The 2012 Olympic gold medallist, 26, on Saturday at London's 02 Arena challenges defending champion Charles Martin in only his 16th fight as a professional for the IBF title Fury was stripped of.
In his last win, however, against Dillian Whyte, he produced a limited performance that suggested he remains raw, and which has led to concerns that for all of his promise he is being rushed to world level.
Fury last week described him as "Useless. He's got no footwork, he can't box and he's got no jab so that means he's useless."
He added: "All he's got is a big punch, which everyone who pumps iron for five years and is six foot, six inches can punch like. This game is not all about body-building. It's about knowing how to box. He's getting knocked out."
Fury's physique is considerably less impressive than Joshua, but when it mattered while challenging Wladimir Klitschko last November he produced a fluid, composed and cultured performance to out-point the then long-term reigning champion.
Joshua has spoken of his wish to eventually fight Fury in a unification match-up should he defeat Martin on Saturday, and in a response to his comments, said: "They're hating on my beach body, they're just hating, that's what it is. If they want, I'll give them some sessions, they can come train with me if they want.
"I asked them to spar, they don't want to spar, they don't want to work, so they can stay there, but this is just how I am. I ain't got no comments on his physique. This is just how I am. There's a lot of jealousy, a lot of negativity, so that's why I shut it down and just focus on myself.
"I don't search for their attention, I'm not worried if he backs me or not, because I'll still handle my business, he's not supposed to back me realistically, so I don't expect no different."
Monday's public workouts of Joshua and Martin were disrupted by the appearance of veteran American Shannon Briggs, who in recent years has followed Klitschko around and last week appeared at a press conference surrounding David Haye.
Press Association Sport understands he is highly unlikely to be given a licence to box in the UK by the British Boxing Board of Control, but his second appearance there will lead some to suspect Joshua would consider the 44-year-old as a future opponent, a possibility he refused to dismiss.
"Shannon Briggs is a game opponent, an unbelievable self-promoter, and you can never underestimate him," he said. "He's big, he's got a punch from the experience he's gained from fighting the champs, so don't overlook Shannon Briggs.
"He's around and he's here to fight, so that fight could happen if it's the right fight and it makes sense."
PA
Join our new commenting forum
Join thought-provoking conversations, follow other Independent readers and see their replies