COMMENT
Anthony Joshua vs Tyson Fury is the fight of a lifetime but comes at a cost
The biggest fight in the history of British boxing has been negotiated by a man with links to a notorious drugs gang and could be staged in a state with limited human rights, reports Luke Brown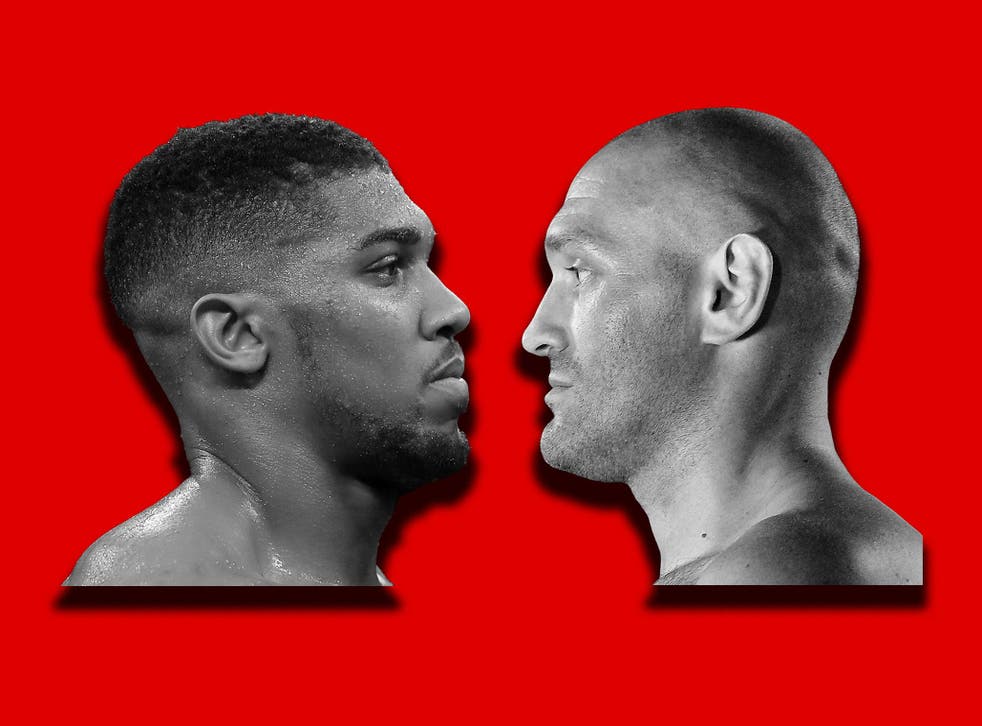 Anthony Joshua's heavyweight unification title contest with Tyson Fury could be the bloodiest fight in the history of British boxing. And that is before the two men even get into the ring.
This week, a smiling Fury shared a short video on his Twitter page to confirm that an informal agreement between the two men had finally been reached. "I've just got off the phone with Daniel Kinahan and he has informed me that the biggest fight in British boxing history has been agreed," he said. The video was accompanied with a caption: "MASSIVE THANKS TO DANIEL KINNERHAN FOR MAKING THIS HAPPEN."
To some this meant nothing. To others it rang alarm bells.
Kinahan is boxing's newest power broker. The son of convicted drug dealer Christie Kinahan, he founded the boxing management group MTK Global in 2012 and currently lives and works in Dubai. He is also a person of significant interest to the Gardaí, the state police force of the Republic of Ireland. Only last month, Mr Justice Tony Hunt accepted evidence at Dublin's Special Criminal Court that the Kinahan organised crime group was involved in organised drugs and firearms dealing on "an international scale" and that it has used "execution style" murders to protect its interest. In 2018, a Spanish police officer told a court in Marbella that Kinahan ordered the murder of a gang rival on the Costa Del Sol in 2015. He is banned from entering the US and his name allegedly appears on target lists at the CAB, the Drug Enforcement Agency and the FBI.
Kinahan has no criminal convictions.
News of his significant role in one of the biggest sporting events of recent times was met with a predictably disgusted reaction in his native country. Fine Gael politician Neale Richmond published a scathing statement that denounced Kinahan as "evil", while The Irish Daily Star announced they would not cover the fight. "This is an insult to victims," the tabloid announced at the front of the book. "Those who support Kinahan's moves in professional boxing should stand ashamed – he is a cancer on the sport." By Thursday, even Taoiseach Leo Varadkar had commented, telling the Dáil that Kinahan is a man with "a chequered history in this State and elsewhere".
But in the archaic and anarchic world of boxing politics, Kinahan is a popular figure. He makes deals with everybody: Eddie Hearn, Frank Warren, Bob Arum, Shelly Finkel. And on iFL TV, the biggest boxing channel on YouTube which just happens to be sponsored by MTK, fighters, trainers and promoters queue up to pay tribute to his 'independent guidance'. In short: nobody has a bad word to say about him.
Consider that for a moment. In professional sport's biggest snakepit, Kinahan is adored by all. Either he is a man of unparalleled good nature, or there is something else going on.
Everybody in boxing is happy enough to tell you how long they have been friends of Kinahan. They are less happy to discuss his past. When contacted for comment, Frank Warren's Queensberry Promotions acknowledged that "we are now aware of the allegations made in court against Daniel Kinahan." However, they add: "Like all promoters, we work with a wide range of advisers and managers, of which Daniel is one. Any dealings with him are boxing related and have always been amicable and professional."
Eddie Hearn's Matchroom Boxing meanwhile told The Independent: "Tyson Fury is promoted by Bob Arum of Top Rank and Frank Warren of Queensberry Promotions. We have been instructed by them and Tyson Fury to negotiate this fight directly with Fury's advisor Daniel Kinahan."
Kinahan's role in this fight poses other questions.
Arum, a former lawyer who once worked for President John F Kennedy's administration, recently described Kinahan as "in effect our adviser regarding the Middle East". This is not only because of Kinahan's Dubai location. Earlier this year, Kinahan was appointed a 'special advisor' for KHK Sports, "the fastest-growing sports media project in the Gulf Cooperation Council" which is owned by Khalid bin Hamad Al Khalifa, a Bahraini prince. The company, which has invested heavily in European football, racing, cricket and wrestling, announced the news in a glossy press release which described Kinahan as an "international boxing power broker."
Bahrain is now a leading contender to stage the fight, which would be one of the most lucrative in the history of boxing. The small, oil-rich country faces competition from Saudi Arabia, which previously hosted Joshua's successful rematch with Andy Ruiz. Jr. Wherever the fight ends up, it is the Middle Eastern states that have an advantage in negotiations. "It can top everything in the US and UK," Arum added in the same interview. "The Middle East is coming up with a very, very large number for that fight."
The number is irrelevant. The fact of the matter is that it would be nothing short of shameful for either country to stage the fight. Bahrain's record on human rights has been described by Human Rights Watch as "dire". The government carried out three executions in 2019. Security forces torture detainees. The same NGO notes that Saudi Arabia faced "unprecedented" international criticism in 2019 for its human rights record, including "the failure to provide full accountability for the murder of Saudi journalist Jamal Khashoggi by Saudi agents in October 2018."
Both Bahrain and Saudi Arabia have an insatiable appetite for staging international sports events. There is a word for this: sportswashing. In much the same way that Kinahan is attempting to whitewash his reputation through his work in boxing, states with shocking human rights records seek to sell themselves as liberal, western-facing and open for business. "It's about trying to inculcate a certain image within the western public," Adam Coogle of Human Rights Watch tells The Independent. "The whole game is to try and make foreign investment seem safer."
And that's without even mentioning the fans.
Some won't care, of course. That is their prerogative. They will be able to turn a blind eye to the divisive characters and backgrounds of the two champions, the involvement of Kinahan and the eventual location of the fight, because they have been waiting for this fight since 2016. After all: Kinahan, Bahrain and Saudi Arabia are so very far away. They are here for the boxing. Nothing more.
But plenty of others will not see it like that. For them, it is getting harder and harder to hold their nose. Because boxing is different to football. Blind tribal loyalty is no excuse here. Joshua and Fury both have their vocal critics; the characters that now surround them even more so. And for those who feel deeply uneasy about this most morally bankrupt of spectacles, the sole option remaining is to show some individual agency and refuse a ticket to the circus.
Sadly, none of this changes the fact that a fight between Joshua and Fury will be the greatest in the history of British boxing. It has come at a quite unthinkable cost.
Register for free to continue reading
Registration is a free and easy way to support our truly independent journalism
By registering, you will also enjoy limited access to Premium articles, exclusive newsletters, commenting, and virtual events with our leading journalists
Already have an account? sign in
Register for free to continue reading
Registration is a free and easy way to support our truly independent journalism
By registering, you will also enjoy limited access to Premium articles, exclusive newsletters, commenting, and virtual events with our leading journalists
Already have an account? sign in
Join our new commenting forum
Join thought-provoking conversations, follow other Independent readers and see their replies