Wladimir Klitschko claims Anthony Joshua is more suited to CrossFit than boxing as he finally steps up mind games
From his usual training camp here in the Tyrol region of the Alps, a relaxed Klitschko, now 41, opened up on the challenge posed by the IBF champion, still only 18 fights into his pro career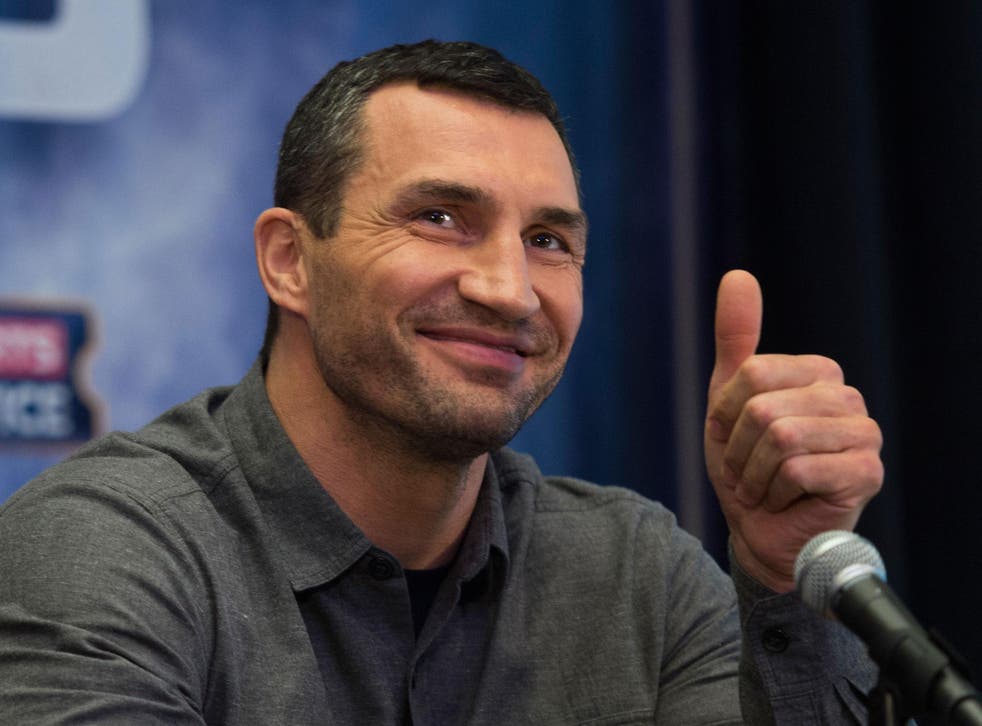 Wladimir Klitschko has questioned Anthony Joshua's boxing ability and warned him that his musclebound physique might be better served winning world titles in CrossFit and not prizefighting.
After months of back-slapping build-up, during which both competitors in the April 29 mega-fight at Wembley seemed curiously friendly, Klitschko has finally aimed a verbal barb at his opponent.
From his usual training camp here in the Tyrol region of the Alps, a relaxed Klitschko, now 41, opened up on the challenge posed by the IBF champion, still only 18 fights into his professional career.
And the iconic Ukrainian believes next month's clash at the national stadium will come down to the 'sweet science', not physical stature.
He said: "AJ has a lot of energy, he's young, he wants to show it. He has these big muscles that give him confidence. He wants to demolish people right in front of him. Those muscles give him a lot of confidence.
"But did you hear about boxing? It's the sweet science. If it wasn't, every other person would have been pumped up like that and would have smashed people. But boxing is the sweet science and the ice is thin. The most vicious boxers were conquered."
Indeed Joshua's swift ascent to the top of the heavyweight tree has been likened to that of Mike Tyson, who remains the youngest world champion in the division's history having beaten Trevor Berbick to claim the WBC belt in 1986 aged just 20.
But Tyson will not be found on many heavyweight top 10s due to his lack of top-level victories.
Now Klitschko, in a classic thinly-veiled taunt, says Joshua's physique and physical capability would go down well among enthusiasts from the world of CrossFit, which involves no combat whatsoever.
"One more time," Klitschko said. "I have a lot respect for Anthony and what he's doing - his commitment and physical ability. He can be a CrossFit world champion actually. I think he has great capability. I believe he could do it. There are a lot of boxers doing it. But CrossFit is not boxing."
Anthony Joshua vs Dominic Breazeale in pictures

Show all 9
Klitshko has not boxed since he was beaten by Tyson Fury in November 2015, when he lost his WBA, IBF and WBO world titles as a result of what was his first defeat in 11 years.
But he insists he is not finished yet despite having 68 fights in the past 21 years punching for pay. And when asked whether this fight has come too soon for Joshua, who has boxed just 44 rounds since his professional debut in 2013, Klitschko said: "I'm sorry, should I wait another five years? I can't!
"The opportunity is now, everything has its time. I don't want to hear, 'oh it was too early for him' or that 'Klitschko is over the hill'. But it's a challenge with a lot of question marks, I'm looking forward to it. I think it's going to be a great event. I hope both fighters get through it injury-free, so there are no other issues.
"At 41, I'm still raw. He is in a certain way. He's improved, he's accelerated a lot, but he's still raw."
Sky Sports Box Office will show Joshua v Klitschko exclusively live on 29 April. To book go to www.skysports.com/joshua
Join our new commenting forum
Join thought-provoking conversations, follow other Independent readers and see their replies