Anthony Joshua vs Wladimir Klitschko broke British Box Office pay-per-view record, says Eddie Hearn
Joshua heralded the start of a new era of heavyweight boxing by dramatically recovering from the first knockdown of his career before stopping Klitschko in the 11th round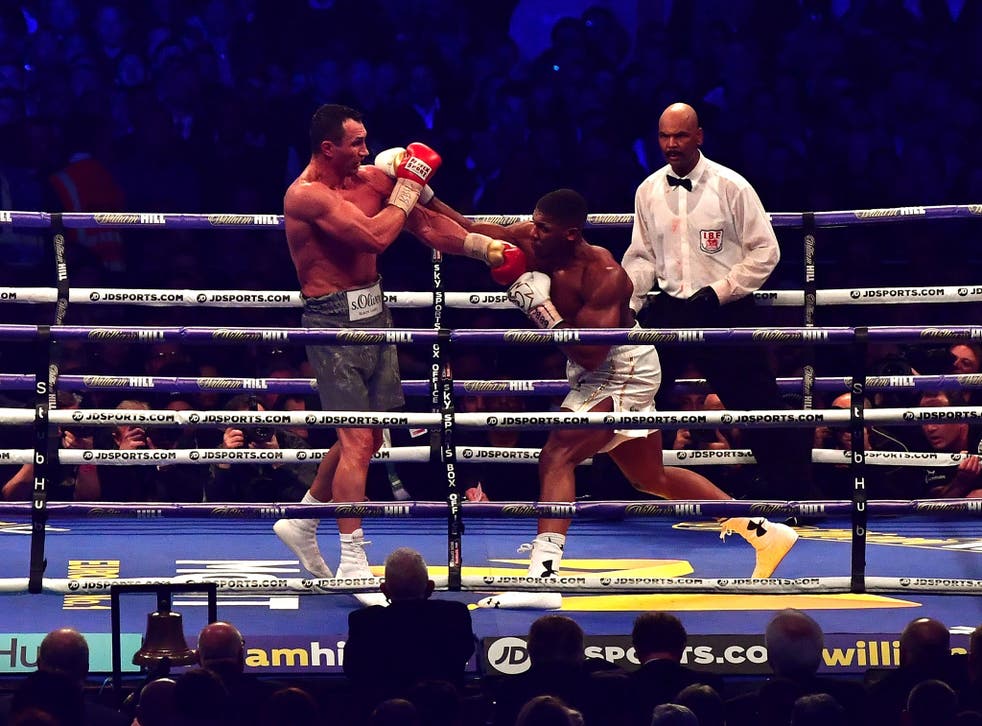 Anthony Joshua's thrilling heavyweight victory against Wladimir Klitschko at Wembley Stadium broke the British Box Office record on pay-per-view, according to promoter Eddie Hearn.
Joshua heralded the start of a new era of heavyweight boxing by dramatically recovering from the first knockdown of his career before stopping his 41-year-opponent in the 11th round.
Making the third defence of his IBF title, the 27-year-old Briton also became the WBA champion and silenced his critics who had suggested that the fighter had neither the punch resistance, intelligence or variety to succeed Klitschko as the world's leading heavyweight.
Who next for Anthony Joshua?

Show all 8
It was his 19th consecutive victory as well as his 19th straight knockout win.
Speaking to Radio 5 Live after the fight, Hearn said: "We broke British Box Office records on pay-per-view last night.
"We can't tell you the number last night because it's too early but the record was 1.5 million for Manny Pacquiao against Floyd Mayweather. Last night beat that for sure."
After a cagey and nervy opening four rounds, Joshua unleashed a barrage of hits in the fifth to send his opponent hurtling to the canvas with victory seemingly in sight.
But Klitschko recovered, rallied and sent Joshua crashing to the canvas in the sixth in what was the Briton's first-ever knockdown in professional boxing.
Joshua held out, however, and eventually found the power and energy to see off the 41-year-old in a devastating onslaught in the penultimate round.
"Breath-taking, emotion, heart, ups and downs, both fighters on the deck and then a young fighter who looked like he'd emptied the tank," said Hearn on Saturday night's London thriller.
"He'd looked like he'd almost run out of ideas and he was done and just somehow found something from within to come back and knock out Wladimir Klitschko."
Hearn added: "Anthony Joshua is learning on the job.
"This guy has had 18 professional fights and, although he won Olympic gold, he hardly has any amateur experience compared some of these other seasoned guys. He has 40 amateur fights.
"To be exposed in front of 90,000 people with your lack of experience is brutal but to come through the other side is just one of the most remarkable performances I've ever seen."
On the possibility of a rematch, Hearn explained: "If fans want to see a rematch then I would say there's a very good chance that be met.
"Let's just remember it was tough fight for Klitschko and it was a tough fight for Joshua.
"There is a chance that Klitschko could turn around and say 'you know what I gave it everything', and what a wonderful performance by the way. He might say 'that's me done', or he might say 'let's go again'.
"I think there's a very good chance that it could happen because everybody wants it.
"If he (Klitschko) wants to fight again, the rematch will happen."
Register for free to continue reading
Registration is a free and easy way to support our truly independent journalism
By registering, you will also enjoy limited access to Premium articles, exclusive newsletters, commenting, and virtual events with our leading journalists
Already have an account? sign in
Register for free to continue reading
Registration is a free and easy way to support our truly independent journalism
By registering, you will also enjoy limited access to Premium articles, exclusive newsletters, commenting, and virtual events with our leading journalists
Already have an account? sign in
Join our new commenting forum
Join thought-provoking conversations, follow other Independent readers and see their replies