Anthony Joshua vs Wladimir Klitschko was a brawl from another time, a brutal fight and an instant modern classic
This was a fight and an outcome that nobody predicted, nobody dreamed would unfold under a blanket of hype, expectation and limitation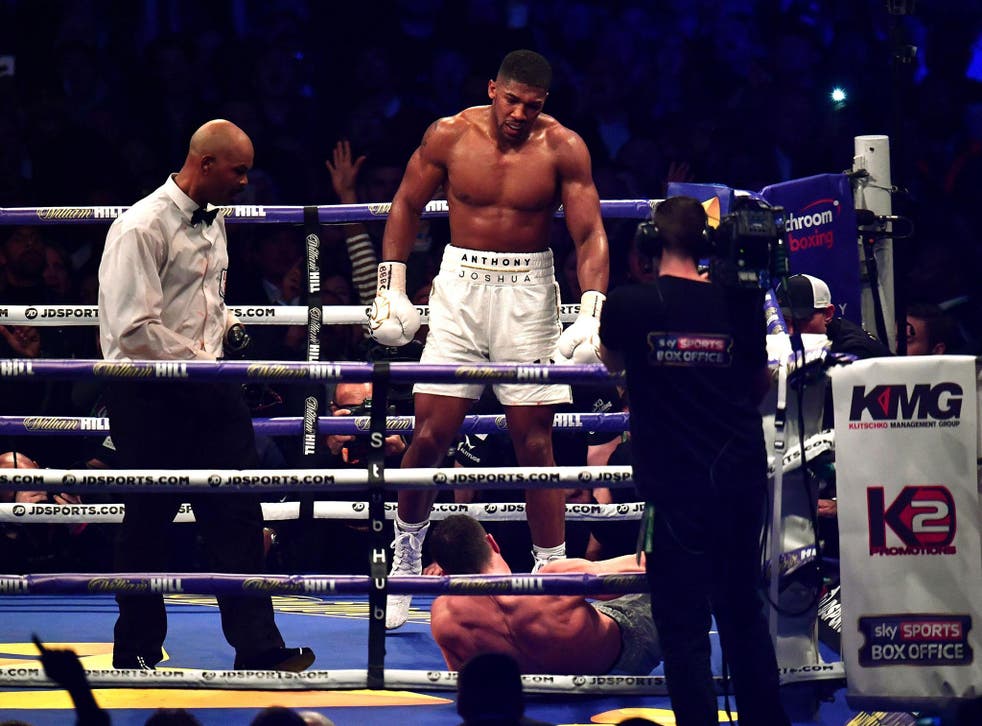 Everybody in the boxing business thought that they had stopped making heavyweight fights like Anthony Joshua and Wladimir Klitschko.
The pair went deep into the most heroic and violent of boxing's most ancient places in front of 90,000 fanatics at Wembley, each having to haul their shattered bodies up from terrible knockdowns before the sudden end in round eleven.
This was a fight and an outcome that nobody predicted, nobody dreamed would unfold under a blanket of hype, expectation and limitation. Big Wlad was not meant to float and Big Josh was not meant to survive the extended brutality; they each surpassed their promises by some considerable margin of suffering.
Anthony Joshua's career in pictures

Show all 23
Klitschko in his 29th world title fight danced and probed with aggression in the opening rounds as Joshua chased and swiped wildly at the giant shadow. There were early moments of real concern for Joshua and he looked raw, bemused and was struggling with Klitschko's movement. It was an early shock pattern and Joshua had to change it and do it quick or risk defeat and exposure.
In the fifth Klitschko was caught, cut and dumped heavily right in front of me. I saw the hurt in his face from about six feet away as he scrambled up and it looked to me that it was all over. However, the crazy and vicious thirty seconds that led to the knockdown had alarmingly exhausted Joshua and he lolled, hands high, eyes glazed and a punch from oblivion on the ropes. The bell to end the fifth saved Joshua's career. "I thought it was all over right then," admitted Eddie Hearn, the boxer's promoter.
In round six Joshua was dropped, he fell like poured syrup into a collapsed heap of despair. He started to stand and needed to push himself up by pushing his gloves into the canvas. He was trying to smile and trying to stand and just about pulling both off with a lot of effort. Klitschko, his face a bloody mess, looked on as his silent prayer was ignored and Joshua somehow beat the count; the pair were fighting again when the bell to end the sixth tolled.
At that point all bets, predictions and promises were off because the fight had gone way beyond the wildest dreams of anybody in the boxing business. The collective desire of the 90,000 formed a relentless chorus and by the end of round ten the fight was desperate; both men were near collapse. Klitschko was, in my opinion, two rounds up but two of the three judges had him trailing. There was no need for their calculations.
It ended after 2:25 of the eleventh round and Klitschko was dropped three times, the final time from a right uppercut that in the years ahead will be remembered as a defining punch in a fight that went way outside normal expectations. It was finally over, one of the finest and most brutal heavyweight title fights. It was an instant modern classic, the best Joshua and arguably one of the best Klitschko performances in a brawl from another time.
Joshua received his heavyweight crown on Saturday night in a win that went beyond the vagaries of the sanctioning bodies. It has been a long time since a heavyweight was crowned, which is an old-fashioned term, and it has been a long time since a man has risen above the disgraceful policies of the men in their sanctioning-body bunkers. He entered with the IBF and added the WBA and IBO trinkets; the WBO and WBC champions both want to fight him and Tyson Fury, currently losing six stone in Marbella, also wants a piece of him. "I will sit down with my people and make a decision," said Joshua. He can fight anybody he likes next, nights like Saturday give a fighter a deserved break. Klitschko will continue and might want a rematch, which would please the IBF. The IBF, incidentally, stripped Fury in December 2015 after he beat Klitschko and refused to fight their selected challenger. It could happen again, be warned.
"I will help you get over losing," Klitschko had told Joshua on Thursday. "It is not so bad, you recover quickly, don't worry." By midnight on Saturday Big Wlad was starting his own recovery, eyebrow slashed and head bruised but held high as he walked through empty aisles to his dressing room. Joshua was still in the ring, draped in friends and family, utterly shattered, still smiling, unbeaten and no longer untested. "Did I answer enough questions?" he said at 12:01, close to 90-minutes after the fight's pitiless end, when he finally left the scene of his graduation. There was no need for an answer.
Join our new commenting forum
Join thought-provoking conversations, follow other Independent readers and see their replies