Billy Joe Saunders: 'Brits don't like Tyson Fury as he's a traveller'
Romany pal Billy Joe Saunders dismisses critics of world champion's noxious views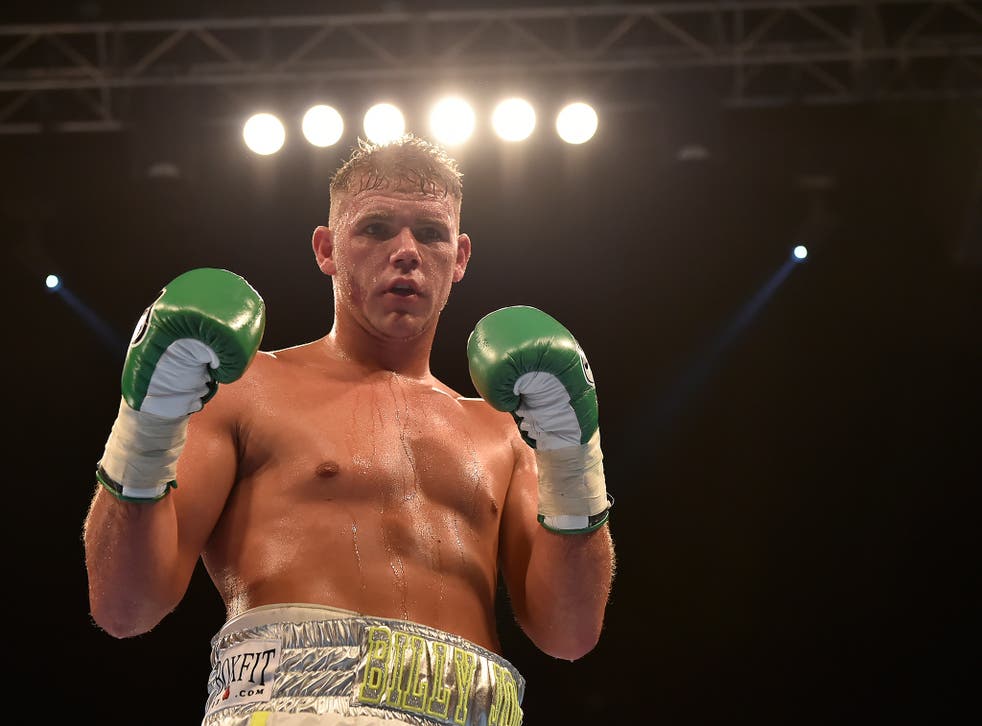 Romany boxer Billy Joe Saunders has fuelled the Tyson Fury furore by suggesting the gypsy giant who dethroned Wladimir Klitschko to become the world heavyweight champion should hand back his British passport and move to Ireland "where he would be more appreciated".
Saunders fiercely expressed support for his fellow "traveller", a lifelong friend, in the face of widespread condemnation of Fury's noxious opining on homosexuality, abortion and paedophilia came as he prepared for his own world-title fight next Saturday in Manchester.
There he takes on Andy Lee, also a member of the travelling community, for the Irishman's WBO world middleweight belt.
The 26-year-old Saunders, unbeaten in 22 fights, claims there is prejudice against Fury, whose outpourings have brought demands for him to be removed from the shortlist for next weekend's BBC Sports Personality of the Year awards, because of what he is rather than who he is or what he has said.
"It is very unfair, this is all because of Tyson's background," he told the Independent on Sunday from his training base in Marbella.
"Whatever anybody says, travellers don't get the recognition for the things they do. There's plenty of publicity about the bad things, but never the good things. I feel targeted myself, and I feel for Tyson Fury.
"The public seem completely against him. If I was him I'd hand back his British passport and set himself up in Ireland [Fury has Irish ancestry] and say, 'I'm an Irishman now'. At least he'd be appreciated there.
"People slag us off, especially Tyson, just because we've got a different background. We all sometimes say things we shouldn't, but Tyson Fury is a super world heavyweight champion and he's getting slated.
"As for what Tyson says, well, that's him, isn't it? He's a Christian like myself and he's praising the Lord and going by the scriptures and his beliefs. I've known him all my life and, as I say, that's just the way he is. If people don't like it, well, too bad.
"They do nothing for you here. Listen, mine and Andy's is a big, big fight, but are we going to get the publicity we deserve? Win, lose or draw, no. And I reckon it's because of our background."
The 31-year-old Lee agrees. "The criticism of Tyson is because of who he is and where he's from. Because he's a traveller he's not been accepted. I agree there's been some bias against him. Tyson's a British world heavyweight champion, but all the headlines say it was the worst heavyweight fight of all time. Why not praise him for what he did in the fight?"
Journalists did, but Fury's much-trumpeted Christian faith does seem to sit somewhat uneasily alongside his profanities, distasteful sexist jibes and the threat to have one of his mates sort out and "jump on the head" of the journalist who reported some of the more extreme of them.
Fury claims these were made in jest, and perhaps they were, but in the circumstances I feel fortunate that he told me only to "eff-off" (one of his milder expletives) when I once remonstrated with him for the cesspit language he was using before an audience that included women and children.
This cost him a £15,000 fine from the board of control, and a few more thousands from the £4m purse for the Klitschko fight are likely to be extracted from him when he appears before them once again charged with bringing the sport into disrepute.
Neither Lee nor Saunders can be accused of this. Their conduct leading up to the first legitimate world title fight between two "travellers" has been exemplary, with none of the bad mouthing or bogus trash talking that precedes so many major bouts these days.
It is clear they can't wait to get on with the twice-delayed encounter. They face each other in the ring to settle the argument raging in the communities in the UK and Ireland about which of the two southpaw sluggers is the better man on a Frank Warren bill that also features another home-brewed world-title fight, between Liverpool's WBO super- welterweight champ Liam Smith and Manchester's Jimmy Kelly.
"We respect each other," says Saunders. "Andy Lee has shown he can pull it out of the bag when things ain't going right for him, he is very dangerous. I know what he brings to the table."
Saunders, who famously out-gamed Chris Eubank Jnr, adds: "This is the biggest fight of my life. Two travellers from different countries, but with the same background – it is a serious thing for our community. I've always realised the importance of this. One of us can win this fight by one point, but if you lose in our community you'll be known only as the loser – and that's it. "
You don't need a gypsy fortune teller to forecast this is going to be a real pre-Christmas cracker. "I'm bang on and ready to go to war," says Saunders, who won £20,000 betting on Fury. "May the best man win. I hope and believe that's me."
I agree, though the bookies make it an even-money call. The one certainty is that there will be no rabid verbalising or religious ranting.
Amen to that.
Tickets for Lee v Saunders available from frankwarren.com and live on BoxNation
Join our new commenting forum
Join thought-provoking conversations, follow other Independent readers and see their replies