Boxing review 2016: Anthony Joshua marches on but the year belongs to Carl Frampton
The Northern Irishman's defeat of Leo Santa Cruz was British boxing's performance of the year by some distance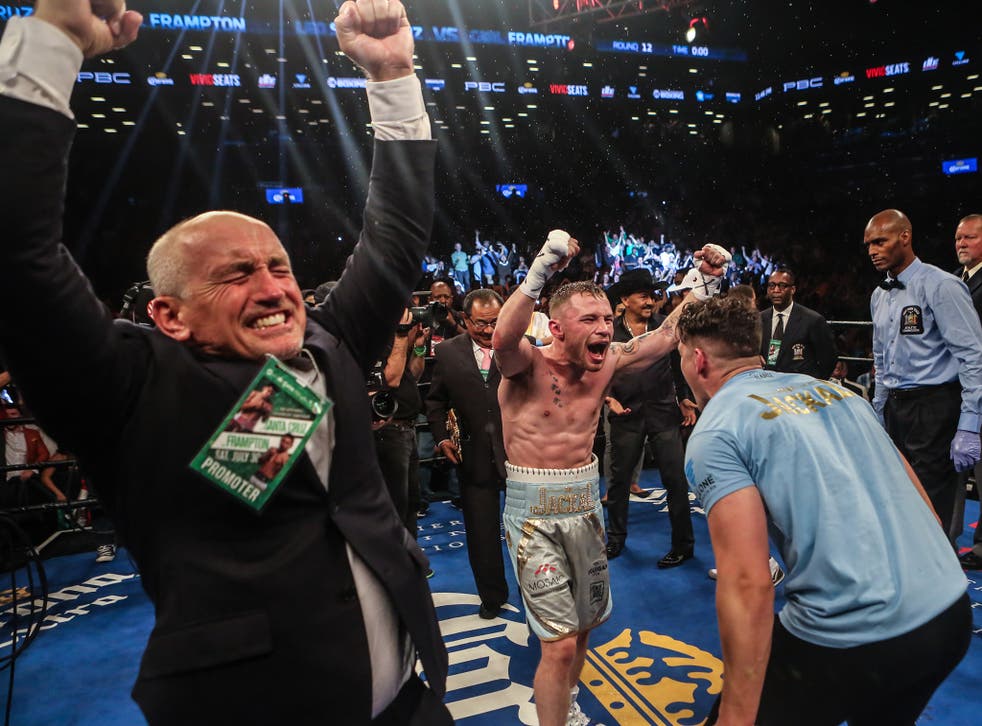 January
'The home of witty banter' became the home of some rather one-sided boxing at the start of the year. David Haye returned and did so on Dave.
The 130 seconds it took for the 'Hayemaker' to knock a hapless Mark de Mori down to the canvas was less competitive than your average episode of Storage Wars.
Nevertheless, Haye was back and judging by the 2.2m that tuned in, the channel's second biggest-ever audience, he could still carry the couch potatoes with him.
February
A reminder of this sport's dark and bizarre underbelly came in February, with the murder of gang leader David Byrne by rivals - one of whom was dressed as a woman - during a weigh-in at Dublin's Regency Hotel.
North of the Irish border, Carl Frampton's army of supporters packed out Stena Lines to descend on Manchester and see 'The Jackal' through against a willing but unable Scott Quigg.
A satisfying win for Frampton, but his best was yet to come.
March
We all thought Nick Blackwell would never box again after his plight in St Mary's Hospital made the front and back pages in March. There was much sympathy for him back then as he lay in a medically-induced coma, especially given his spirited display in the defeat to Chris Eubank Jr.
He recovered, thankfully, but the questions raised by his hospitalisation only became harder to answer eight months later. Blackwell was re-admitted to hospital in November after inexplicably returning to the ring for an unsanctioned sparring session.
In the past few days, he woke up from his second coma of the year. You worry that unless he finds a fresh purpose and surrounds himself with responsible people, the new year could be a third.
Britain's current boxing world champions

Show all 8
April
British boxing's golden boy got his year under way by claiming his first world title in April. The holder was Charles Martin, the belt was rightfully Tyson Fury's, but the future is Anthony Joshua's, the IBF's reigning world heavyweight champion.
On paper, Martin was meant to be his toughest test to date, but the St. Louis slinger's craven performance led to his own reign as champion ending after just 85 days, the second-shortest in the division's history.
Thanks in no small part to Eddie Hearn's careful management, you could wager that Joshua would hold on to the belt for a while longer than that.
May
Amir Khan's sense of adventure is endearing, but the moment that Saul 'Canelo' Alvarez administered a faultless right hand onto the side of his skull, you wondered how many more beatings the Bolton boy can risk.
Looking back on the year's televised bouts, it is hard to remember a knock-out as brutal. Bangs like that kills brain cells. If Khan ever attempts to bridge such a wide gap in weight and class like this again, it will not be brave, just stupid.
June
Outside of boxing, after such a turbulent twelve months, the loss of the 20th century's most powerful pop-cultural icon is being treated as something of a footnote.
Maybe that is understandable, as grief is best kept brief. Yet still, it is a shame that the man Hugh McIlvanney described as the "self-appointed master of ceremonies to mankind" does not earn much attention at this time of reflection.
Muhammad Ali, sport's one true historical monolith, died in June. He was 2016's greatest loss.
July
The outstanding performance by a British boxer and perhaps by any fighter this year came from Carl Frampton. Comfortably the outsider after moving up a weight class to meet Leo Santa Cruz, the WBA's 'super' featherweight champion, Frampton defied the doubters to produce a performance of both precision and elegance.
Santa Cruz, an accomplished fighter, gave as good as he got but only came up short against the devices of Frampton and his exacting, tireless team, headed by the excellent Shane McGuigan. The best part of it all? We start next year with these two fighters doing it all over again.
August
Olympic boxing continued to stretch the definition of Corinthian values, and not only by allowing professionals to compete.
The inclusion of full-timers was a farce, but paled in comparison to the many risible decisions and allegations of deep-rooted corruption.
Michael Conlan, the Irish bantamweight, became a symbol of the scandal after his defeat to Russia's Vladimir Nitkin. He was fined £7,863 for a middle-finger salute to the judges and outraged, x-rated interview; a fine he insists he will not be paying.
September​
The silliest match-up of the year came in September, but it was hard to be critical of any promotion which saw Gennady Golovkin finally arrive on these shores.
His opponent, Kell Brook, had nothing to lose but consciousness at the O2 Arena and ultimately got away with the jump in weight. 'Special K' left the ring defeated but compos mentis after five rounds with a true middleweight great.
Sadly, at the end of the month, we were offered another grave reminder of the risks when Scottish welterweight Mike Towell died from injuries sustained in the ring.
October
Tyson Fury's descent from lineal world heavyweight champion to semi-retirement became as depressing as it was predictable.
A year that should have seen him consolidate his status and potentially unify the division instead had him vacate his two remaining belts and enter a seemingly irresolvable state of flux before the clocks went back.
Whatever happens now, that night in Dusseldorf should be remembered as one of British boxing's greatest. May it not be his last.
November
A quiet month here but the long-awaited meeting of Sergey Kovalev and Andre Ward, two bona fide contenders in the pound-for-pound rankings, provoked a lot of noise Stateside.
Ward's masterful recovery from a knock-down in the second to earn a tight but fair victory by unanimous decision left Kovalev, his camp and many more crying foul.
This, however, was no stitch-up. When two well-matched men meet in this sport, a lot is left open to interpretation. The only certainty after as fights as good as this one is that there will be a rematch, and for that we should be thankful.
December
After Dillian Whyte and Dereck Chisora's delivered dirty war on the Manchester Arena's undercard earlier this month, a far more marketable heavyweight coolly dispatched the woeful Eric Molina in the headline slot. 'Light work', as Anthony Joshua would happily admit.
His next opponent, Wladimir Klitschko, is a different proposition. The Ukrainian, 41-years-old by the time they meet at Wembley on 29 April, will also have been inactive for 17 months, arguably even longer given his level of exertion that night against Fury.
Yet Klitschko's status as a genuine great of the heaviest division and Joshua's desperation to prove himself makes this the right fight at the right time. All being well, the young champion will see off his veteran challenger. But for perhaps the first time heading into a professional bout, Joshua and his paying customers cannot be certain.
Register for free to continue reading
Registration is a free and easy way to support our truly independent journalism
By registering, you will also enjoy limited access to Premium articles, exclusive newsletters, commenting, and virtual events with our leading journalists
Already have an account? sign in
Register for free to continue reading
Registration is a free and easy way to support our truly independent journalism
By registering, you will also enjoy limited access to Premium articles, exclusive newsletters, commenting, and virtual events with our leading journalists
Already have an account? sign in
Join our new commenting forum
Join thought-provoking conversations, follow other Independent readers and see their replies